Welcome to Ideas Exchange! Here, the Greenr community and the StarHub team share an exclusive space to collaborate and learn. Got an idea? You've come to the right place!
Post an idea now!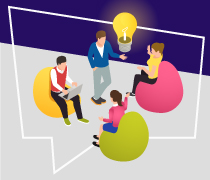 Ideas Exchange
Have an idea on how to improve StarHub's services and product, or a want a new feature on GreenR Community? Post it here and get your friends to vote for it!
How are ideas evaluated?

Here are the possible stages that your idea goes through! Get your family and friends to vote for your idea to help it get noticed!
Something possibly cool!
This thought seems nice. Just a few details short.
Got 20 upvotes? Now we're talking! We are literally talking about this idea internally!
This idea had been approved by us and the community!
The development team is working hard to make your idea happen.
Congratulations! This idea went live successfully!
Is this déjà vu? This idea has either been submitted or implemented already.
There is potential but we'll have to pass for now!
Interesting! We'll keep it for now and find the right opportunity to take this further.