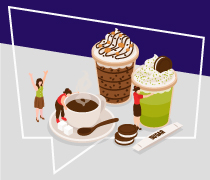 GreenR Café
Would you like to discuss about any other non-StarHub related matters? Grab a cuppa and start chatting!
All

Question

Article

Discussion
NS life
Come share about your memorable incidents during National Service.
Just a thought
Any plans to have a real time chat assistant like 'Ask Shirley' from the red camp? StarHub can probably have a 'Ask Sparky', that will be cute.
Working at StarHub: Waving Goodbye
Being an apprentice for a white collar career in a national enterprise, mixed feelings flooded my mind at first. It could also be due to the constant manipulation from peers that forged a mentality that all corporations run in a disoriented structure.   Going through the undertaking of an int
Community Badges
Hey Community Manager, Is there a page where I can view all the available badges that we can get? #badgeshunter
Working at StarHub: Pleasure Reading powered by Bookmate
Breaded from an economic family, opportunities were peculiar but in StarHub; it is an inverted tablespoon. Administrating events and moderating the community site is the set-up of a board game, where attending one makes me feel like the player. This week we were invited to participate in the Bookmat
FOURTH TELCO ENTRANCE!
Hi Guys.Just For Info.FOURTH TELCO ENTRANCE.THE IDA WILL REVEAL ITS DECISION EARLY THIS YEAR! ANY COMMENTS GUYS?FOR ME, I JUST WAIT N SEE 1st LORrrr...Regards AZAMANJ.
Working at StarHub: Our First Impression on Internship at StarHub
  Sweating from the fear of going through the 6 week internship ordeal is a fear that every DBIT student has to go through. Despite the working experience we had with ad hoc jobs in compaines like NTUC and John Little, we were still relatively unexperienced when it comes to desk jobs. Not