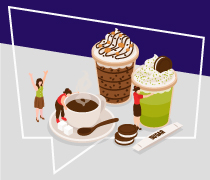 GreenR Café
Would you like to discuss about any other non-StarHub related matters? Grab a cuppa and start chatting!
All

Question

Article

Discussion
Contest Rules
Hi, i have a question. It has recently come to my attention that there is a contest going on right now Win a trip to Koreato catch the cast of"THE Producers"! This is not my first time trying to take part in a contest and i always have the same question in my head when i am filling up the applicati
Employee Advocates
Will you be an advocate for your company as an employee and share company messages on your own social media?
Internship!
Hello,Does anybody know whether Starhub provides internship opportunities? I saw a blogspot detailing an internship experience, but I have no idea how to go about applying for one. Can anybody shed light on this? (:
Well Done StarHub! You are the most socially devoted brand!
My favourite brand is the most socially devoted brand in Singapore. Kudos to the StarHub Team! Source: http://www.marketing-interactive.com/socialbakers-reveals-top-ranking-brands-social-care/ Social media analytics and optimisation company Socialbakers has published their latest global quarterly up