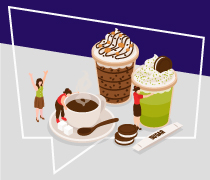 GreenR Café
Would you like to discuss about any other non-StarHub related matters? Grab a cuppa and start chatting!
All

Question

Article

Discussion
Working at StarHub: My 5 months as an intern
Fresh out of junior college, I was not sure what to expect when my first job was not at a posh office but at a StarHub retail outlet – the Consumer Channel Sales (CCS) department of StarHub. Other than helping my peers with their occasional phone hangs, I have literally no experience in the customer
Thank You and Good Bye to StarHub Community
Dear Members of StarHub Community and All-Stars Members   It has been an enjoyable journey here with all of you. Today is my last day in StarHub and I am here to bid farewell to everyone. I really appreciate the support that you all have given me. Not forgetting the numerous compliments that
Mcafee antivirus
Hi, Can I subscribe to your McAfee Antivirus as a personal user.  I would like to know whether the antivirus if for an user who logs into my networker or it is personal to the user's computr. Regards
New #MusicTuesday
Hey everyone, what's on your playlist this Tuesday?   Lately I enjoy a mix of folk, acoustic, jazz and dance music.Do you guys spotify?   Check out my curated playlist: http://spoti.fi/1FMMgyl   Love to hear from you!
Glad to be part of StarHub's online community!
Hello Hubbers!   Just a quick introduction about myself.  My name is Nicholas, and I have recently joined StarHub as a Community Manager.  I will be here talk to our users, and more importantly, listen to all our Hubbers.  I will be actively available to users on our StarHub Community forum, as well