StarHub Smart Wifi Pro - New Linksys Velop Wifi 6 Home Mesh Router (AX4200 review)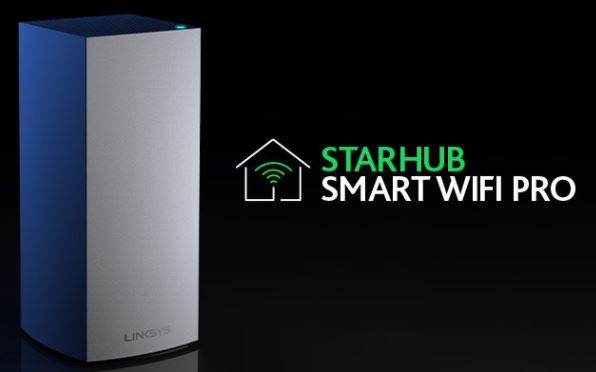 Starhub has recently launched a new Smart Wifi Pro with the help of Linksys latest Velop Wifi 6 home mesh router, AX4200.
Background information:
My apartment size is at 117 sqm.
Wifi current set up with Nokia mesh router (3 units). The main router is placed inside a cabinet where my fibre point / modem is located and the second unit is at the living room and the third unit my second bedroom. This setup provides a good coverage of all the rooms.
For testing purpose of the Linksys mesh router, I decided to set up only 1 unit inside the cabinet where my modem is located (Marked in red below)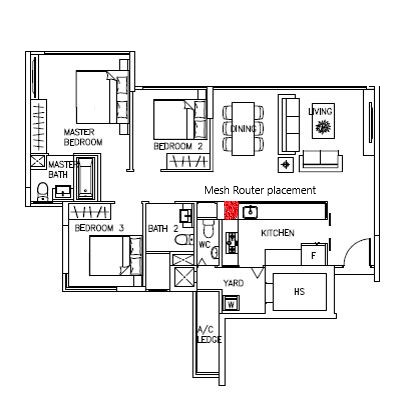 First impression of Linksys mesh router:
The unit is quite bulky (like a brick).
The unit is white in color hence should be able to bend in with most of the home decoration.
It has 4 ethernet ports and 1 USB 3.0 port for external devices connection.
Setup of the Linksys mesh router:
Download the Linksys app (available in both App store or Google Play).
Set up and account if you have not.
Power up the mesh router and connect to the modem.
Follow the instructions on setting up a new Mesh router. After a few clicks, the router will be up and running. It took me less than 2 mins for the full setup to complete.
Coverage and speed of the single node mesh router:
It was able to provide coverage to the whole apartment, even though Linksys recommended 2 nodes for estimated are between 110 to 230 sqm. I am impressed! The wifi reception shows 2 bars even when I am standing at the far corner of my master bedroom and living room.
I have 5 devices that are connected to the mesh router. The official word from Linksys, you can connect up to 40 devices at any time.
A speed test using the speedtest app shows different results on my 2 phones which support Wifi 6

iPhone 11 Pro Max shows download speed of 73 Mbps and upload speed of 75.8 Mbps
Mi 10T Pro Max shows download speed of 155 Mbps and upload speed of 147 Mbps
I do not know why there is a difference with the results from both devices though.
After using the mesh router for a few days, I am very happy with the mesh router performance. It is able to provide a steady and fast connection for my WFH arrangement (with all the online meetings requirements) and able for me to watch my Disney+ shows without any disruption!
What I like about the Linksys mesh router AX4200:
The setup of the router is a breeze even to those people who are not technology incline.
The coverage of a single node is big as compared to the current mesh router (3 units) I am using.
The wifi performance of the router (based on download and upload speed) is fast.
Now StarHub is partnering with Linksys to provide the Linksys MX4200 to all subscribers under Smart Wifi Pro.
You may click on this link to get more information and technical specifications of the mesh router.
Are you excited to use the new Linksys Velop Wifi6 Home Mesh Router?
Get Linksys MX4200 Smart WiFi Pro from StarHub
Latest update (as of 31 Mar 2021): Starhub confirmed that Smart Wifi Pro doesn't support free-to-air channels on TV+ as of now.