Samsung Galaxy S21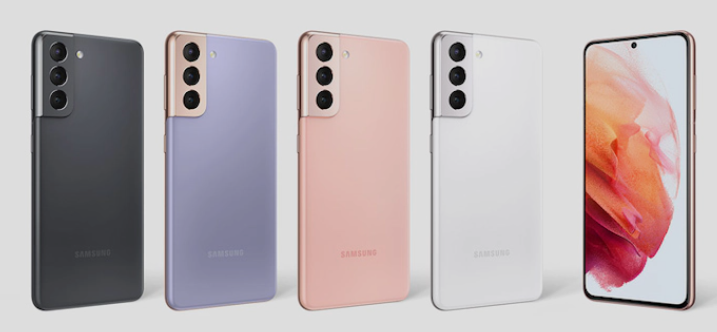 Image source: Samsung website
Historically, Samsung is the first to adopt the latest chip for the year. 2021 is Qualcomm's Snapdragon 888 (888) and Samsung's Exynos 2100 (2100). This year, they were beaten by Xiaomi. What's so great about the 888 chip? When compared to the Snapdragon 865+, it is faster, uses less power, supports better photography functions, includes integrated 5G, incorporates AI and more 5G bands! Understand Samsung offers the 888 in the US and China markets with the 2100 for the rest of the world. How do the two chips compare? In general, the 888 has better performance while the 2100 is more power efficient. However, the general consensus is that "out in the wild" i.e. apart from lab tests, the difference is in practice negligible. This is good for Samsung and clearly shows their move to ARM designed chips is the right move. Abit of trivia, initially the 888 was designated Snapdragon 875. But 888 probably sounds better for Asians.
There are three S21 variants:
| | | | |
| --- | --- | --- | --- |
| Model | S21 | S21 + | S21 Ultra |
| OS | Android 11 | Android 11 | Android 11 |
| Processor | Exynos 2100 | Exynos 2100 | Exynos 2100 |
| Memory | 8GB RAM | 8GB RAM | 12GB RAM |
| Storage | 256GB | 256GB | 256GB or 512GB |
| Display | 6.2 inch Dynamic AMOLED 2x Infinity-O display, 120Hz refresh rate | 6.7 inch Dynamic AMOLED 2x Infinity-O display, 120Hz refresh rate | 6.8-inch Dynamic AMOLED 2X display, 120Hz refresh rate and Quad HD+ display |
| Camera | Front 10MP dual pixel AF (f/2.2),Rear 12MP Ultra Wide (f/2.2), 12MP wide-angle dual pixel (f/1.8), 64MP Telephoto (f/2.0), Hybrid Optic 3X (f/2.0), 30X Space Zoom | 64MP main cameraFront 10MP dual pixel AF (f/2.2),Rear 12MP Ultra Wide (f/2.2), 12MP wide-angle dual pixel (f/1.8), 64MP Telephoto (f/2.0), Hybrid Optic 3X (f/2.0), 30X Space Zoom | Front 40MP (f/2.2), Rear 12MP Ultra Wide (f/2.2), 108MP Wide-angle (f/1.8), 10MP Telephoto 1 dual pixel, Optical 3X (f/2.4), 10MP Telephoto 2 dual pixel, Optical 10X (f/4.9(, 100X Space Zoom |
| Connectivity | 5G | 5G | 5G |
| Battery | 4,000mAh | 4,800mAh | 5,000mAh |
| Dimensions | 71.2×151.7×7.9mm | 75.6×161.5×7.8mm | 75.6×165.1×8.9mm |
| Weight | 169g | 200g | 227g |
| Colours | Phantom Violet, Phantom Pink, Phantom Grey, Phantom White | Phantom Black, Phantom Silver, Phantom Violet | Phantom Black, Phantom Silver |
In essence, the differences are size, camera and battery.
Was given the opportunity to test the S21 Ultra (Phantom Silver).
First impressions:
Personally prefer devices to be dark and found Phantom Silver with shiny chrome edges too bling for my taste. Setting that aside, what really stands out is the impressive looking camera at the back.
User Interface (UI):
Coming from ASUS Zen UI, the amount of Samsung apps is much more. Examples include Samsung Bixby, File Manager, Notes, Store, Smart Things, Pay etc. To be fair, apart from the Samsung apps, the UI is clean. Samsung also customizes the settings so it did take abit of getting used to. One nice feature that I appreciated is access to Android Auto (AA) within Settings. With ASUS, Xiaomi and Vivo devices, one needs to install the AA icon to access.
Screen:
Personally like the screen.
Performance:
Since the S21 Ultra features the latest 2100 chip and has 12GB RAM, performance is fast and smooth. The fingerprint sensor is on the front screen which is novel (compared with a dedicated sensor). Understand this is also available in other new devices e.g. ASUS ROG, Xiaomi, Oppo, Huawei to name a few. So far, it is fast and responsive and not difficult to locate and use.
Charging:
The S21 uses USB C. This means no fiddling around to ensure the cable is right side up. Charging is relatively fast. Did not have the original Samsung charger. Understand this is optional i.e. extra cost. Was using a standard USB C cable connected to a Baseus 17 port Hub. Charging was complete in less than 3 hours. Note that the S21 supports wireless charging. The device includes neat Battery Care features such Fast/ Super Fast charging options. Apparently this enables 25/ 45W charging. Personally think it is better to disable these options for better battery life. Fast charging could overheat the battery and shorten the useful life. It is also best practice to disconnect the device once charging is completed to minimize heat and damage from power surge.
Camera:
The camera is the most vaunted feature. Does it live up or it is hype?
Here are some pictures. Note that these have been uploaded to Google Photos using High Quality mode. In fairness, this means there will be some reduction in quality versus Original.
The first three are taken around 1700 hrs. The next three in normal mode at night. The last three are using night mode. Images 10 and 12 are taken using standard mode. 11 and 13 night mode. Images 12 and 13 are worthy of note. There was no lighting apart from the limited street lighting and it was effectively dark. The S21's image enhancement kicked in and the results are good.
The general consensus is that the S21 camera is amongst the best in class and I agree. The Image Stabilization feature works well and certainly helps.
Android Auto:
Personally, this is an important feature since it helps take the tedium out of traffic jams and long drives. Ok, in this Covid 19 era, drives are not long. However, it is still nice to have options apart from FM radio. S21 plays nicely with Android Auto, Waze, Google Maps, Pocket Cast, Tunein, YouTube Music and Google Assistant. Experienced stutter with the ASUS Zenfone 7 Pro when using navigation. Probably a setting that I've yet to figure out. No such issues with the S21.
Speakers:
Personally not an audiophile, so take this with a grain of salt :-). Sounded good to me when playing YouTube Music.
Battery:
The S21 Ultra comes with a 5,000mAh battery. After three days of light use and standby, the battery was nearly empty. This with the screen set to relatively low brightness and vibration switched off. Imagine that it will easily last two days with moderate use.
What I liked about the S21:
Nice form factor*

Beautiful screen

USB C

Fast and smooth performance

Dual SIM

5000 mAh battery

Great camera
*The S21 has a smooth finish. Did say that Phantom Silver was too bling for my taste. To be fair, this is a personal preference. Others may be attracted to the Chrome finish. Although aesthetically pleasing, it makes the S21 slippery without a case. Personally was afraid of dropping the device. This was accentuated when CNet reportedly cracked the screen during a drop test! Then again, who really goes about carrying their precious mobile device without a case? However, it is best to take care. You have been warned :-).
What I disliked about the S21:
MicroSD - The S21 lacks a dedicated MicroSD slot. To be fair, rarely exceed local storage since media is stored on the cloud i.e. photos/ videos (Google Photos), music (YouTube Music), podcasts (Pocket Cast), contacts (Google Contacts), appointments (Google Calendar), notes (Google Keep) etc, so this is not a show stopper. However, personally like the flexibility of being able to remove a MicroSD card and being able to transfer contents to another device. Then again, this is just a preference.

Samsung apps - Personally not a fan of dedicated apps which locks one into a particular ecosystem. Why? It makes it potentially difficult to switch brands/ devices. The major advantage of Google's Android is that one just needs to sign in and apps can be reinstalled, contacts, calendar, media and notes become accessible regardless of brand/ device. To be fair, Samsung Pay is considered to be the most versatile, with more banks supported e.g. Maybank (not supported by Google Pay). In terms of fund transfer, naturally one needs a Samsung debit card which is available with a Samsung account. Transfers can only be made to other users who have a Samsung debit card. In contrast, Google Pay supports, DBS PayLah! account, OCBC bank account or Standard Chartered Bank account. Google Pay also allows payments to those that registered with PayNow which is really handy and makes for a more complete solution. One common Samsung Pay user gripe is the double authentication. The app first needs to be unlocked and then a PIN entered. Some users have reported delays. Then again, this also means that Samsung Pay should be more secure. Google Pay only requires the app to be unlocked and one is good to go. Personally find Google Pay convenient. In summary, if one is already invested in the Samsung ecosystem, the S21 is a no brainer. To be clear, Google Pay can be installed and works well on the S21.
Conclusion:
So would I make the switch? Really struggled. The S21 has a great camera and a fantastic image stabilization feature. It is a beautiful and great performing device. After much consideration, at this stage no. Reasons:
Samsung ecosystem - Currently not invested in the Samsung ecosystem and find it difficult to justify a switch. Sure, it is possible to use the S21 without using the Samsung ecosystem. However, it would be like buying a Ferrari and using it for grocery runs. Would it get the job done, yes! But that would seem to be missing the point of a premium Samsung device.

Stock Android - Personally prefer a stock Android experience. To be fair, the S21 UI is clean.
If one is already invested in the Samsung ecosystem and a good camera, the S21 is worth considering. Samsung's chips and ecosystem will get better. This means Bixby will improve. Will it be better than Google Assistant? Time will tell :-). Ready to buy?


"All that is necessary for the triumph of evil is that good men do nothing." - Edmund Burke