Samsung GALAXY Note 4 4G+: Samsung's Best Phone yet...
When I first got my hands on this phone, I was expecting a typical Samsung plastic feel. I was pleasantly surprised that it felt very good on the hands. With the ever-growing trends of larger phones, this phablet doesn't feel that big. The fantastic performance has definitely overpowered the larger size factor.
Design and Built Quality


The Good
My previous phones were Iphone and HTC One M8, which were all metal built. Note 4 built quality felt as good with the robust aluminum frame and magnesium brackets with chamfered shiny edge similar to HTC one M8. Best looking and feel Samsung ever built.
The chassis contours and curves at all corners to give that exclusive look. Even the physical buttons have silver trims and shaped differently for better clicking and esthetics.
It has a perfect weight and back faux leather texture with no more leather stitching. Samsung has truly spent 90% on hardware detail and 10% software improvement on this one.
The Bad
Those shiny silver rims need to be taken care as scratches and dents are likely to occur in a long run. The 2.5D glass is thicker and raised up with sloping slides. Unfortunately this creates an un-noticeable gap between the sides of the 2.5D glass display. Nonetheless, these compromises can be resolved with a casing.

Performance & Android Software
The Good
Samsung has decided to future proof Note 4 with quad-core Qualcomm Snapdragon 805 processor, clocked at 2.7 GHz, and backed by the Adreno 420 GPU and 3GB of RAM.
These are top notch specs for gaming and heavy 3d usage. U might find better phones out there but they marginally make any difference to the blazing fast performance. With these specs, Note 4 will constantly remain viable for at least 2 years of its lifetime.
Note 4 is a good example to show Touchwhiz at its most fluid. Addition to the new windowed apps is included when the user slides the finger from a corner of the screen (video). Long press back button will still allow you to split the screen in half for 2 apps.
You can now game and watch video simultaneously with minimum lag due to the good frame rates.
The Bad
Multi tasking button a little slow. It takes about 2 to 3 seconds after pressing the multi-tasking button before the multi window appears.
Camera & Display
The Good
The 16 MP camera boasts the best imagery of all Samsung phones. The sharpening filter with vibrant colors especially in daylight and HDR make photos looks better than it actually is. The best thing is that it is configured right out of the box without any filters. Like all flagship phones, Note 4 is equipped with 4k video with OIS. You can now zoom in without losing quality.
Note 4 also added wide angled selfie. Basically, a panorama feature using the front facing camera. Perfect for the good-looking people who takes photos of themselves all day.
The Quad HD resolution panel with 515 ppi is currently the phone with the best image quality with highly vivid colors and contrast of Super AMOLED display
The Bad
Not many software or apps is optimized for the great resolution of 515ppi Note 4 provide.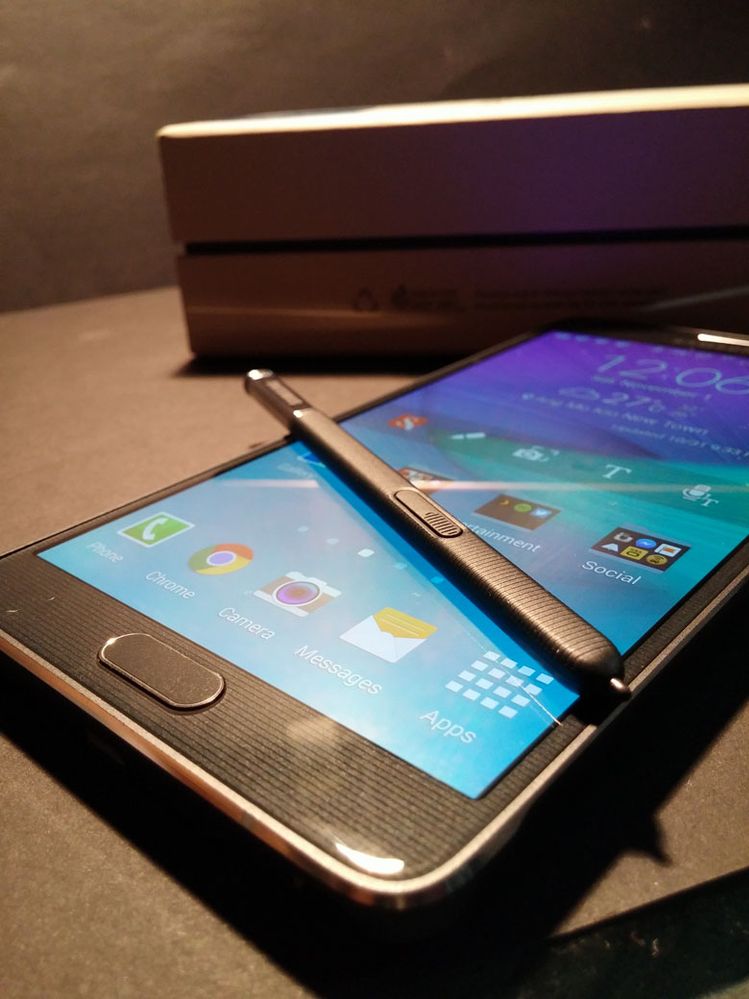 Battery Life & Call Quality
Note 4 battery life is descent as it last a whole work day day even with my bluetooth on the whole day to sync with fitbit and gear fit. The fast charge feature to charge 50% within half hour (9V over normal 5V) prove useful as I often charge my phone right before leaving the house.
Call quality is crisp even in noisy environment thanks to the additional dual mics -noise cancellation. This function works for me as often receive calls from clients on the go.
Unique Note 4 Software Features
S-Pen
People who often doodle or scribble notes will definitely love the improved S-pen, which is thinner with more pressure sensitivity. It also acts as a mouse with hovering function as well as long press for various selections. Functions like this will never go stale. I tested a few apps optimized for S-pen in the video clip below.
Sketchbook for galaxy (optimized for Note Uses)

Autocad 360 (snapping)

My Script Calculator (recognizing writing of equations)

S Note

Gallery with S-pen select

Other Sketching apps (better pressure sensitivity)
S-Health
New improved S Health (much improved interface as compared to S4)
The newly added large app is hilarious as the virtual personal trainer attempts to advise you on your walking, fitness and dietary habits. It's a good attempt to keep it interactive and motivated for you to break the daily fitness habits.
Other than that, I thought the S-Health compiles and summarizes a comprehensive data of your daily health. Surprisingly it motivates me in achieving a healthier lifestyle with proper hydration, sleep and exercise. Challenging me to break my previous day's records.
Verdict
I am impressed with the much improved built quality in terms of both hardware and software. It uses one of the fastest processors and boast the best ppi. It is by far the best Samsung phone and not many other phones are within this range. Note 4 will be future proof till your contract ends in 2 years. You can never go worng with Note 4 if you dont mind the size.
http://yul000.wordpress.com/