Review: DLink DIR-865L - DLink's first wireless AC router
Introduction
DLink DIR-865L is a high-end dual band router, with the latest 802.11ac draft 5 technology. It uses 3x3 MIMO technology, which allows you to achieve a maximum theoretical speed of 450mbps on 2.4GHz and 5GHz 802.11n.
Purpose
The purpose of this review is to qualify and quantify the range and throughput of the device.
Methodology
We test the range and throughput by comparing the upstream and downstream of wired connection with wireless connection at various distances. The same test will be done on both 2.4GHz band and 5GHz band with 40MHz bandwidth. The test will be done with a 2x2 MIMO wireless adapter, Intel(R) Centrino(R) Advanced-N 6250 AGN, which gives a maximum theoretical maximum speed of 300mbps. The test is done on the same server, within a considerably short amount of time, so as to minimise the variable of server load.
The test is done with Starhub MaxInfinity 100mbps connection.
Results
Wired Connection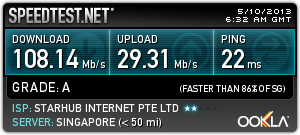 2.4GHz – 1m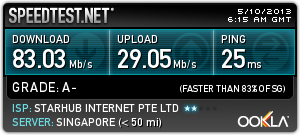 2.4GHz – 1m with 1 wall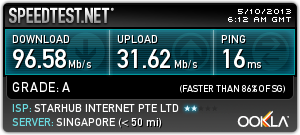 2.4GHz – 3m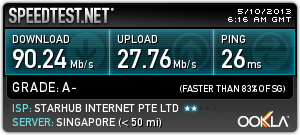 2.4GHz – 5m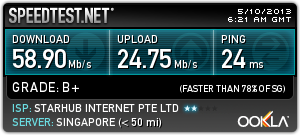 2.4GHz – 5m with 1 wall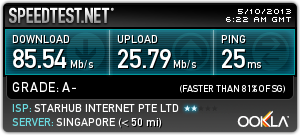 2.4GHz – 8m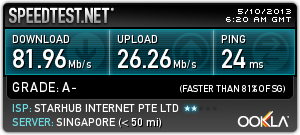 2.4GHz – 8m with 2 walls
5GHz – 1m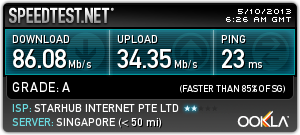 5GHz – 1m with 1 wall
5GHz – 3m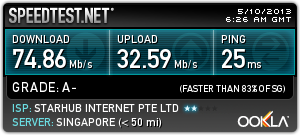 5GHz – 5m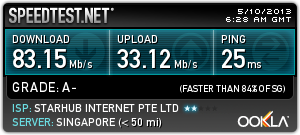 5GHz – 5m with 1 wall
5GHz – 8m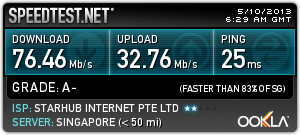 5GHz – 8m with 2 walls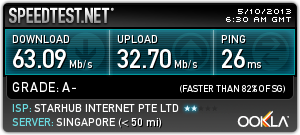 Analysis
The router have pretty decent throughput for the tests, with a minimum of more than 50mbps. The 2.4GHz band is capable of a more stable connection with a larger range. We have also tested their maximum range with other mobile devices. The 2.4GHz is capable of a maximum range of 30-40m, while the 5GHz band is approximately 25m.
The throughput of 5GHz band drops drastically with obstacles such as walls, and works best when it is within the 'line of view' of the router. Sadly, we are unable to test the router's wireless ac capabilities as we do not have a wireless ac network adapter.
Conclusion
The router has decent throughput and range, and is definitely a good upgrade from the DVG-N5402SP. It is able to achieve at least 50mbps throughput over the range of 8m on both 2.4GHz band and 5GHz band, and has a range of up to 40m.
__________________________________________________
I am not a staff from StarHub. My post does not represent StarHub in any way.