Organize Your Life with Google Drive
Life in Singapore is good. We are privileged to have security, clean water and good amenities such as fast/ stable internet/ mobile, public transport etc. However, one can always make life better with organization and planning. There are many tools/ utilities out there. However there is one that is free and comes with all consumer Google Accounts. Introducing Google Drive!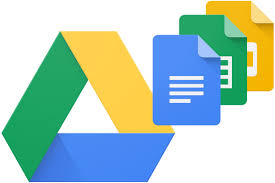 Here are some ideas:
Drive
Think of this your very own storage cabinet with added bonus of being able to collaborate with others. Create folders to share. Invite others to view/ add/ edit files. Useful examples:
Family/ household folder - Share insurance certificates, vaccination certificates, NRIC and Passport scans, receipts (useful for warranty claims) etc.
Household Manual - Create a household manual and include useful information such as equipment specification, procedures to adopt for repairs (something quirky/ unique to that item that will save alot of time when done correctly), useful service contacts (aircon, plumber, electrician etc) or whatever that will be useful if you are away or unavailable. This saves times i.e. hunting around for information/ documents. The electronic version is increasingly accepted in this age or remote working/ minimal contact.
Shopping Lists - Create a list.
Inventory - Maintain an inventory of items in the store and where they are located. Saves over buying and hunting for the item when required. Examples include batteries, bulbs, toiletries, dried/ can food etc.
Docs
This is a full featured word processor. Can be used to store certificates, scans, receipts. Create reference guides, manuals etc. Files can be set to be viewed/ comments (equivalent of tracked changes)/ edit. Create Bookmarks to allow links in another Doc, Sheets or Slides. Say good bye to hunting for records since Drive includes Googles powerful search function that will search files names and within files.
Sheets
This is a full featured spread sheet. Use it to create budgets, track expenses etc. Most banks these days allow records to be downloaded in CSV format. These can be imported into a Google Sheet. Edit and use it for analysis via Pivots etc. If desired, create links to a receipt/ document that is stored in Google Docs.
Slides
Presentation application. Includes ability to insert YouTube videos for a multi media experience.
Forms
This is only limited by ones imagination. Can be used to organize events, collect feedback etc. The responder can be directed to different sections based on their response. Here's an example of a question "Do you wish to register another person for the event?". If they say yes, they will be directed to the section which allows them to register the other person. If they say no, they could be directed to complete registration. This help saves time. Google Forms data can be exported to Google Sheets for processing and analysis.
Benefits
Access - Since files are on the cloud, work anywhere via Chromebooks, Android, PC, Mac, Apple etc.
Secure - Since files are on the cloud, they remain accessible in the event of device loss/ damage. Files are relative less at risk from malware, virus, ransom ware if using Docs, Sheets, Slides, Forms and not synced.
Restore - Made a mistake? No problem, restore to an earlier version if desired.
Unlimited Storage - Yes, you heard this right. Docs, Sheets, Slides, Forms do NOT count towards online storage use. Enjoy unlimited storage with good housekeeping. See this Post for further reading.
Security
There is a general perception that cloud storage is less secure. Personally think this is not the case. Reasons:
Device loss/ damage - How many have lost files because of device loss/ damage? Also note that numerous horror stories of embarrassing leaks when devices sent for repair/ recycled etc.
Corruption - USB flash drives, hard disk drives can get corrupted resulting in data loss.
Compatibility - For really old files, they may be inaccessible since the software is no longer available e.g. Freelance or even older versions of MS Office. Since Google Drive files are access via a web browser, no need to worry about compatibility.
Virus/ Malware/ Ransom ware - Sadly Windoze PCs are vulnerable to these. In general, if Google Drive files are not synced i.e. accessed via web browser they remain relatively safe.
Security Best Practice
It is a dangerous world out there. To minimize security risk, consider the following:
Strong password - Use a strong password
Two factor authentication - Google Accounts include this feature. Ensure this is switched on.
Security key - Use this if available. So far, accounts secured with such devices have not been hacked and represents the most secure form of online security. There are good choices such from reputable vendors such as Yubico, FIDO, Titan etc. Choice the desired form factor/ connection i.e. USB 2.0, C etc.
Security audit - This should be done regularly via MyAccount.


"All that is necessary for the triumph of evil is that good men do nothing." - Edmund Burke