Nokia Lumia 930 and Lenovo ThinkPad 8: A great integrated experience
Background
A little bit background about myself: I previously used Android devices and changed to Windows Phone starting from Nokia Lumia 920 and now Nokia Lumia 1520. I am lucky enough that Starhub (@Kaiboon) loaned me 2 new great devices to try it out: Nokia Lumia 930 and Lenovo Thinkpad 8. So, I will try to give my personal review on Lumia 930 and how it is used together with Lenovo Thinkpad 8 as productivity tools.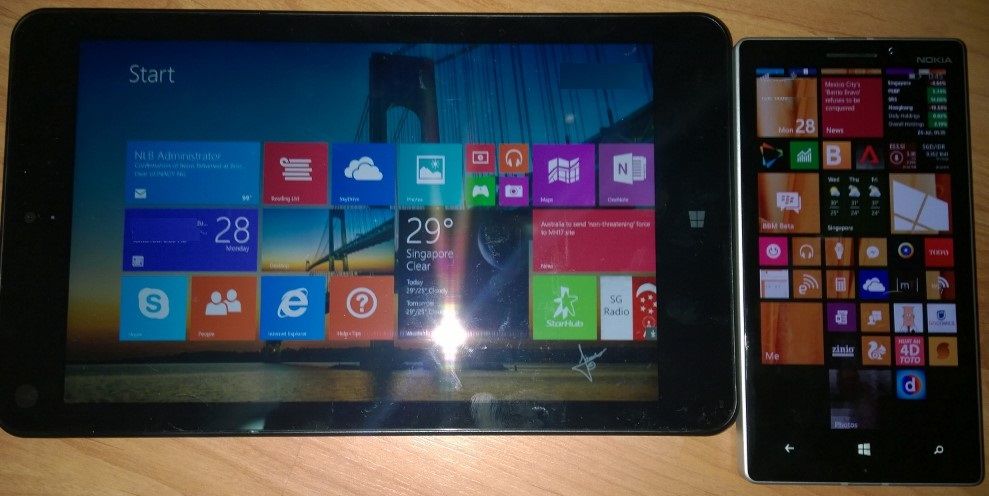 Nokia Lumia 930 and Lenovo ThinkPad 8, the combo of Windows Phone 8.1 and Windows 8.1
Well, let's start with Nokia Lumia 930.
Nokia Lumia 930

As I have been using both Nokia Lumia 920 and 1520, I will compare my review to mostly these 2 devices.
The Good
Hardware
As usual, you can expect a sturdy feel, well-built device typically from Nokia. It also offers new exciting color Green and Orange (in addition to typical black and white) to make your phone stand out from the rest. I really like my review unit orange color. It also let you have a premium touch with metal edging and button-less front screen. The size of 5" screen should be OK for most users (especially Nokia Lumia 920/925) and very comfortable to use single-handed, but if you have been using Nokia Lumia 1520 or Note 3, you will find this phone bit too small. However, it has high resolution (1920x1080) and sharper display. What I like: the black is really black that seems merge into the phone bezel. Nokia Lumia 930 screen also offers easy readability under bright sunlight.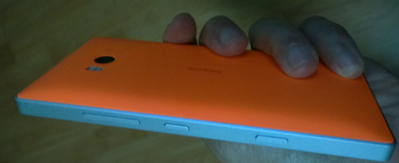 Nokia Lumia 930 exciting orange color
All the buttons location are exactly the same with previous Nokia Lumia. The new SIM tray is now more accessible as you can use your finger only to peel it out. You need needle to take out SIM try for Nokia Lumia 920/1520 which is troublesome sometimes. It also has wireless charging same as Nokia Lumia 920/1520, which I really enjoy.
Nokia Lumia 920 and 1520 has very good smartphone camera features, which is more advanced than other smartphone (launched at the same time). Nokia Lumia 1020 is more about camera than smartphone. From my personal use, photos taken using Nokia Lumia 930 are similar to Nokia Lumia 1520 as both has same 20 megapixel camera, however time taken to load camera until picture taken is definitely shorter with Nokia Lumia 930, which is good improvement.
Software
Nokia Lumia 930 is pre-loaded with all the goodness of Windows Phone 8.1 (WP8.1).
The setup of Windows Phone has always been easy. After choosing language and date/time, you will be asked to enter Microsoft Account. If you have used Windows Phone before using same account, it will automatically setup all the accounts/apps after login.
Generally, Windows Phone has been snappy, smooth and efficient. It is even better now. Windows Phone 8.0 animation can feel bit too slow after using WP8.1. The new keyboard also brings some new features, one of them is called Word Flow. I was used to using swype keyboard for Android which uses gesture/glide rather than tapping, one of the most missed feature when I switched to WP. In short, WP8.1 Word Flow is comparable to Android Swype. One funny thing that I encounter with new keyboard is the missing comma. However, this can be enabled back in Settings > Keyboard > Advanced Settings.
The prime feature of Windows Phone has been always the Live Tile. Now it is even better with live wallpaper which makes the start screen looks even better and more personalized. Action Center is definitely new feature, pretty much missed from Android. It works the same by pulling down from top screen enables you to access the quick action button (e.g. turning on wifi, Bluetooth, etc) and notification.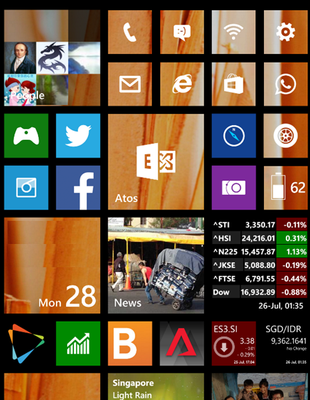 Even more personalized Live Tile
I have been big fans of few outstanding apps in WP, Nokia apps, e.g. Maps, MixRadio; all Bing Apps, Zinio, Office, etc. Few new apps are also bundled within WP8.1. I personally like the new Battery Saver which I can use to monitor apps that consume too much battery juice. This app also enables the phone to conserve battery when it gets low. You have the option to prevent app to run on the background in this app, which is found previously under Settings > Applications > Background tasks. Few new apps, like BBM Messenger (beta), have also just recently been in the market.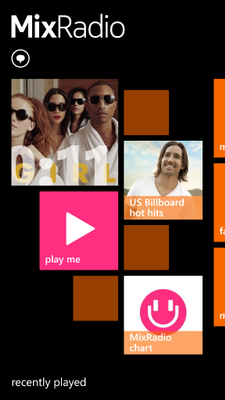 My favorite Mix Radio App
To be improved
Hardware
On the downside is the lack of MicroSD for additional storage and battery size. This might be significant for Nokia Lumia 1520, not so much for previous Nokia Lumia 920/925 users. Personally, I would like Microsoft to add MicroSD for more premium/flagship Nokia Lumia phone. The back of Nokia Lumia 930 is too smooth that it feels slippery. I almost drop it while typing on the go (@Kaiboon, I have not dropped it yet

).
Battery life is comparable to Nokia Lumia 920/925, but definitely worse than Nokia Lumia 1520. To ensure good battery life, you can turn off feature you do not use often, such as location, NFC, WiFi. The phone can also feel hot on the right bottom while using some heavy apps/games.
Due to screen technology, Nokia disables the Glance feature in Nokia Lumia 1520. Glance feature enables user to have a quick glance at time and notification without even need to turn on. I really like this feature on Nokia Lumia 1520.
Software
One of the most prominent feature introduced in WP8.1 is Cortana, personal assistant similar to Siri or Google Now. Sadly, this is still not working in Singapore region. You can easily switch to US region, however, some apps like Bing News/Finance will then show content for US, which is a no-no for me. Hopefully, Microsoft will quickly add more countries that Cortana supports.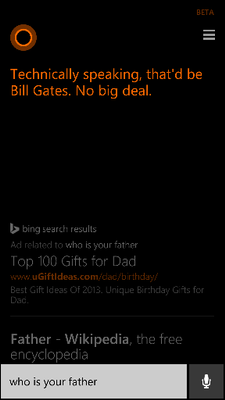 Digital personal assistant with personality
The three column tiles are now enabled by default in Nokia Lumia 930. To my surprise, Nokia Lumia 930 does not allow user to switch back to 2 columns display. Although I do not have problem with the text size in three columns tile, some might find the text in Live Tile is too small in 5" screen size.
Some hubs previously implemented in WP 8.0 has been significantly changed in WP8.1. One that I really hate is all games are now shown in the app list. WP 8.0 shows all the games in Games hub, which is great to keep app list tidy. Now, my app list becomes so long with all the games merged together, messy.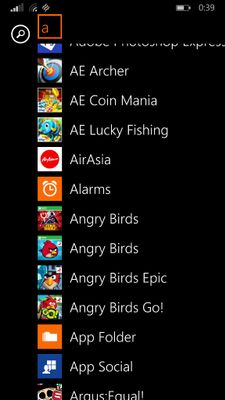 Apps List now are mixed with all the games
Me tile in WP 8.0 shows notification from Facebook, Twitter, etc, which I really like as I can easily see who comments on my post, like picture, etc on the tile. But the whole notification feature is now disintegrated from Me tile, and Facebook app is required instead. Me tile is just now much dumber tile to only change photo, post comment, etc. Messaging app also does not have any feature to send message to Facebook users, etc.
Apps are generally better now than when WP8 launched, but more apps are still needed, especially local apps. Some apps also needs to be better improved, especially in the integration to the new Action Center. For example, whatsapp messages notifications are still in the notification list after reading. Hopefully, this app situation can improved further in the future.
Using Nokia Lumia 930 together with Lenovo Thinkpad 8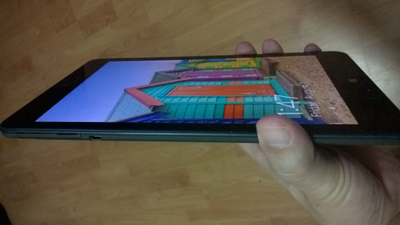 I have been using Windows 8 primarily on my PC only, so I do not really have much experience with the touch feature yet. Setting up Windows 8 on Lenovo Thinkpad 8 is easy. After accepting terms, connecting to wifi and login to Microsoft account, Windows will automatically restore almost everything to my current Windows 8 desktop, which is neat and similar to setting up Windows Phone. However, one thing missing in setting up Windows Phone is the live tile that needs to be started all over again. Windows 8 actually copy across your live tile setting from previous Windows 8 device.
Generally, Lenovo ThinkPad 8 is very sleek, slim, light and sturdy built device, considering it is actually a full desktop capable device. It is efficient enough to be used as laptop on the go, but I do not think it is ready as full laptop replacement because of its size and hardware specification might not be enough to run heavy application. Due to its screen size, the feature to snap/dock app to left/right so apps can be viewed together is disabled (it is enabled in desktop mode though). However, if you feel iPad is good enough for your work but miss the Office/other desktop application, this might be the right device.
Windows 8 start screen offers similar touch experience with Windows Phone. It is also fast, smooth and efficient. Windows Store has a few common apps that looks similar although Windows 8 modern apps are more optimized for bigger screen, e.g. Bing News, Bing Finance, Zinio, etc. Microsoft also offers OneDrive (previously known as SkyDrive) to synchronize all documents in all devices (include iOS/Android). During my testing, I can easily access all documents in SkyDrive on Windows Phone, Tablet (Lenovo ThinkPad 8), Windows 8 PC, Android/iOS device, browsers, and even my office laptop running Windows 7. I have free 28GB accumulated throughout the year, which is more than enough for my daily need.
Windows has been all about productivity. Checking email is a bliss on Windows 8 Mail App, although some might still need Outlook. You will still be able to use full glory Microsoft Office features on the desktop side, but they are still awkward to use with touch. The size of Lenovo ThinkPad 8 screen also making it difficult to really fully use Microsoft Office, although it is still good as the on-the-go device. One particular app that I like the most is the OneNote. In Windows 8.1, it has both the free OneNote modern and OneNote for desktop. During my testing, OneNote app on both PC and Lenovo ThinkPad App are automatically synchronized instantly (as long as you save it to OneDrive), although it takes bit longer on phone/Lumia (tapping refresh will update the content instantly though). Very neat.
OneNote across devices
I usually bring my laptop to office meeting as note taking or accessing documents or just checking email. I recently tried to bring Lenovo 8 instead to the meeting and it was actually able to serve me well throughout the discussion whether I needed to take note using onenote and retrieve it later in laptop, or access documents (from Skydrive), or just check email. It is a great experience as the device is very portable and the battery live is able to survive few hours meeting. However, due to its size and speed, I do not think this will be my laptop replacement yet, but it is great to be used as tablet.
It is still long way to bring the user experience to be same/similar on Windows 8 and Windows Phone 8 as both come from different design principal. One example is the keyboard. In latest Windows 8.1, there are still no word flow feature. Word suggestion in Windows 8.1 also appear near to the typing area as supposed to be on the top of keyboard in Windows Phone. Microsoft is expected to merge all mobile, tablet and desktop under one operating system which hopefully brings more unified user experience.
In a wrap
Both devices, Nokia Lumia 930 and Lenovo ThinkPad 8 are well-built devices with sleek and great design.
Nokia Lumia 930 will be great device if you decide to jump over to Windows Phone from iOS/Android. If you have been using Nokia Lumia 920 and look for replacement, this is natural choice as Nokia Lumia 930 is the true successor. However, if you are currently Nokia Lumia 1520 users, this will be great if you find Nokia Lumia 1520 is difficult to handle due to its size. For Nokia Lumia 1020 user, you might want to wait bit longer, maybe Nokia Lumia 1030.
Lenovo ThinkPad 8 is great to be used as a laptop on the go. It is a compact productivity device with all Windows desktop and Microsoft office functionalities. However, you might need to consider carefully to replace your primary laptop due to its screen size and hardware specification to run heavy desktop apps/games.
At this stage, the user experience of Windows across multiple devices (phone, tablet and desktop) has been improved and generally you can still expect some common features to be shared across device but it does not feel complete yet. Microsoft expects to improve this better by merging all into single operating system in the (near) future, and hopefully this will also encourage more apps to be developed as part of ecosystem.