Linksys Velop AX4200 Tri-Band Mesh WiFi 6 System (MX4200) Goodbye Deadspots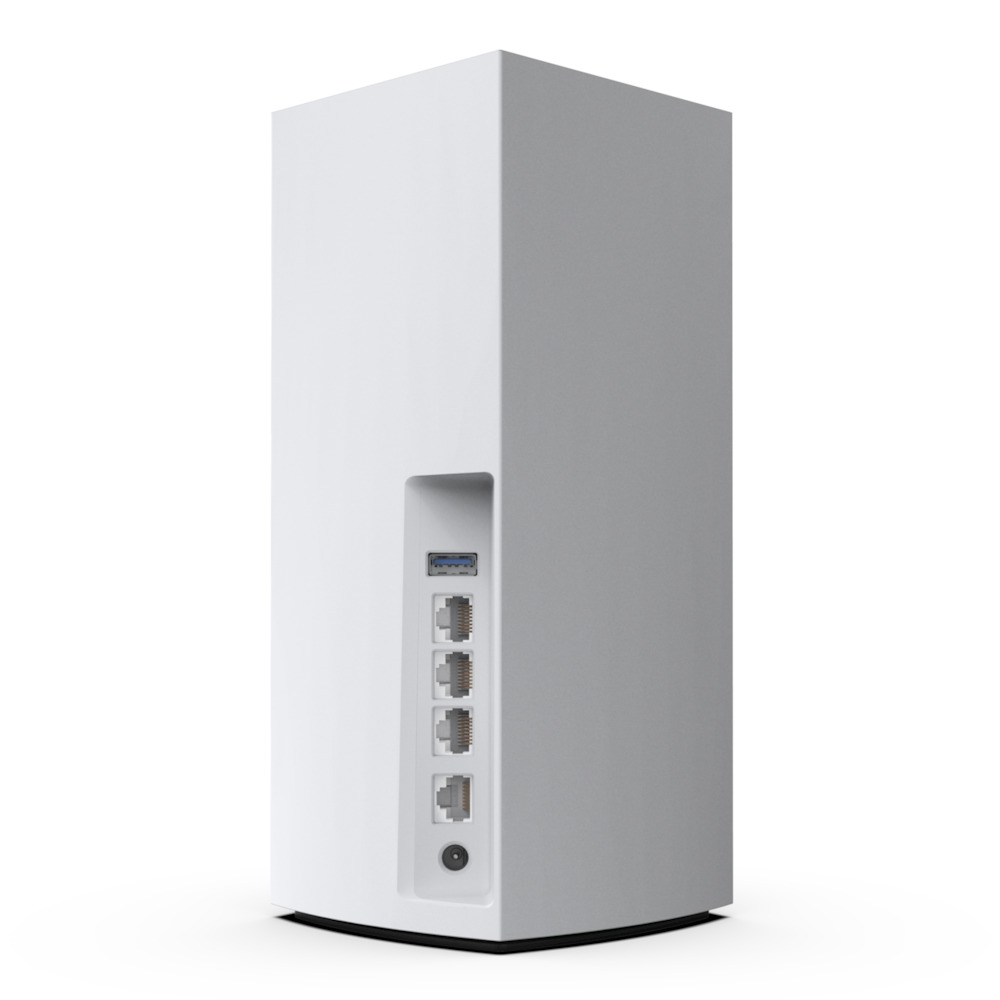 Received my trial set on Wed, 3 March. I was immediately taken in by the size of the sets, coming in at almost 0.95kg per node and standing at 243mm with a base of 114 by 114mm this piece of equipment is pretty big in comparison to other routers.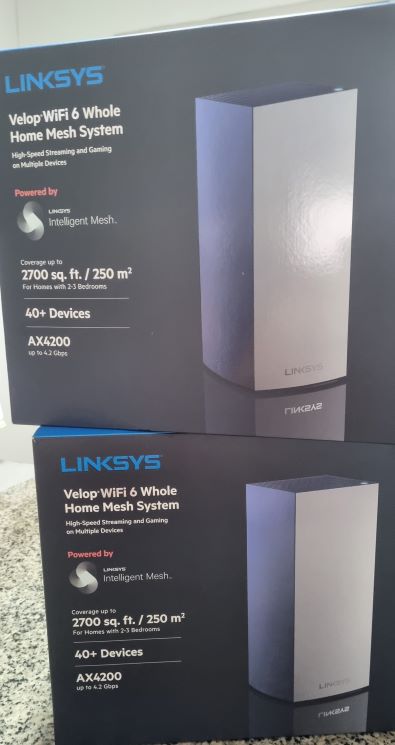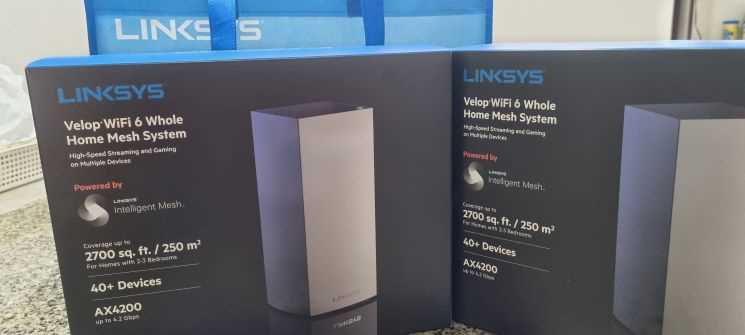 In the box, it comes with one node, power connector with multiple adaptors and an Ethernet cable, ratings not printed on it, but no issues as I planned to use my existing Cat 6 cable from my existing setup.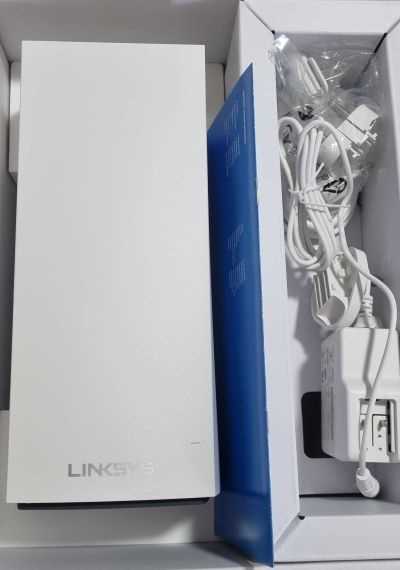 The set is clean and aesthetically pleasing, all the switches are located under the base and I like having a physical on/off switch. For those who want to nit-pick, well, the WPS button is located there as well. I suppose my only gripe here is that the heat vent is located at the top.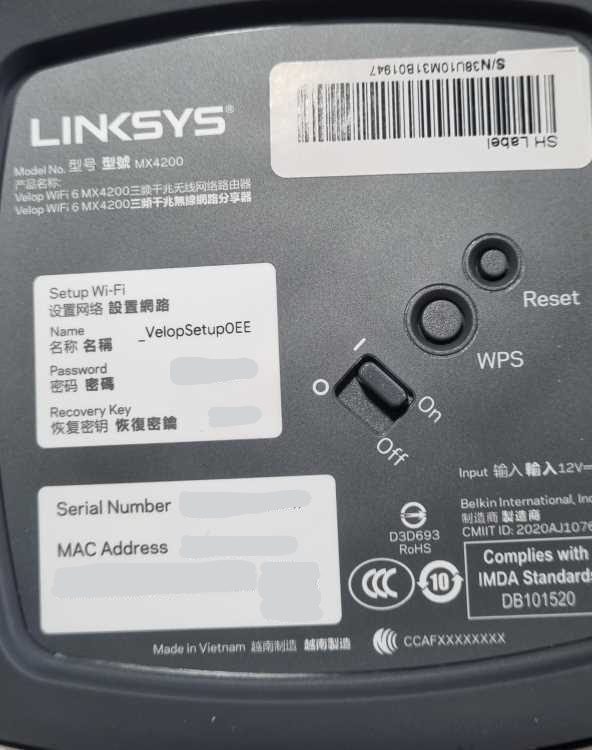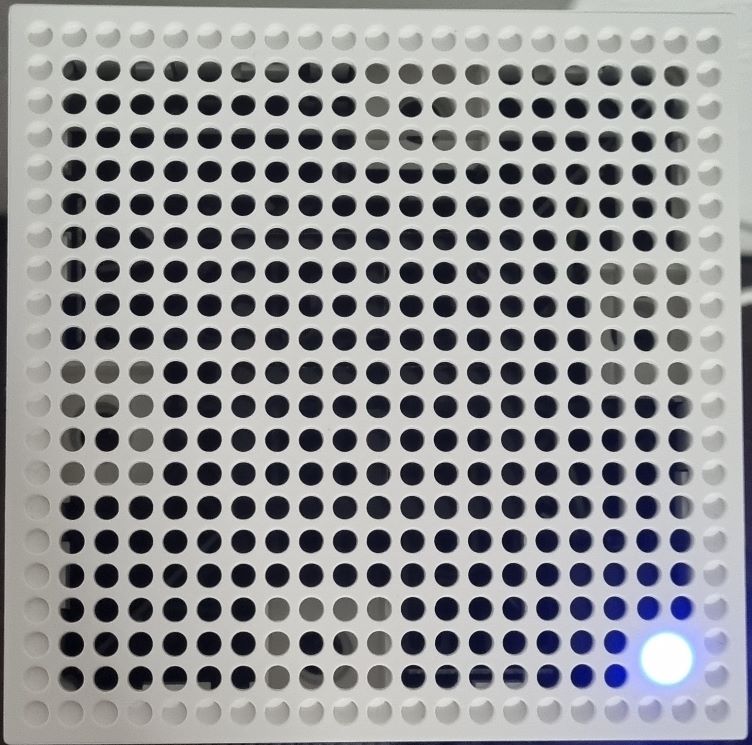 Setting up was a breeze but to review this set, I decided to set up one node at a time. I have a bad habit of not reading instruction manuals, *Pro-Tip, Download and Install the Linksys app into your device before anything else. The app is very intuitive and easy to use. I already had it installed as my current set up is the venerable Linksys EA8100 Max-Stream. How easy is it to set up? Once you have done the app download and install, plugged it in to your ONT and power, turn on the node and launch the app, wait for the purple light on the node to come on, tap on the menu icon scroll right down and follow the on screen instructions.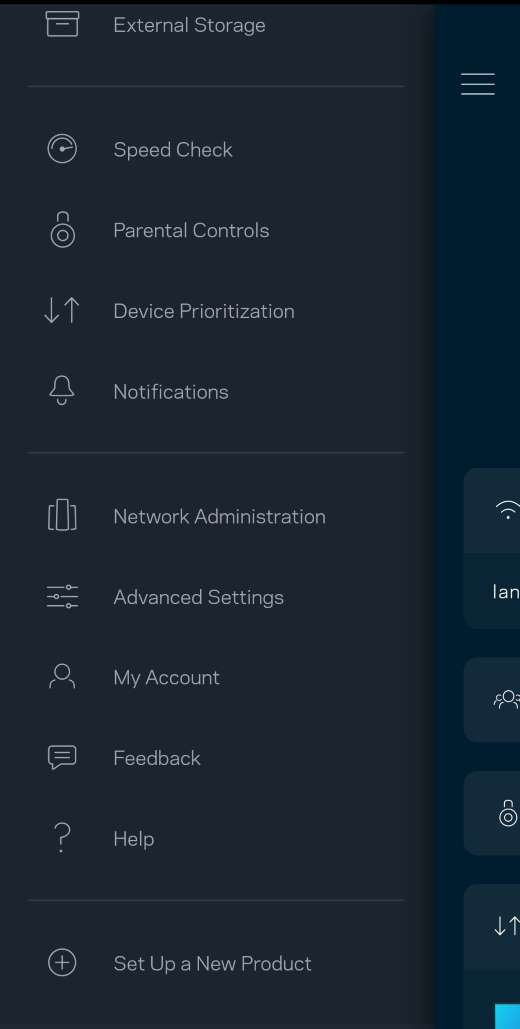 For this review, I used my existing EA 8100 as a base and set up the first node at the same location and the second node 5 metres diagonally across. My flat is 135sqm and had a couple of dead, or weak signal spots, especially at the corner of the master room and the second bathroom. I used Ookla for speedtest on an S21 which supports Wifi6. The tests were based on the EA 8100, then the MX4200 with one and two nodes turned on respectively. *Speeds may vary slightly on AC standards but not by much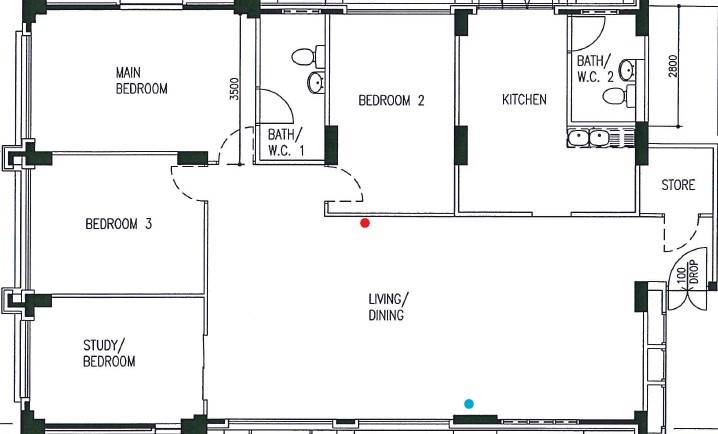 Red - Node 1
Blue - Node 2
Main Bedroom
EA8100
MX4200 – 1 Node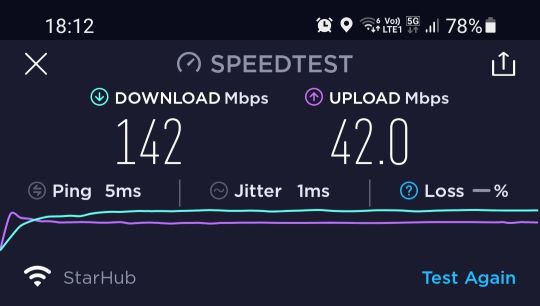 MX4200 – 2 Nodes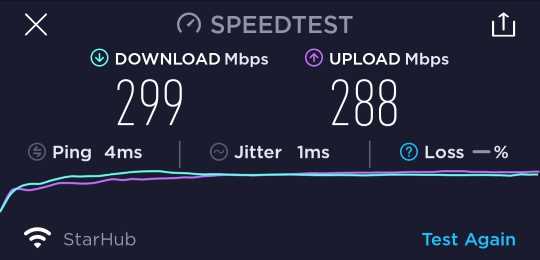 Bathroom 2
EA 8100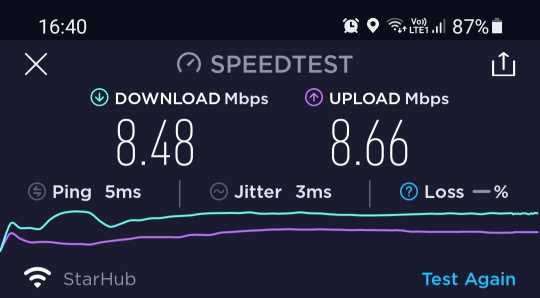 MX4200 – 1 Node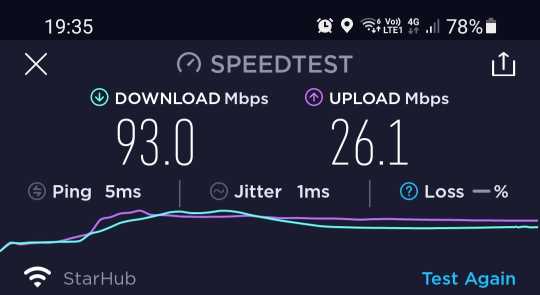 MX4200 – 2 Nodes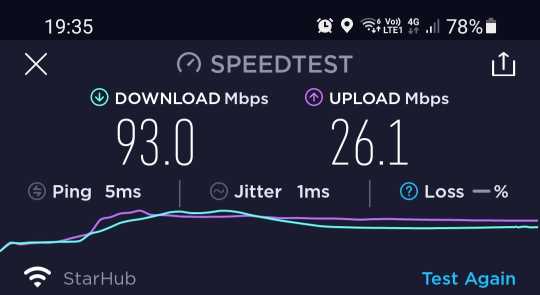 Living / Dining room (Taken 3 metres from router/nodes
EA 8100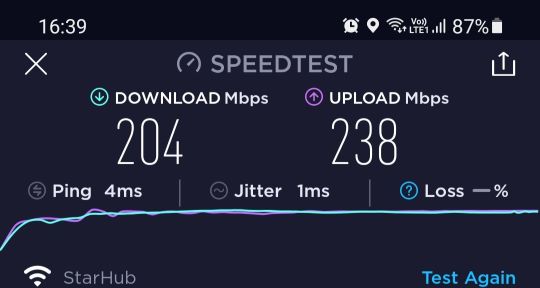 MX4200 – 1 Node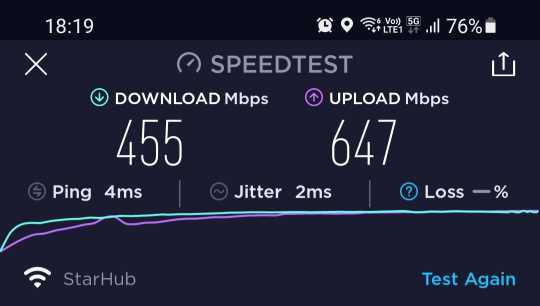 MX4200 – 2 Nodes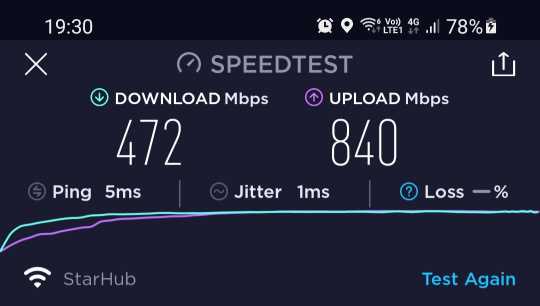 And because I could, here's a special bonus; I took a reading from the ground floor, 11 storeys down and 20 metres from the foot of my block with a direct line of sight to where my nodes were placed.
EA 8100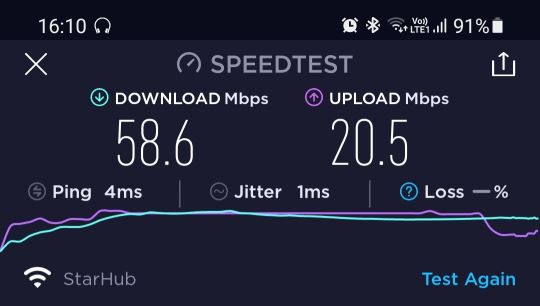 MX4200 – 1 Node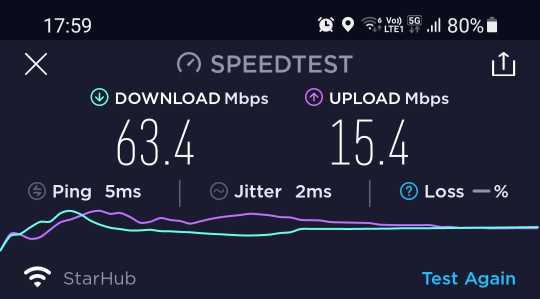 MX4200 – 2 Nodes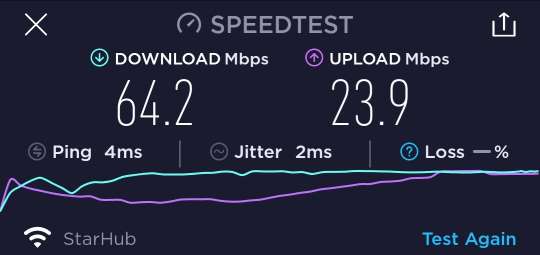 My Wifi use at home is predominately for WFH with heavy video conferencing using Google Meet, Zoom and occasionally MS Teams, some gaming, movie and music streaming, I was satisfied with my venerable EA8100, despite the occasional dead or weak signal spots and was reluctant to splash out for a 5300 system which for my needs be an overkill, the MX4200 however, hits the sweet spot. Even with just one node, there was a marked improvement in coverage and it is backward compatible with the AC Standard, which is good, seeing that AX adaptors for PCs are not quite mainstream yet and AX Laptops are being rolled out. At SGD288.00 per node, this is a good buy, seeing that it's currently exclusive to Starhub. Otherwise, the SRP on Linksys' site is USD249.99.
Tech Specs can be found here
Please do not send me enquiries via PM, I may not read them in time to help address your issues