LG G2: Bold hardware design choices
Buttons
LG has taken a new experimental approach on the button placement of a typical smart phone.  The power and volume button are placed at the back where ergonomically makes perfect sense. With phones getting larger it doesn't really make sense to have the volume buttons on the side. You need to reach for the buttons vs on the G2 the buttons are where your fingers are naturally aligned to turn the volume up and down easily. No more accidentally bumping the volume buttons on the side too. There are no other physical buttons other than the 3 at the back, making it look sleek and sexy.


Left: a US variant, Right: Singapore's version


Display
The screen with micro thin border packs almost 80% of the front phone surface solely for display. Its only 1 mm larger than S4 on all sides but comes with 5mm larger display. Galaxy Note II and the other phablets are just too big. LG fit a huge screen into a minimal package I can truly say it is phenomenal.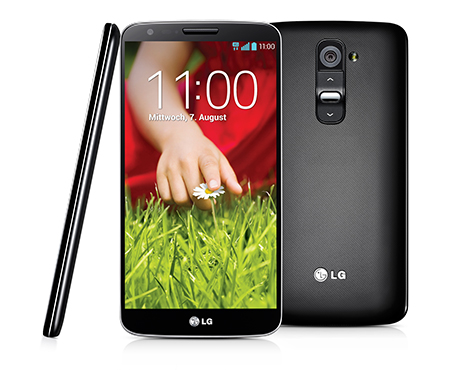 screen display covers almost 80% of the front


Battery
3000mAh battery is definitely twice the life of an average smartphone! Powerful Snapdragon 800 processor has dynamic power sensing and G Ram (Graphic Ram) improves battery life as it takes the pressure off cpu processing.  I manage to clock 16.5 to 28hours per day on a daily basis is awesome with quite heavy usage with games and movie playback. Blazing fast processing with minimum power usage.

Quick Window Cover
QuickWindow thin case is made with comfortable polyurethane thatched texture feel. A cutout provided for notification light. The window at the front is oriented at a portrait as compared to landscape S-Cover. Display only show small portion of the screen to save battery. I wish there is more functionality other than clock and mp3 player.
The back cover protect camera with slight recess. Back thickness dont interfere with tactile back buttons or the flash.

Camera
OIS and High Resolution Camera for Great Pictures
The LG G2's in-built camera offers 13 megapixels and Optical Image Stabilizer (OIS) technology in a slim design without a protruding lens. The OIS technology prevents blurring, allowing for clearer, brighter and sharper images even when in motion or shooting in dim environment. Other notable features include Super Resolution and Multi-point AF, keeping images in focus, comparable with a standalone point-and-shoot digital camera.
More review of the camera features soon.

Sound/Speaker
For those audiophiles out there, this phone does allow for 24 bit music and it really does sound fantastic. With headphones in this phone, the sound quality is one of the top-notch phones. With the speaker the phone is loud, definitely louder than the iPhone 5 but not as loud and clear as the HTC One. In this comparison, the HTC One wins for the speakers and beats audio for earphones, but the G2 is no slouch and I find myself listening to my music on the speaker frequently.



In the upcomiung updates I other features of LG G2 will be discussed:
http://yul000.wordpress.com/