ICYMI: You can Enable Extensions in Chrome's Incognito Mode

Google Chrome does not run extensions in Incognito mode by default. Why? It is because those extensions could potentially compromise your privacy. But it is possible to add and enable an extension while you're in private browsing mode if you like. It's easy to do, here's how.
Once you open Google Chrome, click the "Extensions" icon, which looks like a puzzle piece, in the toolbar. When a menu pops up, select "Manage extensions."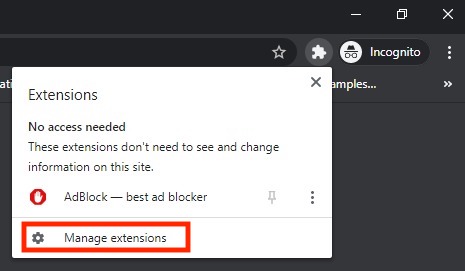 If you don't see the puzzle piece button in the menu bar, click the three-dotted button instead and select More tools > Extensions from the menu.
Thereafter the Extensions tab will appear, find the name of the extension you want to enable in Incognito mode and click the "Details" button beside it.

Once you're on the extension's details page, scroll down and toggle the "Allow in incognito" button to enable it.
Important Note

Extensions in Incognito Mode may record your browsing history and other private details. Basically, they will work like you are in standard browsing mode. We highly advise that you trust the extension before giving it access to your private browsing.
If you want to do the same with other extensions, click the back button, then go to each extension's "Details" page to enable "Allow in incognito."
When you are done, just close the "Extensions" tab and the new setting will take effect immediately. You can now use the extensions you enabled in Incognito mode. Moreover, they will remain active in standard browsing mode. Happy browsing!
~ Carla
▬▬▬▬▬▬▬▬▬▬▬▬▬▬▬▬▬▬▬▬▬▬▬▬▬▬▬▬▬▬▬▬▬▬▬▬▬▬▬▬▬▬▬▬▬▬▬▬▬▬▬▬▬
Some of my posts, opinions and views here do not reflect my position and StarHub's opinions.
For account related matter, please seek help from our Customer Service team via
Facebook Messenger.
Have a good idea? Tell us at our
Ideas Exchange!