First Look At The Linksys Velop AX4200 Tri-Band Mesh WiFi 6 System (MX4200)
The Linksys Velop WiFi 6 Whole Home Mesh System (MX4200) promises to deliver next-level streaming and gaming to more than 40 devices on your network. With easy set up, advanced security and parental controls, MX4200 is an essential upgrade to any home.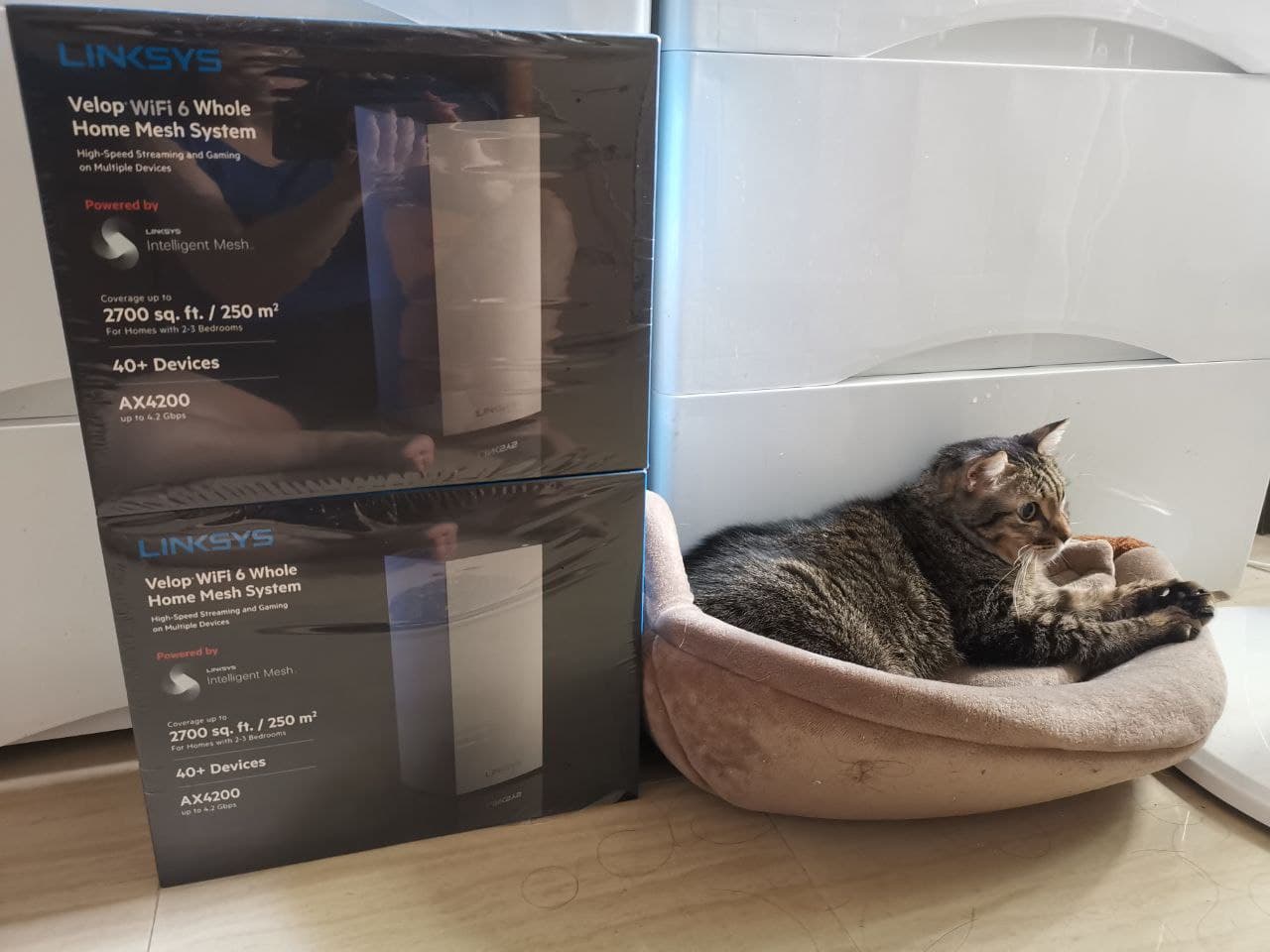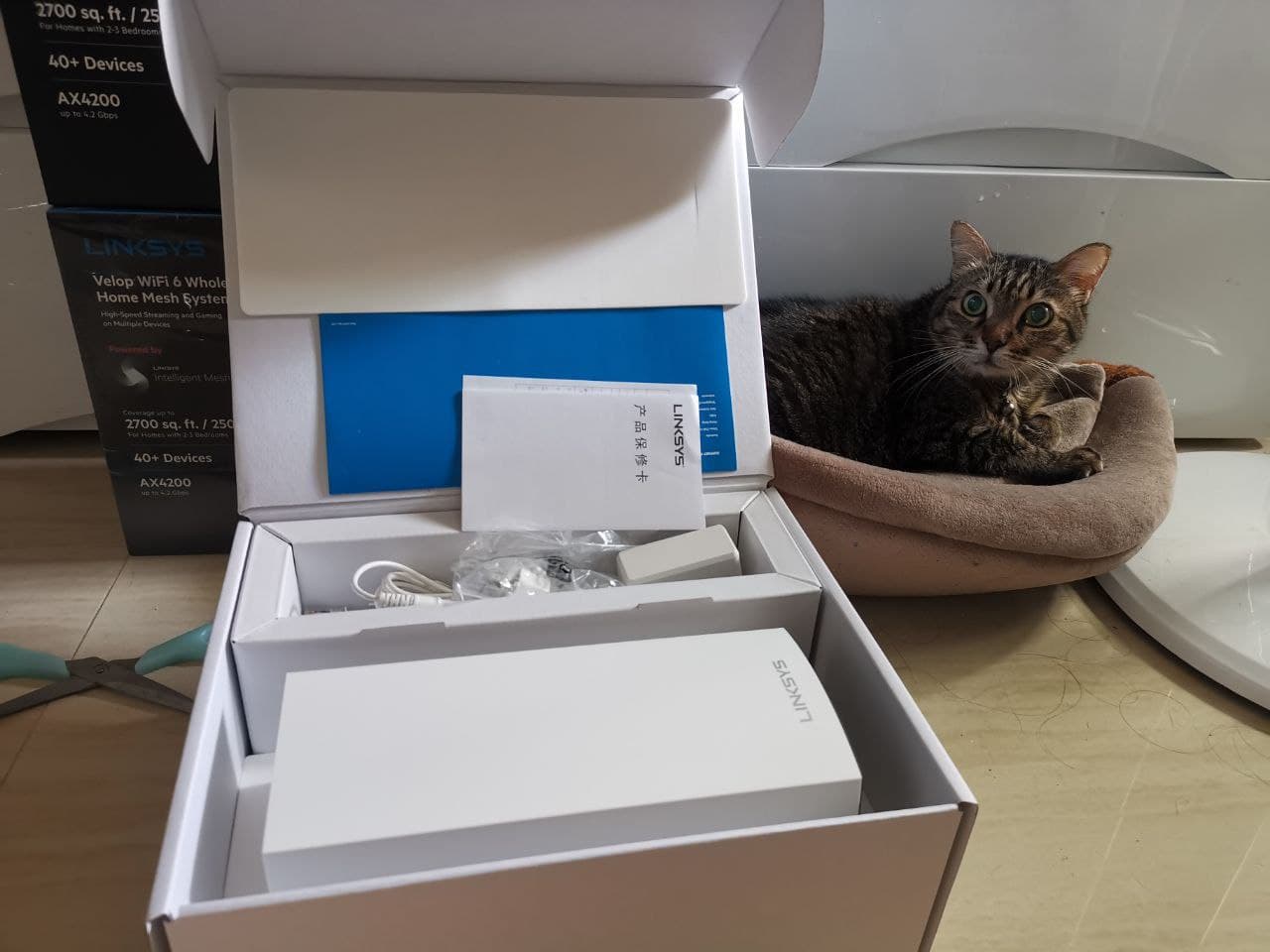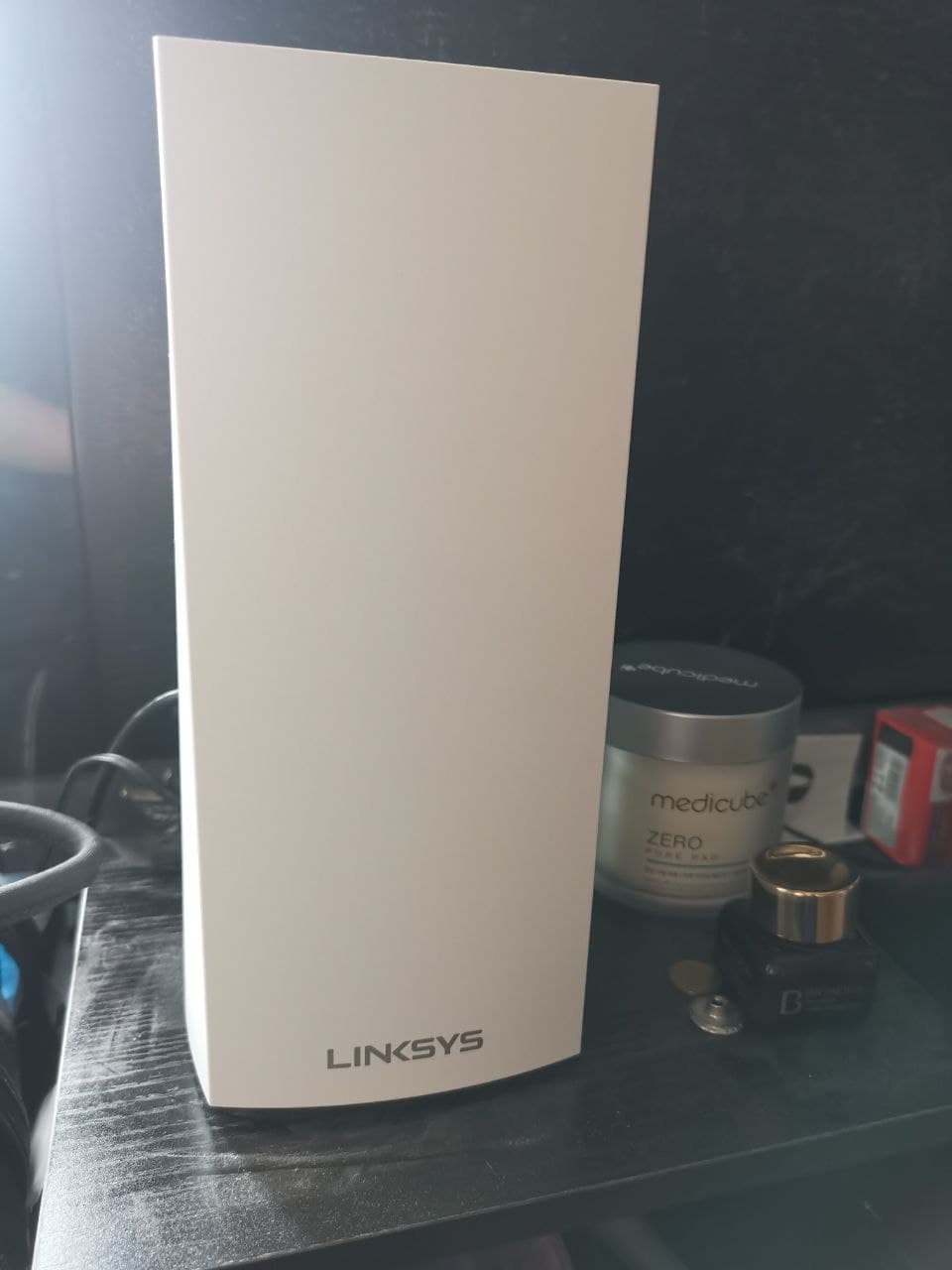 I was one of the few lucky enough to be picked to trial this new router system. (And yes, the cat is a blatant attempt to get more clicks on this.)
Let's see if the speeds delivered are what the Linksys Team has promised.
1) Starting Out
I dislike setting up new routers and after the pain I underwent setting up my wired bridge, I was hesitant to switch to another router - even if it was the same brand.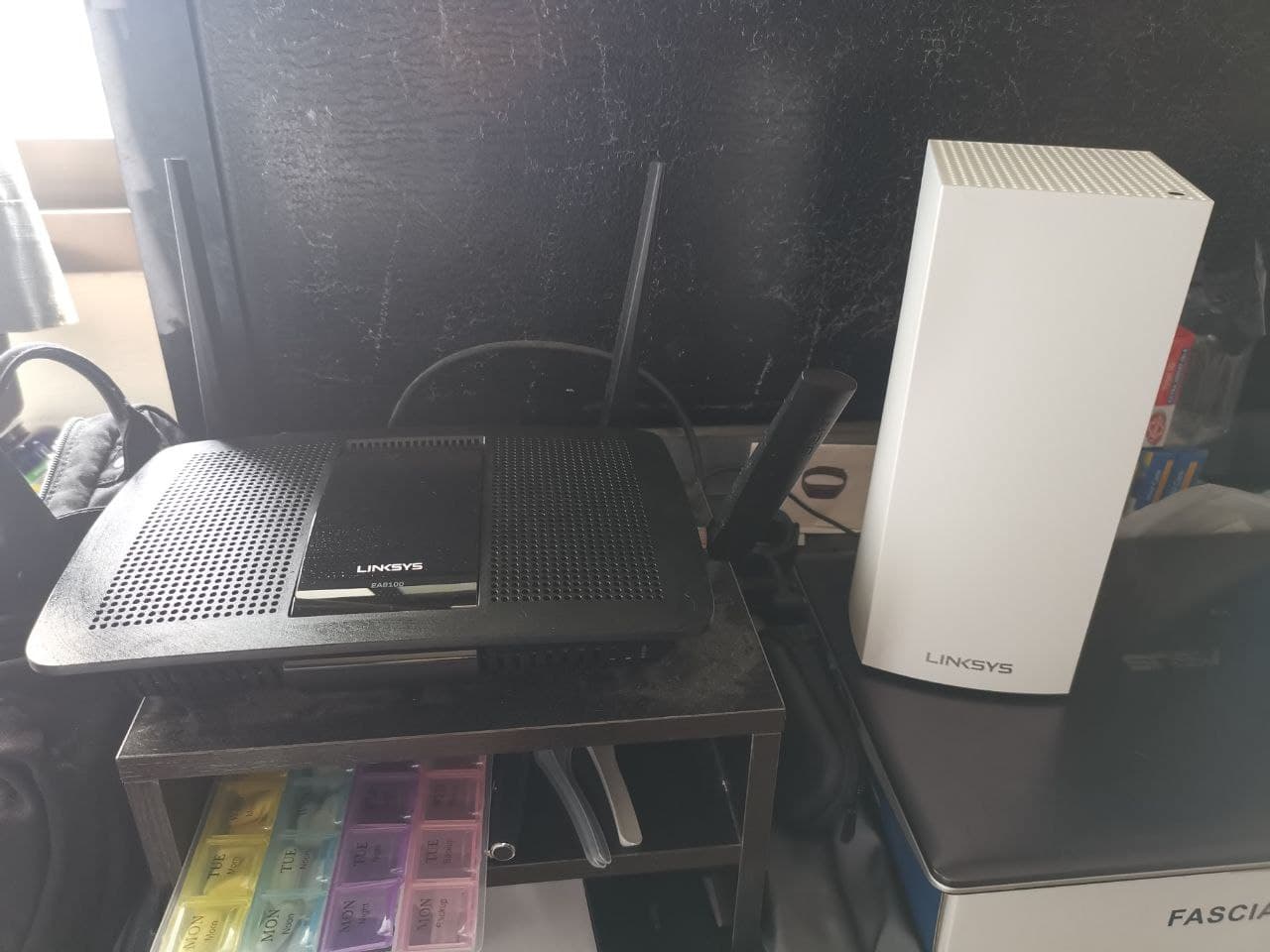 After some coddling ("Very easy wan! 3 minute set up nia!") and brainwashing ("WIFI 6 very fast wan! Must try!") from my best friends, I eventually agreed to join the Linksys Online Launch event for the Linksys Velop AX4200 Tri-Band Mesh WiFi 6 System (MX4200).
Yes, I still have my reservations about a mesh system. I had set up a wired bridge because I hated the lag - any lag when routers "talked" to each other.
The product managers at the event said this would be greatly reduced with the use of the new Velop AX4200 Tri-Band Mesh WiFi 6 System (MX4200) system which supported wired mesh bridges.
Well, let's see.
2) Setting Things Up
To be honest, it was relatively pain free compared to the set up I did for my bridge.
All I had to do was to download the Linksys App, switch on Bluetooth on my phone, attach the cables to their usual places and then switch the router on. Detailed walkthrough at TweakTown.
I even checked my progress, having started roughly around 1645hrs and then completing my set up by 1730hrs.
The only pain point was the pairing of the router to my handphone for the customization because it took way longer than expected for my phone to find the router and link it via Bluetooth for customisation.
Seriously, if you're setting it up, pull everything down. Don't set the router up way above your head and look confused when the App asks you whether the purple light is blinking or not.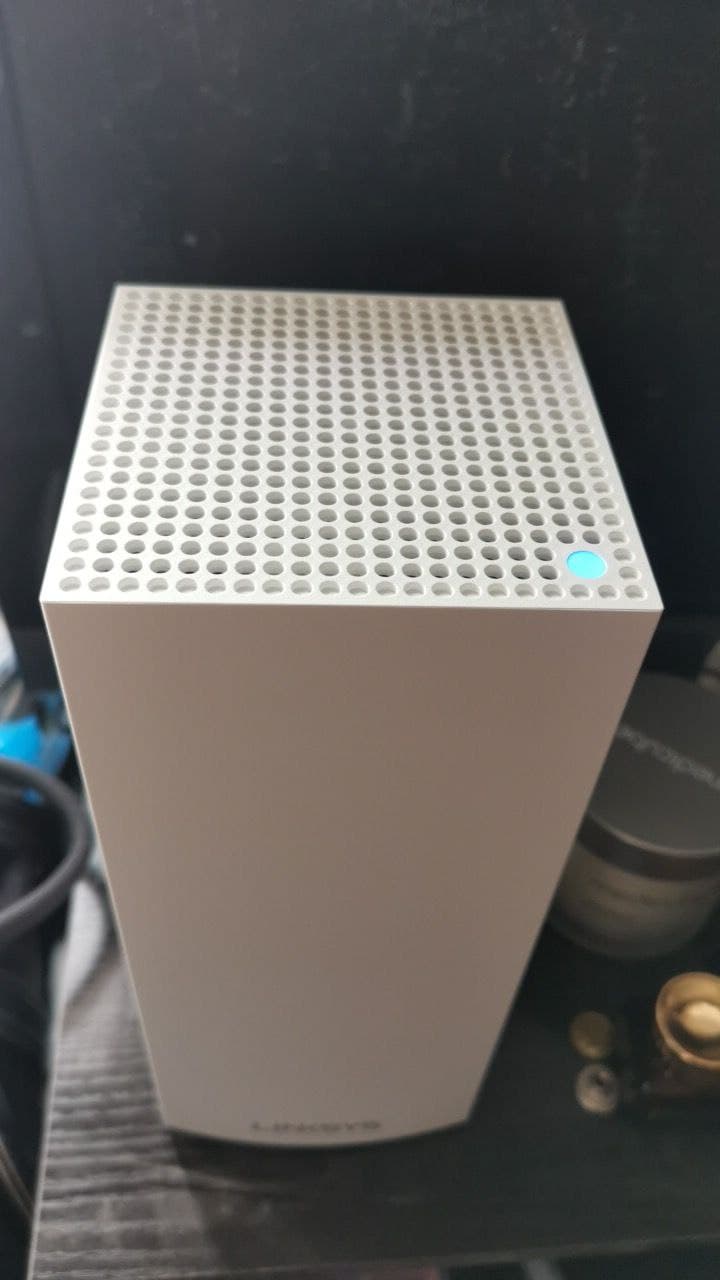 3) Speed Time
Well, the most important part is usually the speed right? So let's take a look.
For context, I stay in a regular 5 room HDB flat and there are walls everywhere. Doesn't help that I live with a hoarder so let's make do with what I have.
I placed 1 of the 2 nodes I was provided in the living room, above a cabinet that's about 1.5 metres tall. The other node would go into my bedroom, the furthest room from the living room. Admins do have privileges.
Since I already had a wired bridge set up previously, I will continue to bridge both nodes with that same cable - hopefully to reduce any potential backhaul and to raise speeds.
Will I be successful? Let's check it out.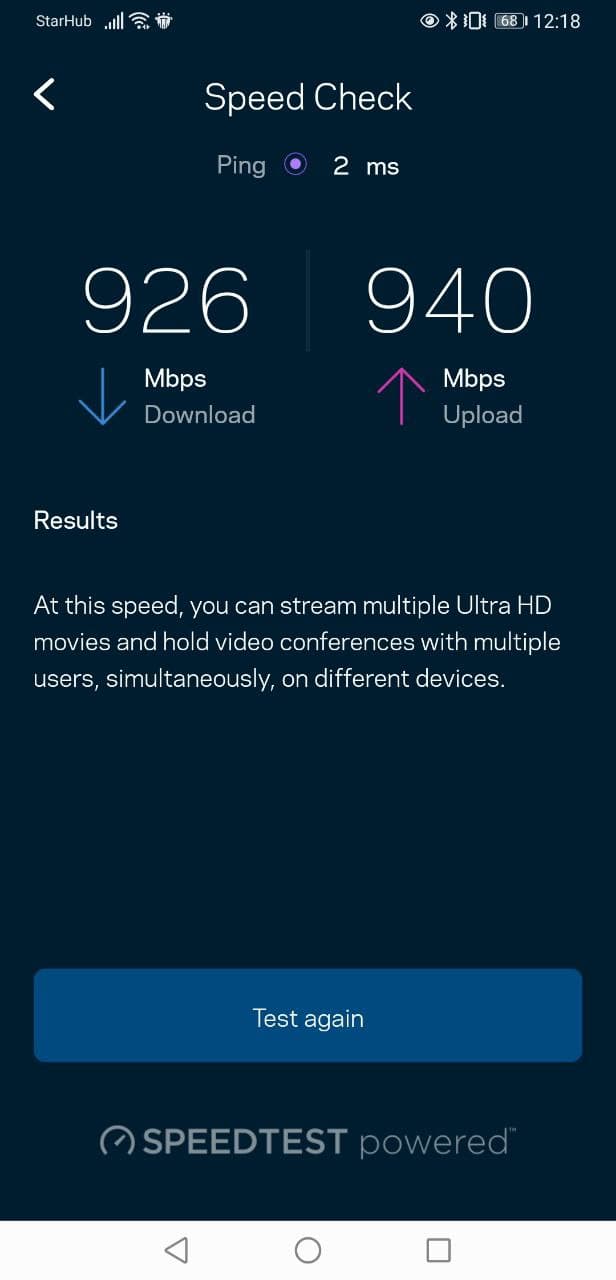 This image was taken using the Speed Test on the Linksys App. How accurate it would be is dependent on the devices you (or I) own and they must be supported with the relevant WiFi 6 chipset.
The full list of compatible handsets can be found here.
Regretfully, I don't have any Wifi 6 compatible devices and therefore, you will not be seeing these very strong speeds when I do the actual speed tests on my Huawei Mate 20 X below.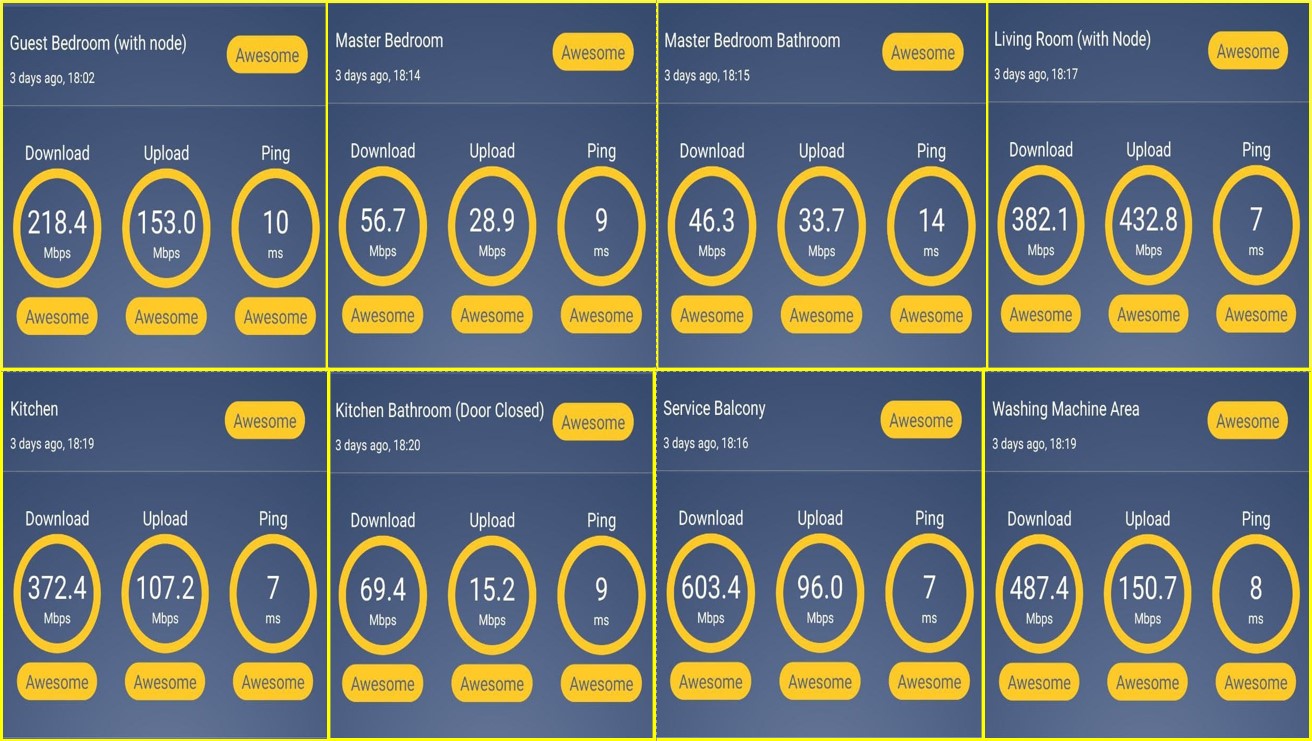 I also managed to grab my mom's Samsung Z Flip that supposedly supports WiFi 6 speeds and here are the results.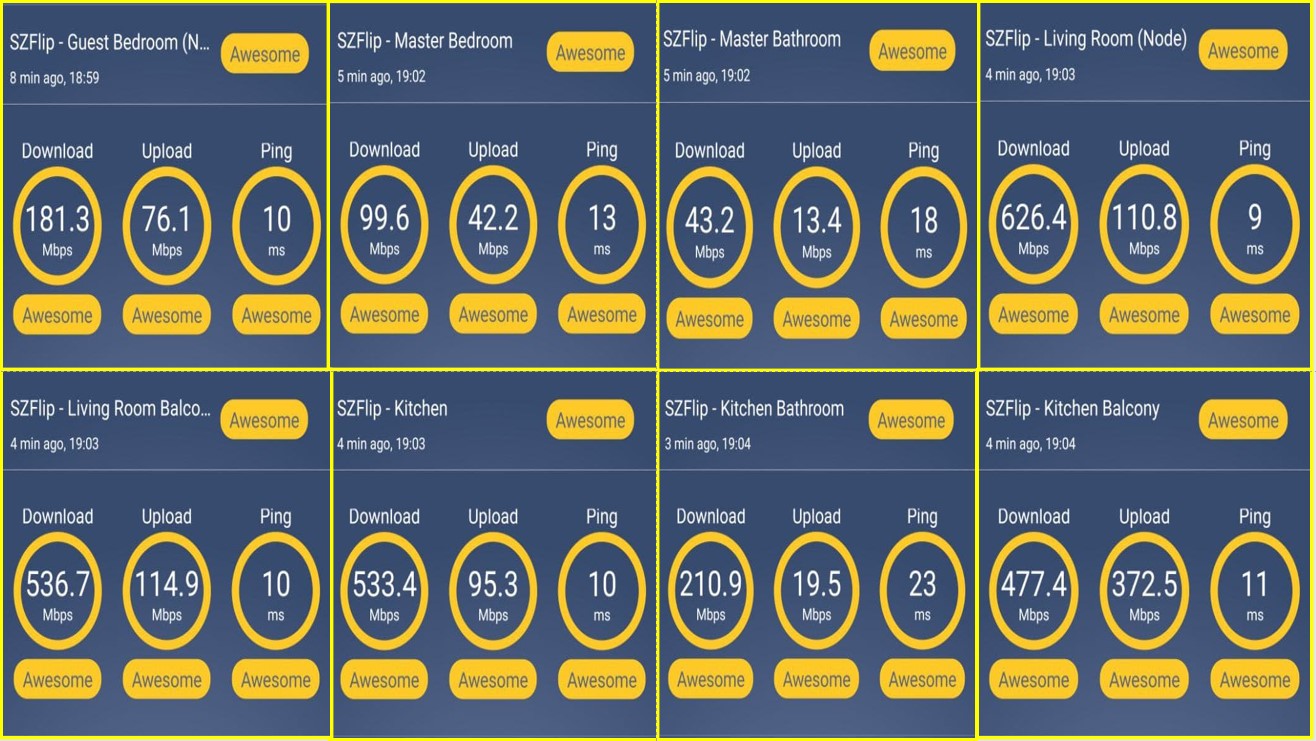 You can compare the speeds here to the other article I posted regarding my wired bridge set up - Why A Wired Router Bridge Should Be An Option
4) Summary
I do see a significant reduction in blindspots throughout my house. Areas that were previously hard to reach (like the washing machine area after the Kitchen and both the bathrooms) were now flooded with connection.
My parents also reported better coverage in their Master Bedroom - they had been previously complaining that they couldn't get WiFi once their door was closed.
The shift between nodes is almost invisible and happens within 2 seconds at most.
My only complaint is that I no longer know which band I am connected to as the 1-network setting erases this visibility.
It does cause me some concern because I can no longer "dedicate" my devices to certain bands. But the difference, to be frank, is negligible for the average consumer.
Here's my rating of this router overall so far.
Ease of Setup: 5 ⭐ out of 5 ⭐
- Everything can be done via the Linksys App.
Time needed to Setup: 4 ⭐ out of 5 ⭐
- No one mentions that Bluetooth needs to be switched on. I also experienced a few moments where the router took additional time to pair up with my phone despite everything being set up close by.
Speed after Setup: 4 ⭐ out of 5 ⭐
- I have screenshots from my wire bridge guide that are comparable to the current speed I have now. I can't actually compare the speed differences between both set ups because I don't have any WiFi 6 devices. On my current Huawei Mate 20 X, it does not show a marked improvement over my bridged routers.
Range of coverage after Setup: 4 ⭐ out of 5 ⭐
- Overall, it does show a marked improvement in range and penetration in areas where I previously had blind spots in comparison to my wire bridge guide. Surprisingly, I was able to connect to the router while from the void deck of my HDB (I live on the 11th floor) when walking from the carpark.
Verdict: 4.25 ⭐ out of 5 ⭐
- Excellent range coverage. Easy set up. What more can you ask for? Bigger houses (mansionettes) may require 3 nodes depending on where you place them but otherwise, 2 is good enough for a regular 5 room HDB flat.

My opinions are my own and I am not employed or affiliated to StarHub in any way outside of my home and mobile plan subscriptions.