Considering Nokia Lumia 930? You must read this!
What our Community users love about Windows Phone?
Recently, we have conducted a survey to find out what do Windows Phone users love about their Windows Phones.
Windows Phone brings a lot of cool features like Family Room and Live Tiles. From the recent survey conducted, we learnt that Family Room is one of the top favorite feature that our Windows Phone users love.

Family Room
As shared by @stardust2810, Family Room allows you to share notes, a calendar, photos, and participate in a group chat with people you choose. These are the features available to the group you create:
Room Chat - Unlike with group texting, every Room member in a Room Chat session sees each other's messages and replies, making it easy to keep everyone in-the-loop—and only Room members can see those messages. And with the new Location Sharing feature you can just as easily let everyone else in a Room know exactly where they are.

Shared Calendar - Every Room has a shared calendar, which all Room members can view and update. If anyone adds an event or makes a change, it is automatically synced to all other Room members' phones. Don't worry if you having family members who are not using Windows Phone, they can also stay connected with you.

Shared Photo Album - Rooms also provide a shared photo and video album—just share a photo or video with a Room and it'll be visible to all Room members.

Shared Notes - Rooms also make it easy to share OneNote notes, which are automatically synced across all Room members' phones. The room notes will show up as a shared notebook, with the same name as the room.
You will be able to stay connected to your family and keep each other updated by sharing photos and grocery list. You can also create Rooms for other contacts to share information with your close friends and colleagues.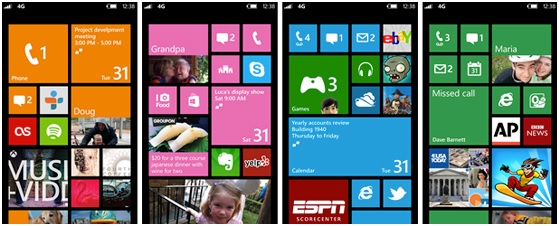 Live Tiles
Another unique feature of Windows Phone is Live Tiles. @KingJames and @telemonopoly love the Live Tiles feature that is being offered by Windows Phone. @telemonopoly shared that Live Tiles give the ability to see all real time notifications at a glance instead of having to open the app to see if there is any new messages, Twitter mentions or Facebook notifications. It is much neater as compared to using other widgets. Live Tiles are interactive apps that use the internet to bring live updates to Windows Phone users. They are useful for having instantaneous information on constantly changing data like stock indexes, international weather, as well as local and international news. Live Tiles replace the need to visit certain websites that contain this information, something that many PC users do on a daily basis. Live Tiles also replace the need to launch any of the apps that provide this information; Live Tiles provide you with short, immediate updates without having to leave your start screen.
Nokia Camera
Don't forget about the camera. Simply point, shoot and capture the moments with Windows Phone. There are a wide variety of photo apps like Instagram that allow you to enhance your photos and share them with your family and friends. You can also use the lens app to add filters and special effects to your photos. With Windows Phone, everyone can be a great photographer.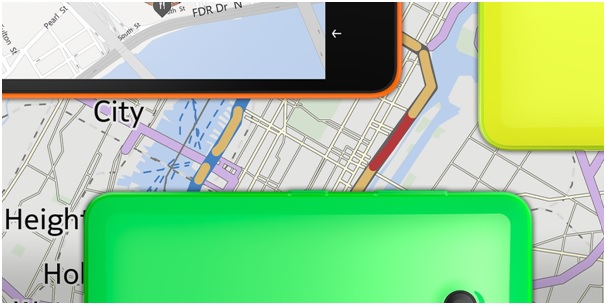 HERE Maps
Windows Phone are great travelling companions too. You will not have to worry about getting lost in a foreign country when you have HERE maps. You can download and take accurate, high-quality maps with you on the go. It's a complete mapping app, designed to work even without a data connection so you can rely on it when travelling. Get walking, driving and public transit directions to the places you want to go, all completely offline. Plan where you want to go and save places so you can find them easily with your phone when you are out and about. @ahtea has travelled to the United States, Hong Kong, China and Malaysia with HERE maps on his Windows Phone.
Here we find out from our Windows Phone fans @Gunz and @sfans on what they love about Windows Phone.
Interview with @Gunz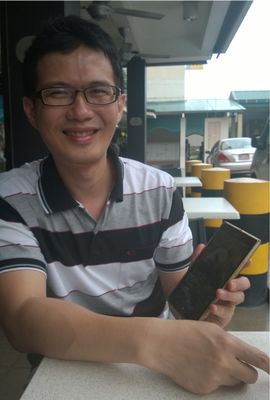 @Gunz (photo taken with my Nokia Lumia 920)
I have meet up with @Gunz for a short interview. He is a proud owner of a Nokia Lumia 1520 and Nokia Lumia 920. Back in June 2012, @Gunz was able to re-contract his line to get a new handset, however he waited for Nokia Lumia 920 to be launched. After using it, @Gunz has never looked back.
@Gunz shared with me that Windows Phone has become an integral part of his house. With his Lumia 1520 and 920, he is able to access the documents on his computer and he can work on them while on the go. Furthermore, he loves the PureView camera which he can capture beautiful images.
Having tried out WP 8.1 on his Lumia 920, @Gunz told me that he enjoys using Cortina - a personal smartphone assistant powered by Bing. Furthermore, he can add a wallpaper on his handset to make it even more personalised. Fret not about the tiles blocking the wallpaper, you will be able to view the wallpaper as some of the tiles are translucent.
@Gunz would like to recommend Whatsapp, Bing News and Nokia MixRadio to the other Windows Phone users. Bing News allows him to keep updated on the happenings and Nokia MixRadio is the app that he loves most. With Nokia MixRadio, he can listen to his favourite music which are suited to his taste.
As an avid lover, @Gunz would love to see more enhancement to Windows Phone. He feel that Windows Phone can be more customisable and personalised; it will be better if he can use a custom keyboard. He would also like to see more apps available for Windows Phone users.
Interview with @sfans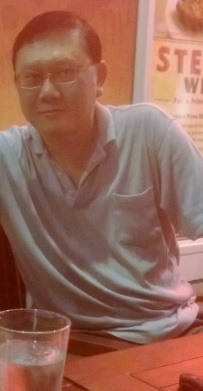 @sfans (Taken with Windows Phone)
Similar to @Gunz, @sfans has also been using Windows Phone for close to 2 years after switching over from an Android device.
@sfans commented that Windows Phone is user friendly and easy to use. As his notebook is running on Windows 8, there are quite a number of similar apps available on both devices and Windows Phone has made his work more productive. After taking photos with his Windows Phone, he can upload the photos to OneDrive and have them available on his notebook within minutes. With the help of OneDrive, @sfans can easily access his photos and documents on both devices without having to transfer them using USB cable. All he has to do is just to upload them onto OneDrive and eureka! Don't worry if you have another device running on Android or iOS, OneDrive is available on them too.
Windows Phone has enticed @sfans with HERE Drive+ which he has used for navigation (me too). HERE Drive+ offers true offline, turn-by-turn voice-guided navigation in 97 countries. One can simply download the maps and use them overseas without worrying about incurring high data roaming charges (fret not, we have RoamEasy too) as HERE Drive+ does not require a data connection to run.
Another app that he love is the Nokia Camera. You can either use auto made when you can simply point and shoot or switch to full manual control to create the perfect composition. @sfans shared that he can use different shutter speed to capture each moments. You don't have to have a DSLR to be a great photographer. Nokia Camera can do the job for you.
Apart from that, @sfans also love the battery saver function on his Windows Phone. It will turn off some services while in standby to preserve battery life. He will still be able to receive calls and texts when battery is low. He also told me that he enjoy playing games on his device (who says Windows Phone is not for gaming?). Do check this out.
Despite being a fantastic device, @sfans feels that there can be other improvements like handset restart function and more features for NFC to make it even more appealing.

Check out Windows Phone 8.1 here

========================================
Home is where the ♥ is