All-new StarHub Smart WiFi – Nokia Beacon 1 Wi-Fi mesh router
Starhub has launched its all-new Smart WiFi along with their Fibre Broadband plans. The new state-of-the-art device is a Nokia Beacon 1 WiFi mesh router designed to provide the best coverage at home with simple plug-and-play installation steps. Who would have guessed that Nokia produced WiFi routers as well?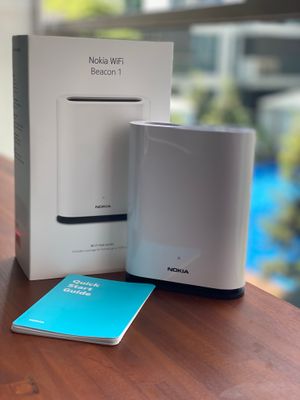 Nokia WiFi Beacon 1
My first impression of the router, the design is simple and pleasing to the eye. The first thing that caught my attention as there are no antennas attached to the router. The beacon's dimensions are 150mm x 115mm x 42mm, which makes it a compact-sized router; however, it is a pity that there are no wall mounting options. On the back, there is an on/off button, reset button, 2 two LAN ports for WAN (for a modem connection) and LAN (for wired devices connection).

Back
The set-up is effortless and straight forward. It can be done either via the Nokia app or the router interface. I would advise going with the app for a faster set up; just follow the app instruction. Once the beacon set up is completed, you may log in via the router web interface for more in-depth set-up.
Each beacon can cover up to 1500 sqft, which means it is suitable for local apartments. In my personal view, it would be better to add one more beacon due to the walls in between the rooms, to provide better coverage.
After using the beacons for a week (one in the living room and one in the bedroom), my observations as below:
Pro:
Easy to install via the app
Two ethernet ports on each beacon
The coverage is quite solid.
Con:
There are no USB ports for shared storage or printers
Network management features only via the web interface
Overall, Nokia WiFi Beacon 1 does able to fulfil what it is supposed to do, and Starhub does provide two beacons units for each HomeHub Plus subscription or 2-year Fibre broadband subscription, which is sufficient to give full coverage for local apartments. However, if you already have an existing mesh set up at home now, there is no hurry to do the switch.
You may go to Starhub website for more information.