Why A Wired Router Bridge Should Be An Option
I said a fond farewell to my trusty old Cable Broadband services on 27 Jul 2019. It wasn't easy but it had to be done and it was a sad end to over 15 years I had with the service.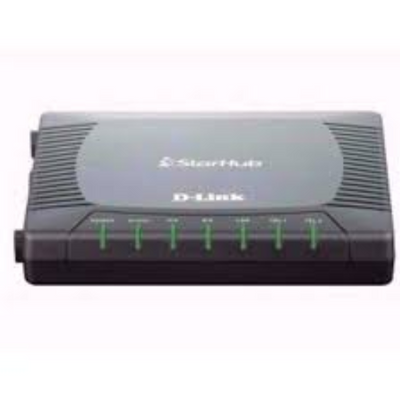 D-Link DCM712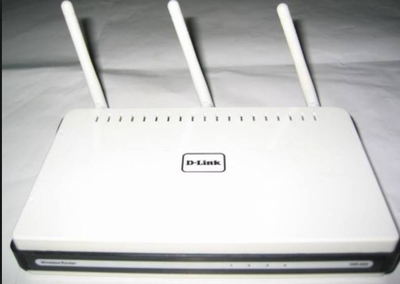 D-Link Router
The modem and router were old - those dusty things didn't get security updates anymore and was probably spilling out my secrets to every hacker on the planet. But it served me well throughout my teenage years and well into adulthood. It wasn't an easy decision to make. But this year was a good year for change and so I took the plunge.
To welcome myself to the era of gigabit broadband, I did my homework like every aspiring tech noob should. I read up on the pros and cons of all types of routers and mesh routers. I didn't like the idea of mesh because WiFi can be easily disrupted (walls and stuff - do your own Google please) and I was too much of a cheapskate for Google WiFi. So I started toying around with the idea of either Wireless Bridge or Wired Bridge routers.
Yes, I did read about using old routers as a bridge but if you're upgrading, why not go the entire stretch? So I read up on the Linksys Max-StreamTM EA8100-AH AC2600 and found out it supported Wireless Bridge. With this, I hoped to do away with the nasty trunking for a data point. So I re-contracted for the Linksys router and set up the installation date.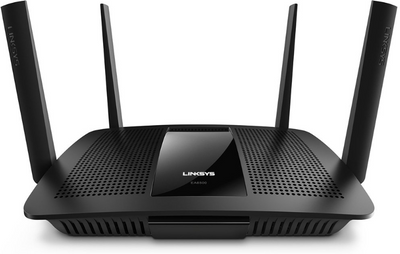 I then purchased 1 more set of the same router via Carousell. Sorry not sorry, but it was cheap - I got it for $45. People do hate on it though but no matter, I believe in it (and it was cheap on Carousell).
1) Setting Things Up
All in all, I didn't have to do much work. The first router was quickly set up for me by trusty HubTrooper Lee Chin Choy who arrived on time. He was really detailed in explaining that the Linksys router didn't support Wireless Bridge (unlike what the official website said) and told me in all sincerity that a Wired Bridge would be a much better option.
Firstly, it provided a stable broadband connection and secondly, it wouldn't need to rely on a WiFi signal which may be affected by quite a lot of outside factors.
With his advice, I requested for a free first data point installation. He also wrote down the recommended settings for the router I was going to use as the Wired Bridge. Great work, Chin Choy!
I can't escape the trunking after all. Oh well, appointment is done and now it's time to set up the Bridge router.
Attempt 1: Using the Linksys App
I was naive ok? And I thought the settings could be easily done via the Linksys Mobile App - even if Chin Choy did tell me to connect to LAN via laptop to do it.
Turns out I was horribly wrong. The first part of setting up the router went swimmingly via the App. But when I connected the router via LAN to my laptop, it churned out this error below.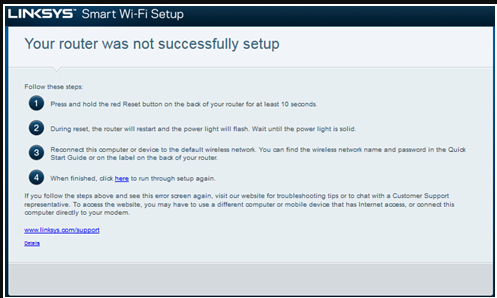 Haha, sucks to be you. Please reset to factory default and try again.
Nice right? Argh.
In any case, I was forced to reset the router to factory default - that's by pressing the little red button at the back of the router for 10 secs.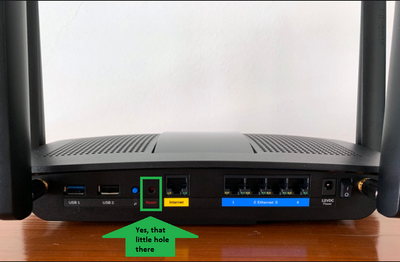 Just find something small and poke that little hole there.
Attempt 2: Google Search
This attempt went far better because I opted to use the steps at https://www.linksys.com/us/support-article?articleNum=137888. The Linksys team outdid themselves with this step-by-step guide.
With a little more care, everything went fine this time and the router was successfully bridged.
2) Finally, The Actual Point Of This Entire Article
HubTrooper Wong Kian Huat came way ahead of time. I was the first one on his list of appointments it seemed - so lucky! He very patiently and quickly accomodated all my trunking requests while navigating in the tiny areas of my home. Great job!
Everything went well and even the initial speed test was promising. The following speed tests were done at around 7PM on 29 Jul 2019 while my parents were streaming Netflix and playing games on their mobile phones. I didn't do any extensive heavy use testing myself (tech noob remember?).
To not be biased, I did a few speedtests on the Meteor app (by OpenSignal) and here are the results.
Ah the everyday life after work.
Check 1: Main Router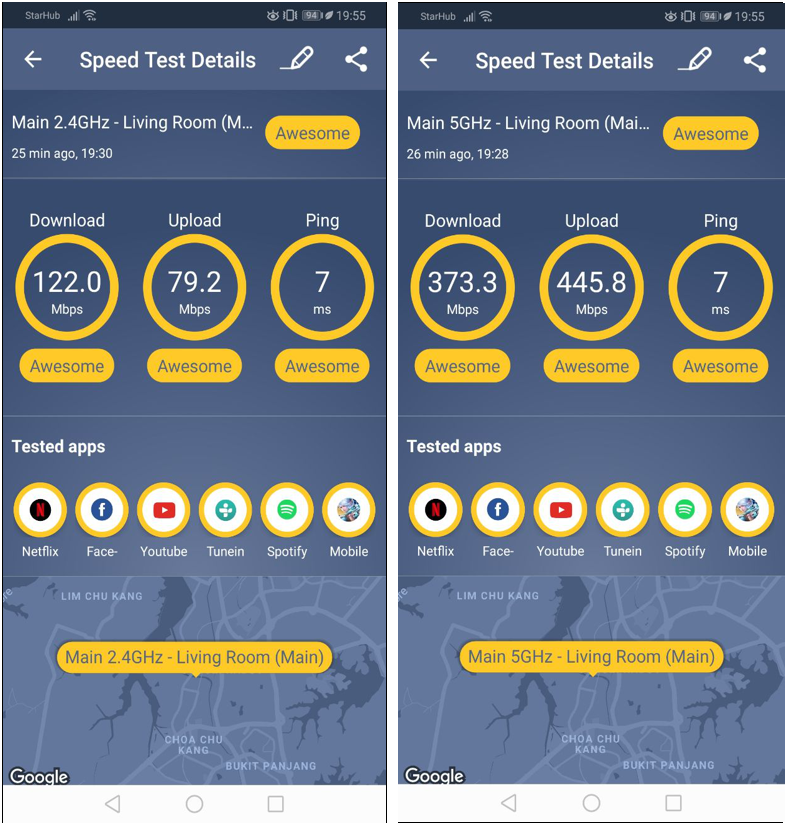 Main Router - Living Room
Naturally signal from the main router would be the strongest here. No surprises.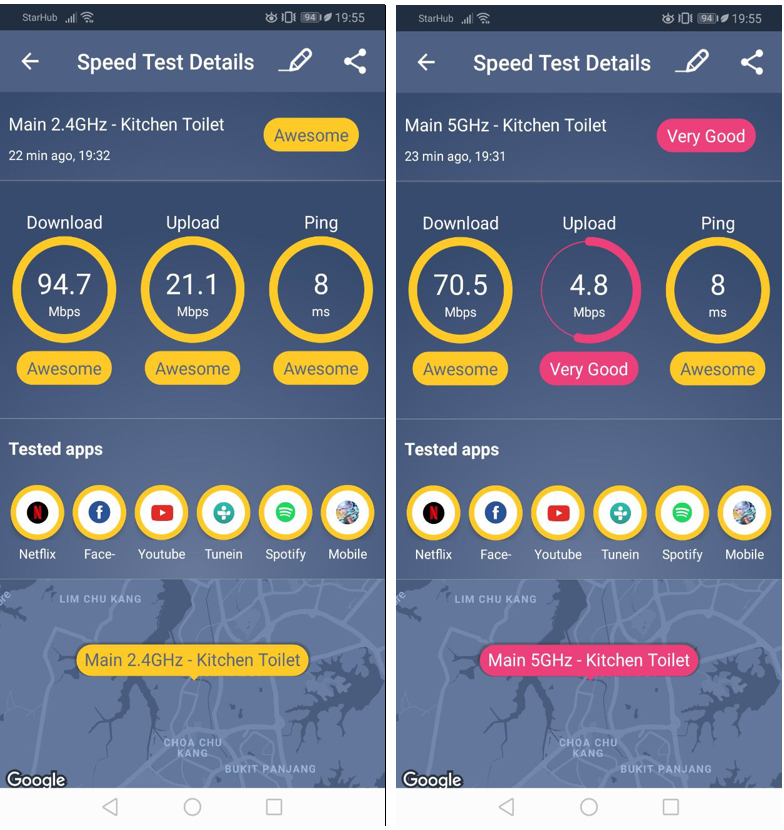 Main Router - Kitchen Toilet - Door Closed
The kitchen is an area with a lot of electrical equipment. WiFi speeds will naturally slow down even if you're actually in the kitchen toilet..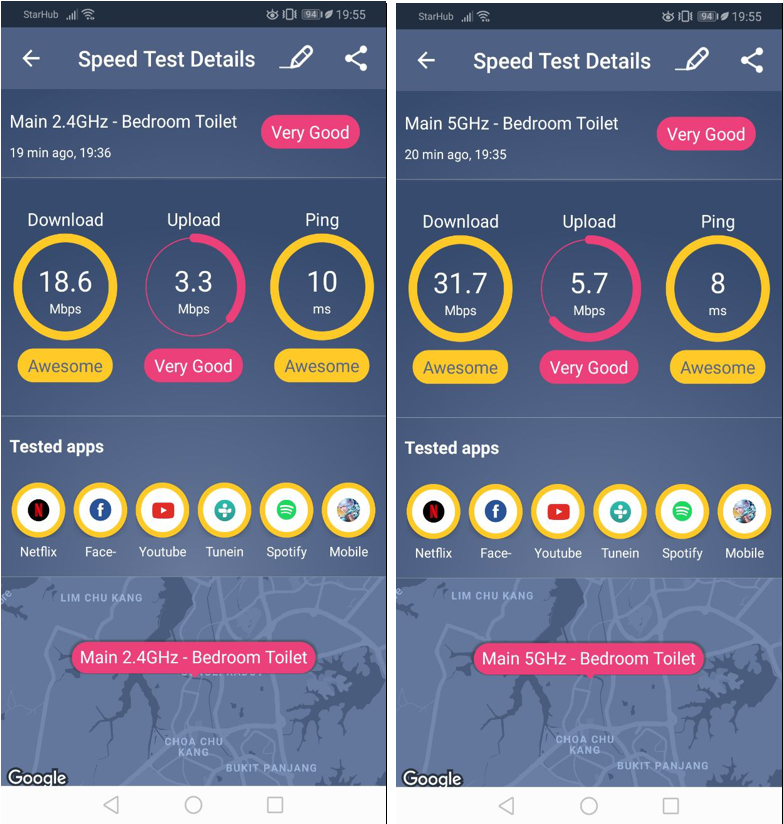 Main Router - Room Toilet Door ClosedAh, what's connection when you're suddenly out of signal just because you're doing your number 2? Well with the new router, you'll never be disconnected even in the bedroom toilet!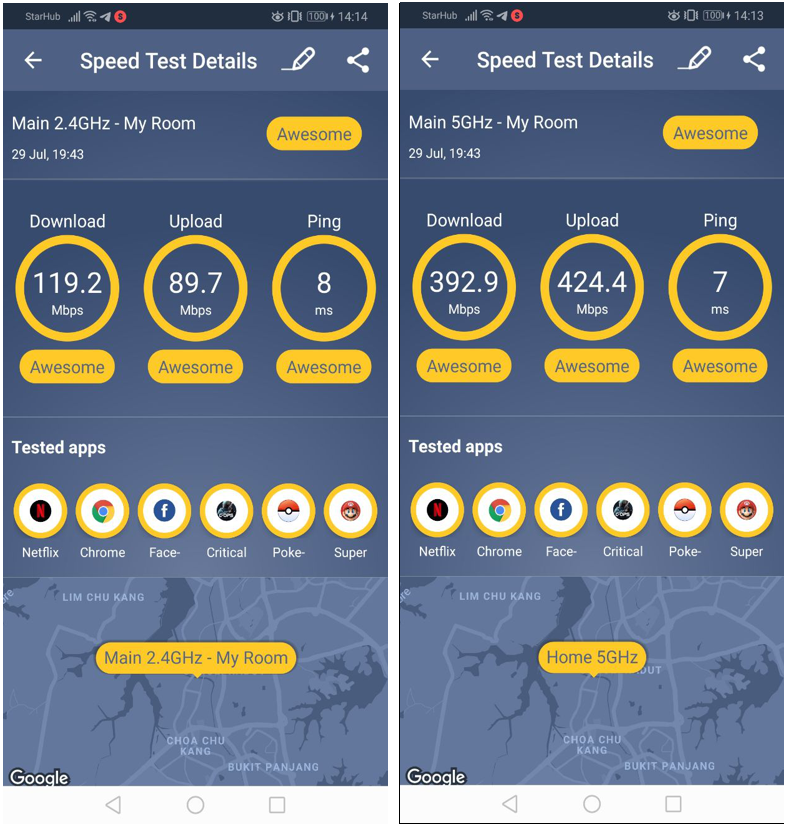 Main Router - My Room
This is not the master bedroom but the secondary bedroom. The door is open so speeds naturally look ok.
Check 2: Bridged Router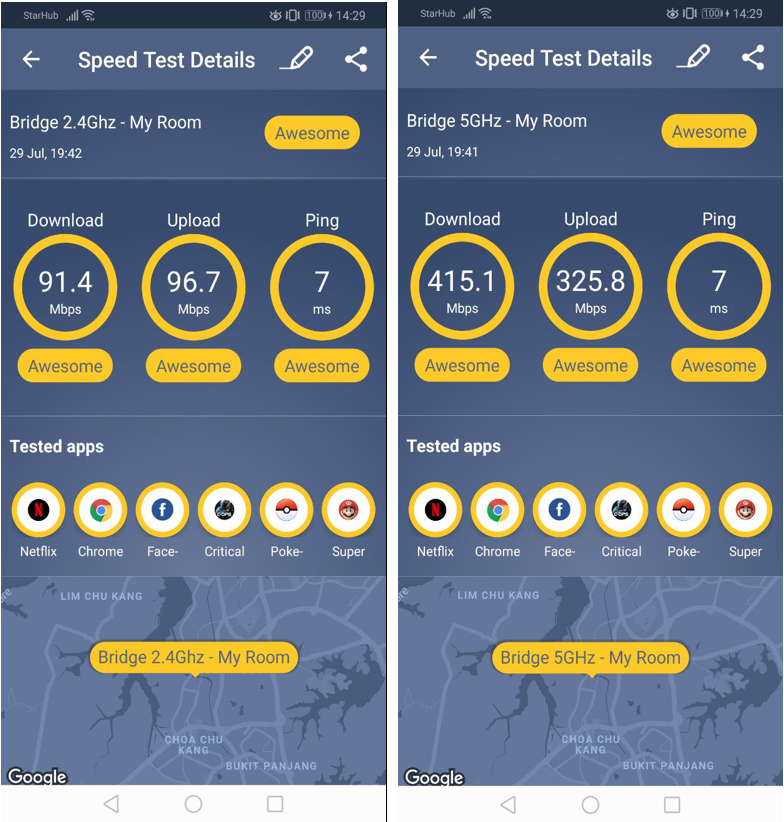 Bridged Router - My Room
Since the bridged router is placed in my room, the signal from the router would be the strongest here. Notice how the speeds don't really differ that much from the main router in the living room? That's because the router is connected via LAN cable to the main router so there's very minimal waiting time required for the network to respond.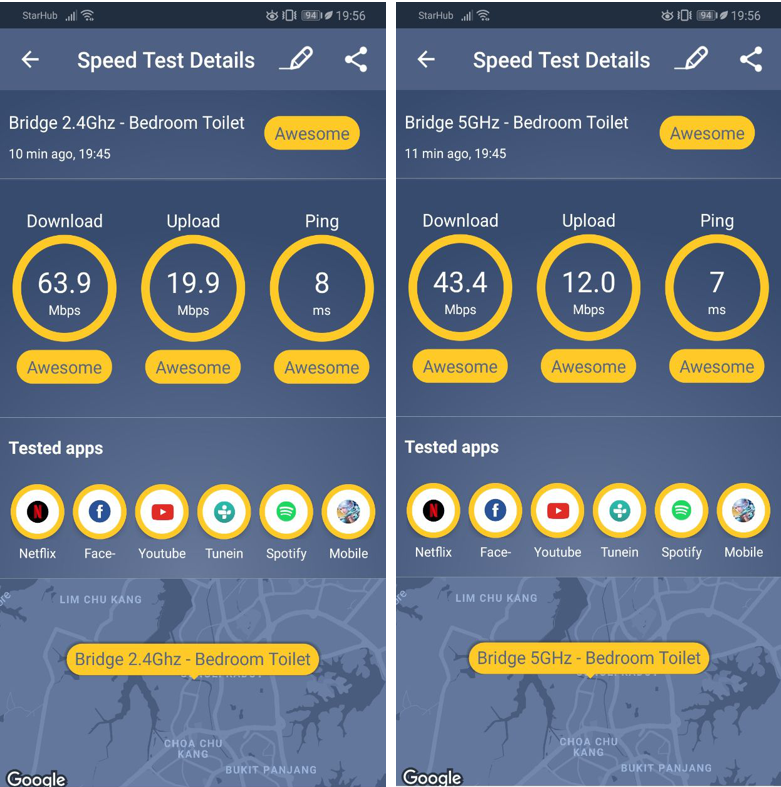 Bridged Router - Room Toilet Door Closed
Being the next closest location, speeds in the master bedroom toilet when connected to the bridge router look fine too.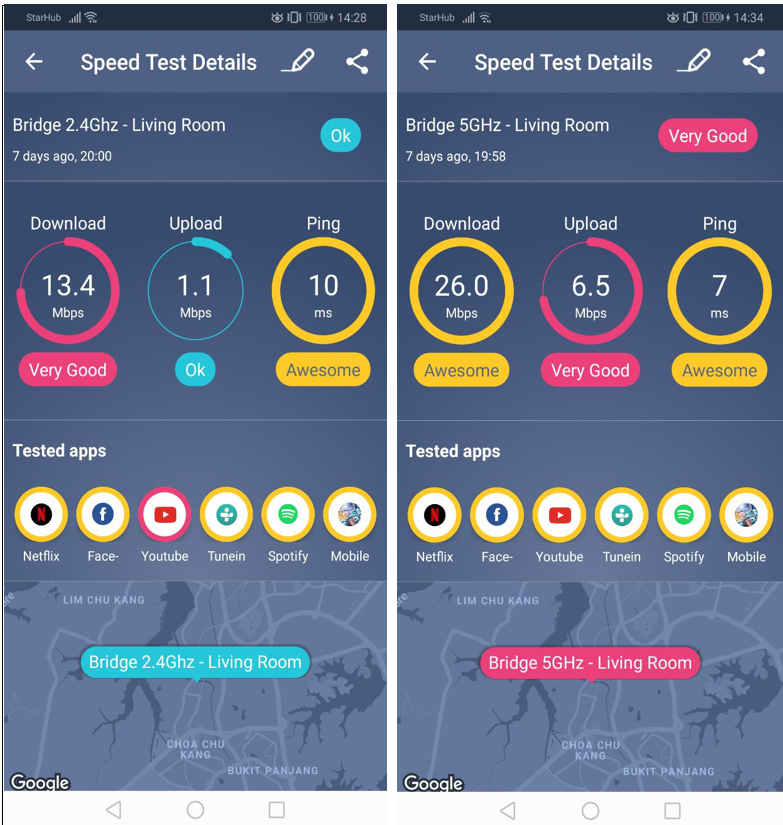 Bridged Router - Living Room
This is where things get interesting. My home is actually a bit like an L layout. So the signal from the bridged router needs time to get there. I'm not sure if the many electrical stuff like the TV, set top boxes and other stuff are interrupting the signal but the slow down is evident.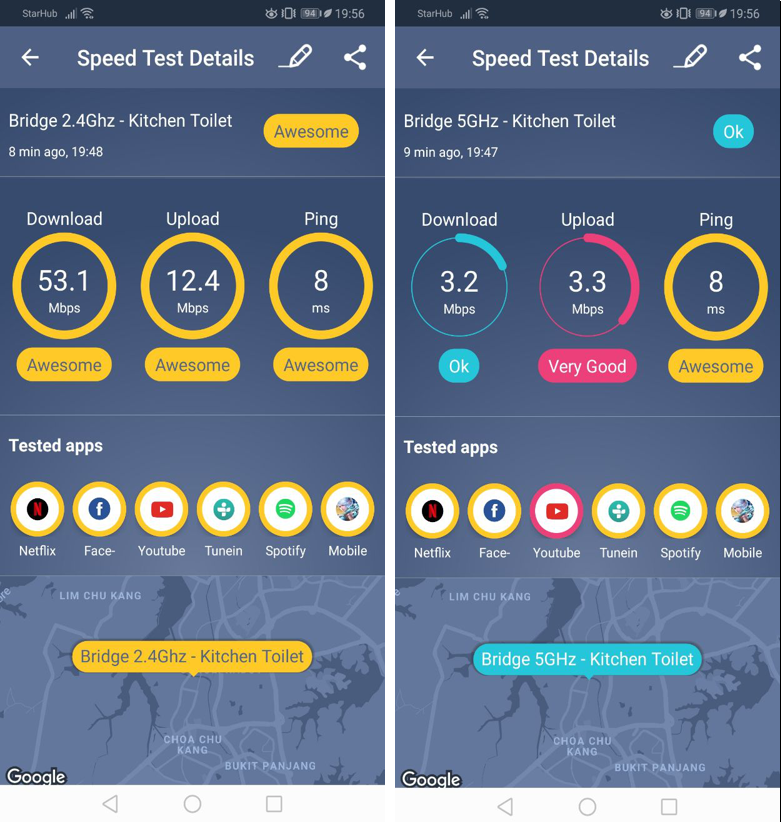 Main Router - Kitchen Toilet - Door Closed
Surprisingly, speeds here are better from the bridged router than at the living room. Again, this may be due to the home layout since the kitchen toilet is diagonally just behind the bedroom toilet.
3) Finale
I've never used mesh routers myself so I can't comment on whether they will perform better than my bridged routers. But I'm pretty pleased with the speeds I'm getting with this alternative arrangement I managed to get working in my home.
All in all, I can certainly say that this set up is not something to sniff at. The speeds speak for themselves and in a 5 room HDB flat, it certainly covers all areas of my home at least.
- Amy