Creative SXFI AIR: Super X-Fi Bluetooth Headphones Review
With the recent work from home (WFH) arrangement, I find myself looking for a pair of good headphone for all the online meetings and phone calls, not to mention to watch shows on Starhub Go and Netflix. Creative SXFI Air arrived in time for me to test.
Creative has been reinventing themselves and created Super X-Fi technology. From their website, it stated "Super X-Fi captures the listening experience of a high-end multi-speaker system in a professional studio, and recreates the same expansive experience in your headphones using computational audio intensive techniques to custom fit audio, for every individual, through a sophisticated Head and Ear-Mapping process." With the new technology, they started with headphone amp, and moving on to headphones, wireless in-ear headphones and sound blaster card.
My first impression of SXFI AIR:
The Bluetooth headphone set has a sturdy feel.
The ear cushions are made of high-density memory foam fabric mesh material and have thick cushioning for comfort. My ears do not feel hot or uncomfortable even after a long period of use (more than 2 hours).
The headphone is only 339g, lightweight.
It can be connected via USB, Bluetooth and line-in, with all the connectors provided as well.
Setting up the headset:
Two apps required for the setup "SXFI App" and "SXFI Control". Once downloaded, just follow the instructions and set up your own profile through an Ear & Head-Mapping processes for a complete experience.
I set up the headphones via Bluetooth to my phone.
The headphone software can be updated via downloading the update from Creative website and connecting the headset to a PC.
My experience of using the headphone:
Once the initial setup is done, it will automatically connect to the phone every time I turn on the headset.
Music - I first tried listening to pop music. I have to say that I am impressed with the sound quality, especially SXFI is activated. It sounds like I am sitting right in the middle, with surround speakers around me.
Netflix - I tried with Netflix, the movie "Extraction". I am truly blown away as I can hear every gunshot clearly and even feel the vibration of the car explosions just like I am watching the show in the cinema!
Teleconferencing – The sound quality is clear, but my colleagues said that I sounded muffled and could not hear me clearly. This is disappointing as the headset does come with a NanoBoom microphone.
It is easy to use the touch control ear cups to adjust the volume, pause/play via the left ear-cup.
My favourite features of the headset:
It is light and comfortable to wear.
The sound quality is outstanding once SXFI is activated.
I can customise the RGB light rings with 16 million colours options.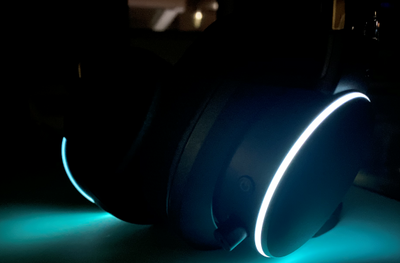 My thoughts on what can be improved:
The app can be improved as in why are there 2 separate apps, one for the profile mapping and one to customise the light rings.
There is no active noise cancellation feature. This will be good to have feature.
The SXFI button on the earphone should have a LED, so that I will know if the feature is activated.
There is no case or carrier bag provided for the headphones.
Overall, this is a decently priced earphone with the sound quality that it provides. This will be my default headphones when I am listening to music or watching shows on Netflix or Starhub Go.
For Starhub customers, the Creative SXFI Air is available on https://sg.creative.com/p/super-x-fi/creative-sxfi-air, enter STARBUY GO GO GO promo code <STARBUYGOSX> to enjoy $80 off the usual price.