What are Spoof Calls and What You Should Do When You Receive One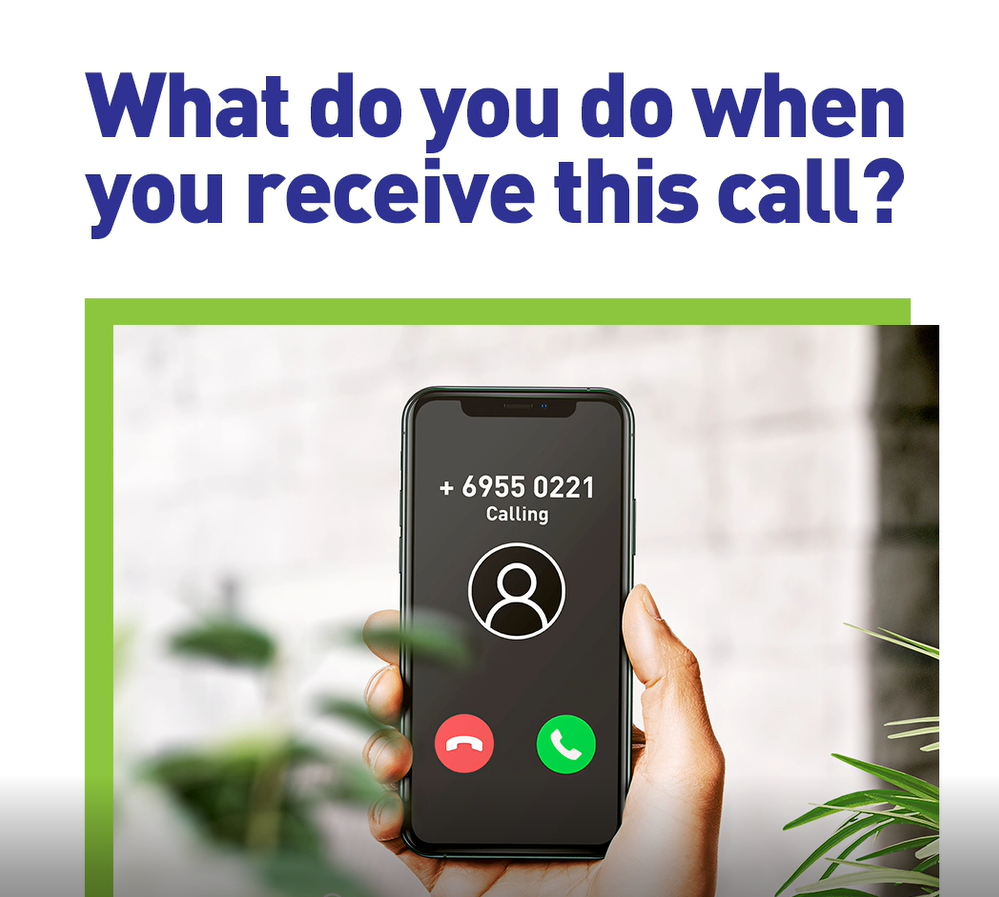 Digital scam cases in the form of spoof calls are on the rise in Singapore.
With call-spoofing technology, scammers can mask their original overseas number and appear as a local number on your mobile phone. Thinking that these callers come from legitimate authorities, many victims are tricked into transferring money or giving personal details such as credit card number and One-Time Password to scammers overseas.
From 15 April 2020, all incoming international calls come with a "+" prefix and local calls don't. This is a measure that the Government rolled out in the hopes that citizens will be able to identify overseas calls from local ones and to ignore overseas calls if they are not expecting any. In addition, the Government has also mandated that all Telcos, including StarHub, to block commonly spoofed numbers, such as 999 and 995.
We encourage everyone to arm yourselves and your loved ones with these knowledge and learn to protect yourselves from falling prey to these scams with these 5 tips:
Do not give out your personal details over the phone if you are suspicious of the caller.
Always check the authenticity of the website before submitting your personal details.
Do not open suspicious links, pop-up windows or email attachments, and do not answer calls from unfamiliar phone numbers.
We do not request for your credit card details over the phone or via unsolicited websites. Always update your personal details via My StarHub App.
Even if it's a suspicion, contact StarHub through our official channels to verify the source of information or caller.
More information about StarHub's combat against spoof calls initiative can be found below:
Why am I receiving this SMS about Spoof calls?
A notification SMS was sent out to all StarHub mobile subscribers (prepaid and postpaid) to drive awareness about the rise in spoof calls and to remind customers to exercise extra vigilance especially during this festive period.
What is a spoof call?
A call is spoofed when a caller deliberately falsifies the information transmitted to your caller ID display to disguise their identity such as masking their country code or impersonate (spoof) local numbers to mislead victims into believing that these calls are from legitimate sources such as government agencies.
How do I tell the difference between a spoof call and a legitimate call?
As one of the several measures the Government has rolled out to protect citizens and their personal data, since April 15, 2020 all overseas calls will come with the "+" prefix. For instance, +6955 0221 and +4241 2345 are likely to be spoofed calls. Consumers are advised to be vigilant and not share confidential data over the phone if they are not expecting overseas calls.
What should I do if I think I am a victim of spoof call?
Depending on the personal detail that was disclosed, do quickly reached out to the affected bank, telco or organization to take steps to address the situation.
Share your spoof call encounters in the comments section below and read about other scam tactics here.
-Jolene
Some of my posts are unofficial and may contain personal opinions which may not represent the positions and opinions of StarHub.
For account related matter, please seek help from our Customer Service team via Facebook Messenger.
Have a good idea? Tell us at our Ideas Exchange!