NEW SCAM ALERT: Be Aware of Tech Support Scammers posing as StarHub Tech Support
Scammers are getting really "creative" in coming up with different ways to scam people, so we must ensure that we stay vigilant and alert in detecting these impersonators.
We are aware of another scam tactic that has surfaced, targeting broadband customers. According to Singapore Police Force, at least 50 victims fell prey to a variant of this scam in October 2019.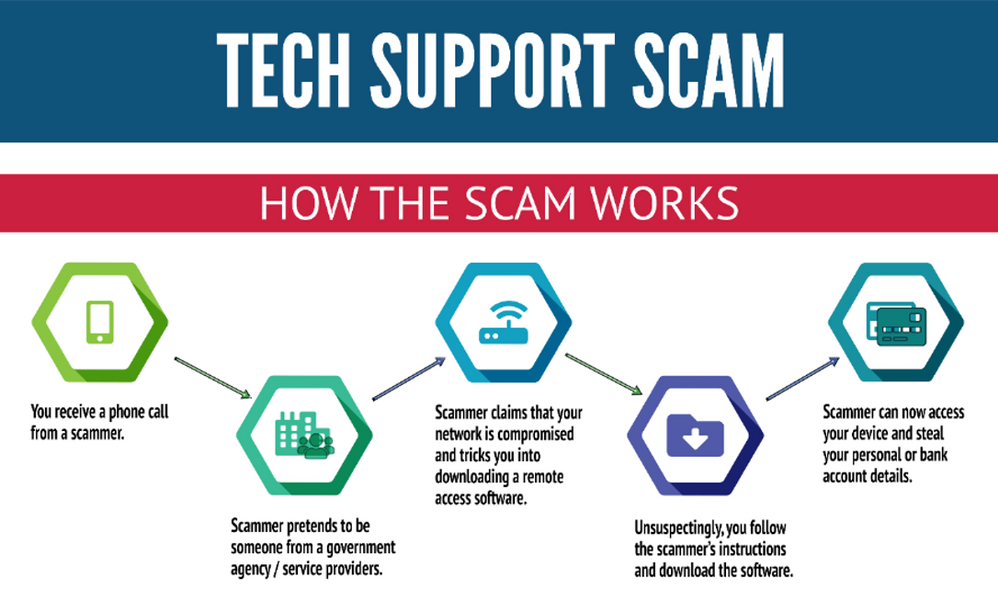 credit: SingCERT. Tech Support Scam. https://www.csa.gov.sg/singcert/resources/infographics/tech-support-scam
You receive a phone call from a scammer.
Scammer pretends to be someone from StarHub.
Scammer claims that your network is compromised and tricks you into downloading a remote access software. (Note: Scammers may call under the pretense that they are agents from Singtel, although you're a StarHub subscriber, or vice versa.)
Unsuspectingly, you follow the scammer's instructions and download the software. Two of such known softwares are 'Teamviewer' and 'AnyDesk'.
Scammer can now access your device and steal your personal or bank account details.
IF YOU HAVE FALLEN PREY TO SUCH SCAMS
Do not follow the instructions of the scammer and hang up the phone.
Turn off your computer to halt further activities on your computer.
Change your iBanking credentials and remove any unauthorized payee added to your bank account.
Refrain from giving any OTP for banking transactions.
Report the matter to the Police, your bank and StarHub.
PREVENTIVE MEASURES
StarHub will not ask for your personal details (full NRIC, bank account number, credit card details, home address etc) over the phone or require you to perform a payment or money transfer over the phone. (Note: StarHub may require you to provide last 4 digits of your NRIC as part of verification)
Scammers may use caller ID spoofing technology or mask the actual phone number and display a different number, hence do not answer calls with unfamiliar number and do not provide any personal details to the caller.
If in doubt, contact StarHub hotline to authenticate the call and report your suspicion.
Stay updated on the latest scam and learn to identify scam signs here.
Always use My StarHub App to edit or update your personal details, and customers can always reach us at our various customer support channels such as hotline 1633, Facebook, Twitter and email.
If you or any family or friends have experienced such scams, share with us here in the comments section to raise awareness so that everyone can learn and prevent our loved ones from being the next scam victim.
-Jolene
Some of my posts are unofficial and may contain personal opinions which may not represent the positions and opinions of StarHub.
For account related matter, please seek help from our Customer Service team via Facebook Messenger.
Have a good idea? Tell us at our Ideas Exchange!