EXPOSED: Fake Hub ID and Bill Payment Page to Steal Your Hub ID Password and Credit Card Number
We have been alerted to yet another online scam that has been floating around on the internet. This time, it comes in the form of an email that leads to a FAKE StarHub website requesting customers to key in their Hub id and credit card details, in an attempt to steal StarHub customers' Hub iD, password and credit card credentials. We have screenshots of the fake email and website so you don't have to click in to see.
There are different variations of the email but all of them point customers to click on the "Refund Now" button in the email.
The first thing you should look out for is the email address of the sender. It is not an official StarHub email address.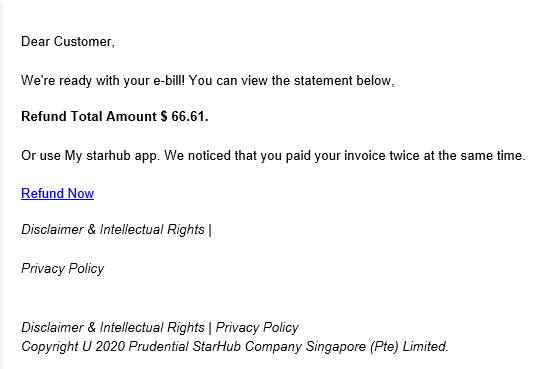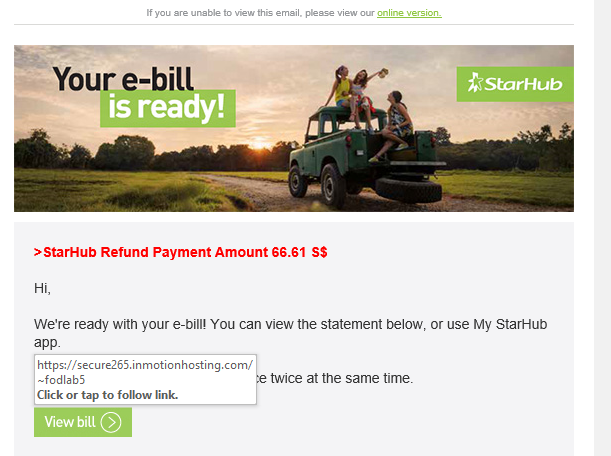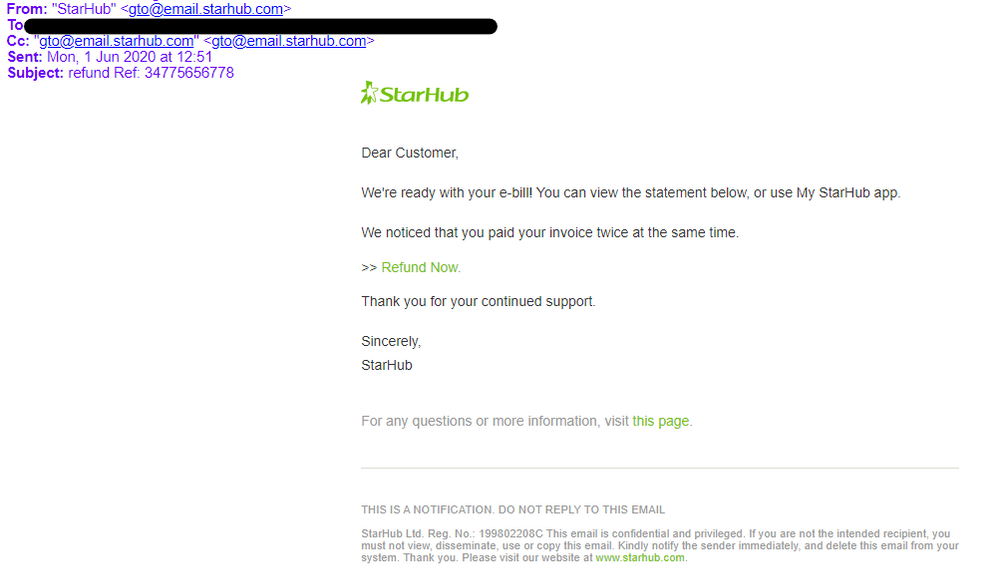 If you do click on the "Refund Now" button, it leads you to this page that looks like StarHub's My Account page. Although the content of the webpage looks legit, the URL is NOT an official StarHub website and the alignment of the content on the website looks off.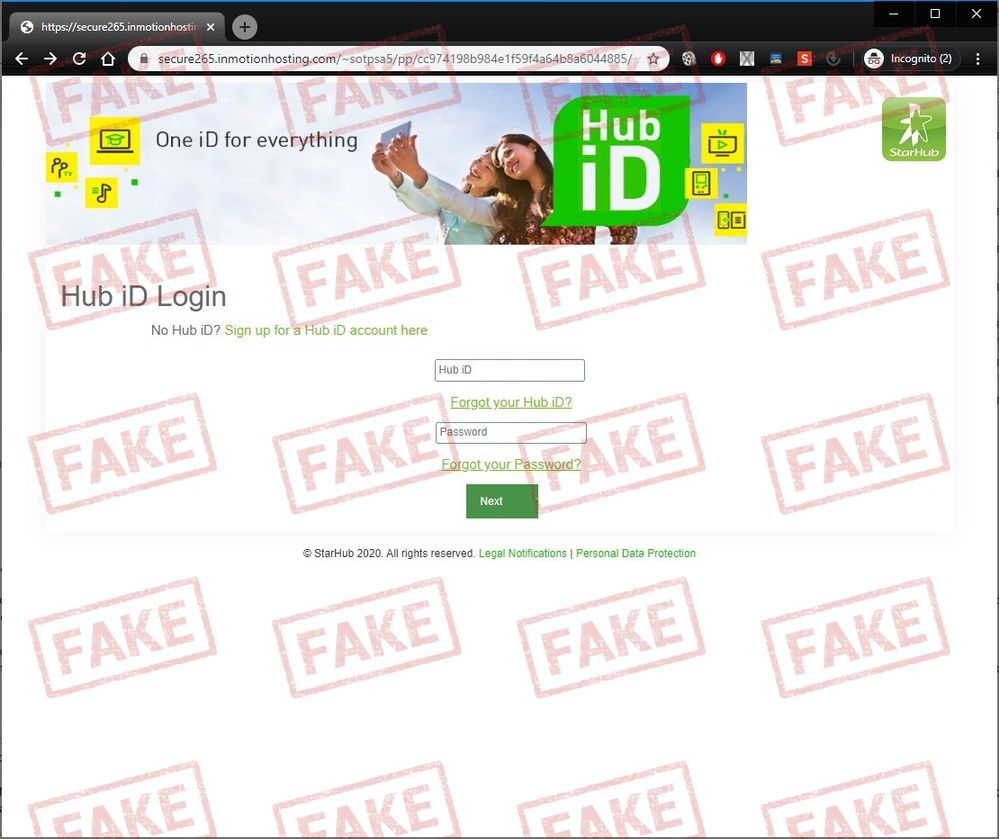 Once you enter your Hub iD and password (or really, any iD and password would work as it is a fake verification page), you will be brought to this screen where you will be prompted to enter your credit card details to "claim your refund". Once you do that, your information would be captured by the scammers.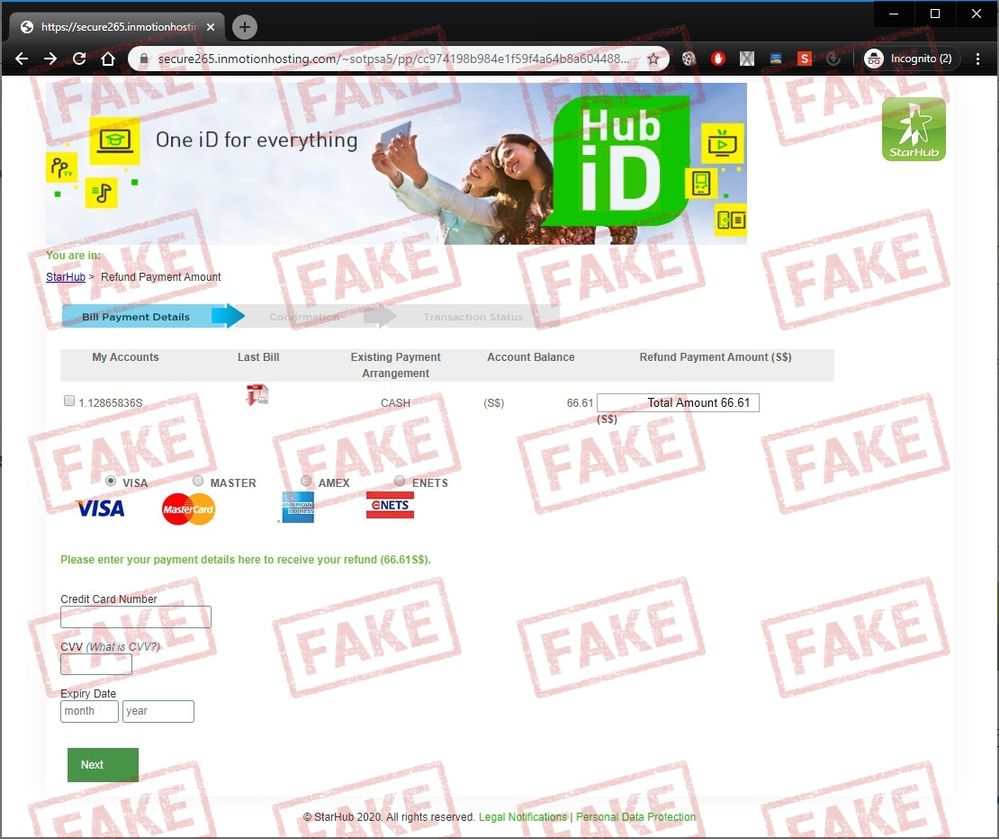 Some pointers to bear in mind:
1) StarHub will never get our customers to enter their credit card details into a website to get a refund. If you have somehow overpaid your bills in a certain month, the amount would be used to offset the payment for the following month.
2) For customers who have terminated their accounts and awaiting any bill payment refund, StarHub would be in contact with the customer to confirm mode of refund.
3) To check your bill, outstanding balances, or update personal details such as address and credit card details, please always log in to My StarHub App.
4) Most importantly, if you are doubtful about the source/person requesting for your personal details, do not release any information, and contact StarHub immediately to verify the authenticity of the request and report any suspicious activity. To report any phishing or scam activity, please send an email to report-phish@starhub.com
Your personal information and safety is of utmost importance to us, let's work together to fight against these online scams!
-Jolene
Some of my posts are unofficial and may contain personal opinions which may not represent the positions and opinions of StarHub.
For account related matter, please seek help from our Customer Service team via Facebook Messenger.
Have a good idea? Tell us at our Ideas Exchange!