Ways to Add and Remove an Entertainment Pass
Enjoy the widest selection of TV channels in StarHub's seven Entertainment Passes curated for your needs and wants. In fact, you can switch between the 7 Passes anytime and enjoy the new Pass in 24 hours. Here are the three ways to add and remove an Entertainment Pass.
Via My StarHub App
STEP 1: Log-in to My StarHub App.
STEP 2: Go to the TV Tab, then click "Modify."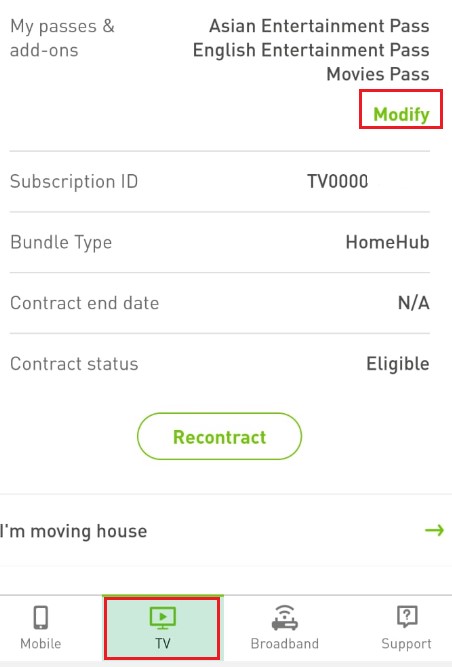 STEP 3: Add and remove pass accordingly and click "Next"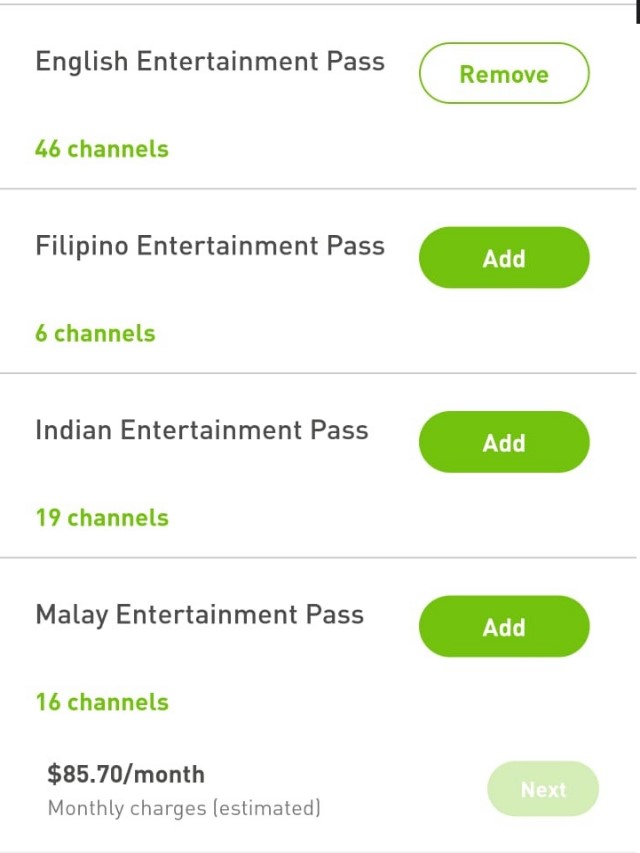 STEP 4: When done, you may now click "Submit"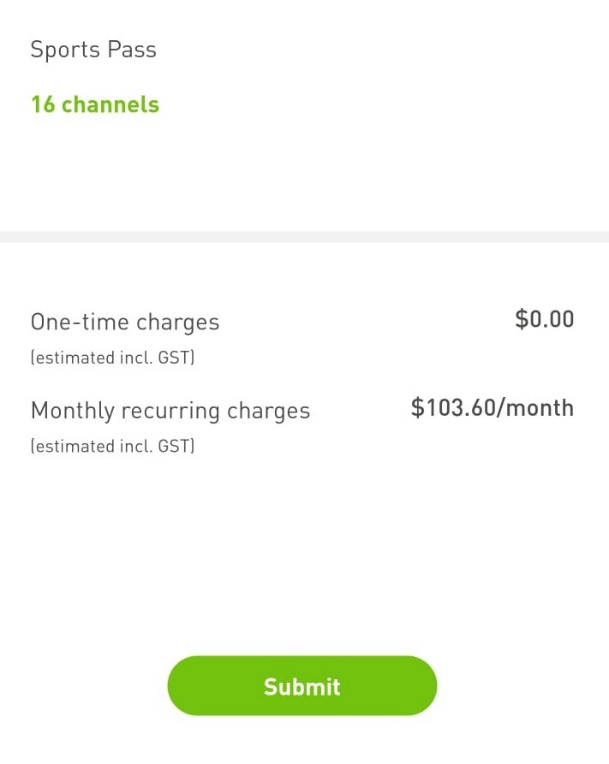 Via My Account Manager
STEP 1: Log-in to My Account Manager using Hub iD.
STEP 2: Click "View and Manage TV" and then "Modify TV subscriptions."
STEP 3: Add and remove pass accordingly.
STEP 4: Review the changes you made on the Summary page, and click on "Proceed."
STEP 5: When a pre-confirmation message appears, click "OK."
STEP 6: Once submitted, a confirmation message will appear, as well as the summary of changes made.
STEP 7: Thereafter, the submission you will receive an SMS notifying you of the changes made which will be processed within 24 hours.
STEP 8: Once completed, you will receive another SMS confirming the changes have been made.
Via Remote Control
If you opt to add using your remote control just press the blue button on your remote control and subscribe. For example, to subscribe to the Sports Pass, simply go to any Sports channel (e.g. Hub Sports 1 Channel 201) and press the blue button and subscribe.
NOTE:
· It would take 24 hours for the changes to take effect.
· The monthly recurring fee will be pro-rated accordingly based on the date when the Entertainment pass was added.
Check out the lineup of our Entertainment Passes here. Want StarHub Broadband and Netflix too? Get that with our best Entertainment bundle HomeHub Plus.
~ Carla
▬▬▬▬▬▬▬▬▬▬▬▬▬▬▬▬▬▬▬▬▬▬▬▬▬▬▬▬▬▬▬▬▬▬▬▬▬▬▬▬▬▬▬▬▬▬▬▬▬▬▬▬▬
Some of my posts, opinions and views here do not reflect my position and StarHub's opinions.
For account related matter, please seek help from our Customer Service team via
Facebook Messenger.
Have a good idea? Tell us at our
Ideas Exchange!