StarHub Postpaid Sim Card Rates
Do you ever wonder how much are the SMS, call and data rates if you exceed your StarHub Mobile postpaid plan? Here they are, now you'll know how you incurred those excess charges on your monthly bill.
Charges

Local Calls

16.05¢ per minute

Video Call

16.05¢ per minute

Local SMS

5.35¢

MMS

5.35¢

Data

10.70¢ per MB

International Roaming

Incoming Call

Rates depend on the roaming location

Outgoing Call

SMS

Data

10.70¢ per MB
To avoid incurring additional usage charges on top of your monthly subscription, we strongly encourage you to track your Data, Voice, and SMS usage on My StarHub App (MSA).
You may view your local usage details by following these screenshots.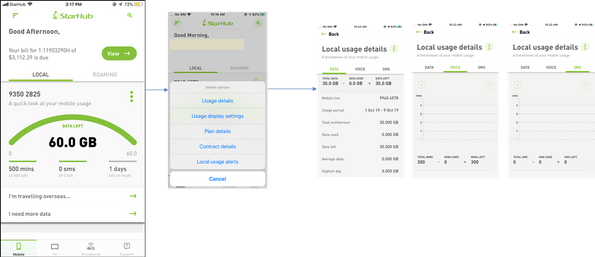 ~ Carla
▬▬▬▬▬▬▬▬▬▬▬▬▬▬▬▬▬▬▬▬▬▬▬▬▬▬▬▬▬▬▬▬▬▬▬▬▬▬▬▬▬▬▬▬▬▬▬▬▬▬▬▬▬
Some of my posts, opinions and views here do not reflect my position and StarHub's opinions.
For account related matter, please seek help from our Customer Service team via
Facebook Messenger.
Have a good idea? Tell us at our
Ideas Exchange!