How to send money home on the StarHub Prepaid App?

StarHub has launched a new remittance service provided and processed by our partner, Pay2Home, a money transfer specialist in international payments for more than 10 years. This value-added service allows StarHub Prepaid customers to send money to more than 40 countries.
Eligibility
The Service is applicable to all active StarHub Prepaid customers aged 18 and above with a valid Singapore-issued Identity Document to access the remittance service on the StarHub Prepaid App. (You will need to submit your Identification Documents and Proof of address to Pay2Home.)
List of Approved Identification Documents
Identity Documents

Proof of Address Documents

Singapore NRIC

SAF 11B, SPF 11B, or SCDF 18

Employment Pass

Entry Pass

S Pass

Work Permit (All types)

Training Employment Pass

Dependent Pass

Long Term Visit Pass

Student Pass

Passport

Bank statement

Utility or telecommunication bill

Letter's from local government agencies

Valid local lease or accommodation agreement

Valid dormitory pass with the address of dormitory
Kindly note that if your Identification Document does not include your address, you will be required to submit a Proof of Address document (not older than 3 months) as well.
How can I send money via StarHub Prepaid App to use the new remittance service?
Simply launch the StarHub Prepaid App, log in with your StarHub Prepaid number, and create a Pay2Home account to access the new remittance service. Below is the step-by-step guide.
STEP 1: Log in to StarHub Prepaid App. Select "Send Money" on the dashboard.
STEP 2: If you're a first-time customer, click 'I agree' to proceed. For the non-first-time customer, skip to step 3.
STEP 3: Click "Get Started."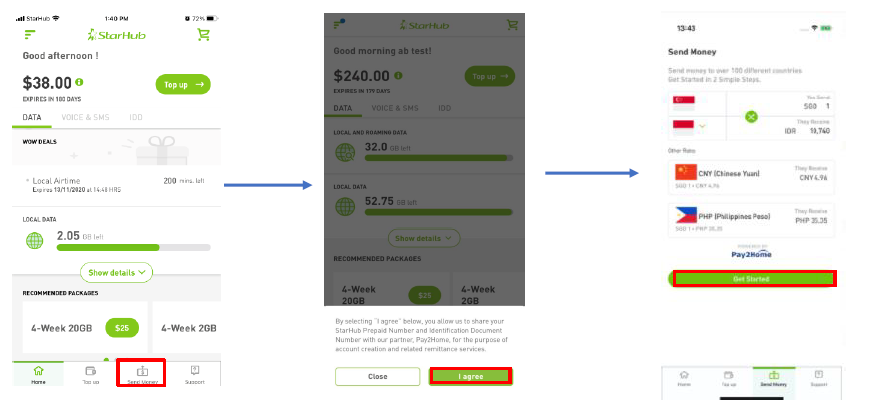 STEP 4: Create a new Pay2Home account via StarHub Prepaid App.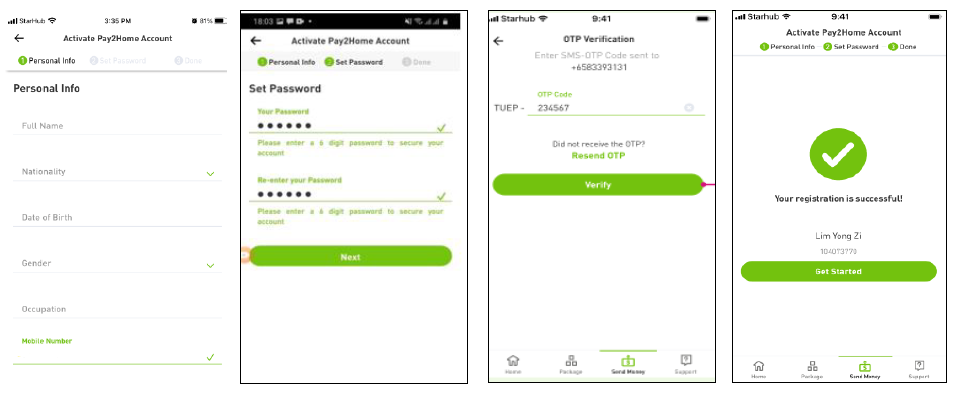 STEP 5: Verify Pay2Home Account.
STEP 6: Once verified, you can now Send Money. Select the "My Beneficiaries" option.
To add beneficiaries
Go to 'My beneficiaries'
Select 'Country' (Sending from, Destination Country)
Select Service Type
Enter Beneficiary Details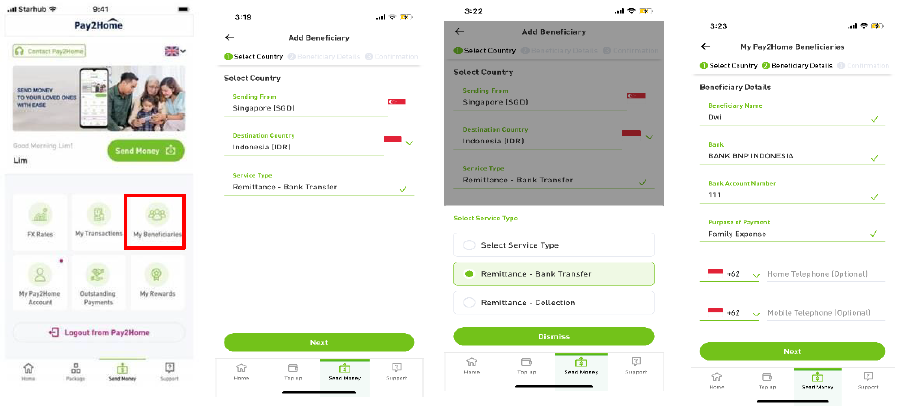 STEP 7: Once beneficiaries are added, you can now use the Send Money service.

Check out StarHub's new remittance service FAQ to find out more about it.
Not a StarHub Prepaid customer yet? Switch over and enjoy FREE credits, data, and talktime on Singapore's fastest network!
~ Carla
▬▬▬▬▬▬▬▬▬▬▬▬▬▬▬▬▬▬▬▬▬▬▬▬▬▬▬▬▬▬▬▬▬▬▬▬▬▬▬▬▬▬▬▬▬▬▬▬▬▬▬▬▬
Some of my posts, opinions and views here do not reflect my position and StarHub's opinions.
For account related matter, please seek help from our Customer Service team via
Facebook Messenger.
Have a good idea? Tell us at our
Ideas Exchange!