How to enjoy the free 3 months Amazon Prime membership?
Did you recently sign-up or recontract to any #hellochange 2-year mobile plans or no-contract SIM Only plan? If yes, you are eligible for the free 3 months Amazon Prime membership.
Once you activate your free 3 months Amazon Prime membership, you will get the following benefits:
✓ All access to amazon.sg, prime now, prime video and Twitch Prime.
✓ For Amazon.sg and Prime Now:
Free 1-day delivery
Free International delivery
Free 2-hour delivery
First to get the best deals
✓ Play free games every month on Twitch Prime
An SMS will be sent to you with a link to activate the membership through My StarHub App within 30 days from the date of successful sign-up or renewal to #hellochange or SIM Only mobile plan. The offer will drop if you do not activate within 30 days.
Here are the steps to sign-up for Amazon Prime membership via My StarHub App.
Log in to My StarHub App
Go to "Add-ons"
Select "Featured Services" and click "Explore"
Go to "Amazon Prime" and click "Manager"
Select the mobile number you wish to sign-up for Amazon Prime, and click 'Subscribe Now', after which the page will be linked to Amazon Prime.
Click "Sign Up" now and follow the registration process.
Verify Amazon's account via One-time PIN (OTP) sent to customer's email address.
You will receive an SMS and email confirmation upon successful activation.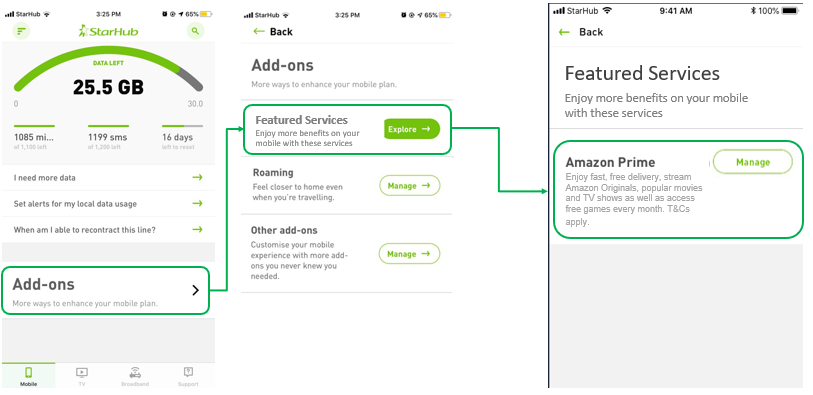 NOTE
If you have an existing Amazon Prime Membership subscription, you must terminate your existing subscription before activating Amazon Prime Offer via My StarHub App.
This is only valid for sign-up or recontract via the StarHub Shop or Online Store. It is not valid for change of plan via My StarHub App or My Account.
Promotion is valid for the initial 3 months, thereafter, the prevailing rate of $2.99/month will apply.
~ Carla
▬▬▬▬▬▬▬▬▬▬▬▬▬▬▬▬▬▬▬▬▬▬▬▬▬▬▬▬▬▬▬▬▬▬▬▬▬▬▬▬▬▬▬▬▬▬▬▬▬▬▬▬▬
Some of my posts, opinions and views here do not reflect my position and StarHub's opinions.
For account related matter, please seek help from our Customer Service team via
Facebook Messenger.
Have a good idea? Tell us at our
Ideas Exchange!