How to change your bill notification on My StarHub App?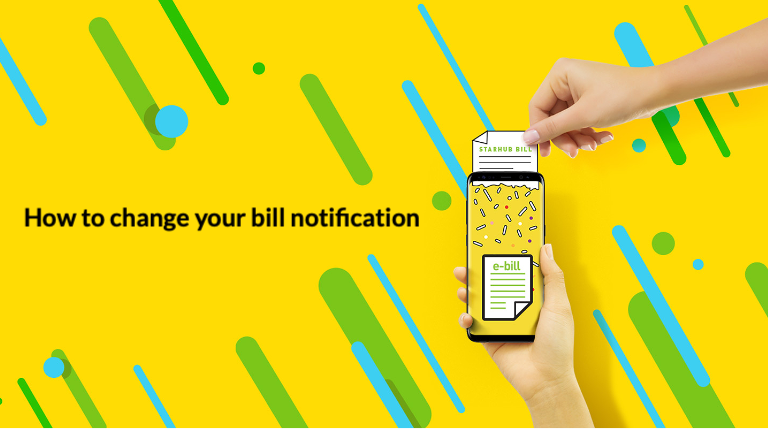 Do you prefer to get bill notifications via SMS, email or through the mail? With StarHub, you can choose between e-bill wherein you will receive notification via SMS / email or hard copy bill when your bill is ready for viewing.
How to change your StarHub bill notification mode?
STEP 1: Log in with your Hub iD on My StarHub App and tap on "View" on the upper-right corner of the homepage.
STEP 2: Select the billing account you want to modify the bill delivery mode. Then, tap on the three-dotted menu button.
STEP 3: Tap on "Manage bill notifications."
STEP 4: Pick "Email" or "SMS" to receive StarHub e-bill notifications, or to receive paper bills with a monthly charge of $2.68. Then, click "Submit."

Once registration is successful, we will send you a notification via email or SMS to your registered email address or mobile number. Moving forward, when your bills are ready for viewing, you will receive notifications via your preferred mode.
IMPORTANT NOTE:
If you choose e-bill via email, the bill will not be sent to your email address. Instead, you will receive a notification and a link to view your bill wherein you will have to log in to your Hub iD.
We encourage our customers to go paperless and opt for e-bill email / SMS notifications instead of hard copy paper bills. Let's go green with e-bills!
~ Carla
▬▬▬▬▬▬▬▬▬▬▬▬▬▬▬▬▬▬▬▬▬▬▬▬▬▬▬▬▬▬▬▬▬▬▬▬▬▬▬▬▬▬▬▬▬▬▬▬▬▬▬▬▬
Some of my posts, opinions and views here do not reflect my position and StarHub's opinions.
For account related matter, please seek help from our Customer Service team via
Facebook Messenger.
Have a good idea? Tell us at our
Ideas Exchange!