Go Max on StarHub Go
So we've recently launched Go Max, a new streaming pack that offers over 80 live and on demand channels which you can stream on StarHub Go anytime, anywhere. (No need to rush home in time for your favourite TV drama!) It works on Chromecast and StarHub Go Streaming box too.
Here's some FAQ that you might find useful:
1. Does Go Max have any subscription contract?
There is no subscription contract, so you can sign up and cancel anytime you want.

2. Who can sign up for Go Max? Is it only for existing StarHub customers?
Go Max is for everyone! You do not need to have an existing StarHub service in order to sign up for Go Max.

3. How do I sign up for Go Max?
You can visit any of these places to sign up:
• StarHub Go App or StarHub Go and sign up via the Go Store
• Any StarHub retail shop
If you are a StarHub customer, you can enjoy the convenience of charging to your existing StarHub Postpaid bill.
For non StarHub customer, you can charge to your credit card on a recurring basis, or to your iTunes account if you are an iOS user.

4. Where can I watch Go Max?
You can watch it on your laptop via StarHub Go or on your mobile phone or tablet via the StarHub Go App that can be downloaded from the App Store or Google Play Store.
If you prefer a big screen experience, you can Chromecast onto your TV or choose the StarHub Go Streaming Box.
5. How do I start watching Go Max on StarHub Go?
You will need a Hub iD and a subscription to Go Max. To register for a Hub iD, you will need: - Valid email address - An alphanumeric password of at least 8 characters - Mobile number
6. How many concurrent streams can I enjoy on StarHub Go?
You can register up to five (5) devices on StarHub Go and stream on two (2) devices at the same time.

7. Will there be mobile data charges if I stream Go Max on StarHub Go?
StarHub postpaid mobile customers will be able to stream on StarHub Go without incurring data charges. All you have to do is to set your mobile data access point (APN) to SHWAP via your mobile device network settings. Data charges at the prevailing rates will apply to non-StarHub postpaid mobile users.
8. What are the channels offered in Go Max?
With Go Max, you can enjoy over 80 live and on demand channels, from Sports, News, Entertainment, Education, Lifestyle, Kids, Asian, Malay, Indian and International. There's something for everyone in the family!
Go Max also includes catch-up channels for you to catch up on shows that you may have missed.
9. Can I add on any other channel or content to Go Max?
Your entertainment does not stop here. You can choose to add on any of our partner apps for more movies and shows.
• HBO GO: Stream the biggest Hollywood blockbusters and award-winning HBO Originals at $13.98/month.
• FOX+: Stream the latest US TV series, movies and LIVE sports at $19.90/month.
• TVB Anywhere: Access the entire TVB library of dramas, classics, variety shows and more at $4.98/month.
10. What's the difference between the channels in Go Max and other Go Packs like Go Sports/Go Disney/Go Family on StarHub Go?
Go Max consists of all channels in Go Sports, Go Disney and Go Family (with the exception of Vannathirai) and many more.
11. I have an existing subscription to Go Sports/Go Disney/Go Family, can I cancel it and sign up for Go Max?
Yes, you can. When signing up for Go Max, any existing subscription to Go Sports, Go Disney or Go Family will be automatically terminated. You will only be billed for Go Max henceforth.
This automatic termination applies to subscription via StarHub Postpaid bill and recurring credit card. However, for recurring credit card, no partial refunds will be provided as this is a pre-paid service. You will only be billed for Go Max at the beginning of the next monthly cycle. Automatic termination does not apply to 30-day passes sold via iOS In-App Purchase.
12. What's the difference between Go Max and StarHub Entertainment Pass?
Go Max and StarHub Entertainment Pass are 2 different service offerings with different subscription packages.
Here's a quick guide to help you in your decision-making, or feel free to speak to our sales consultant who will assist you to select the best package to suit your needs.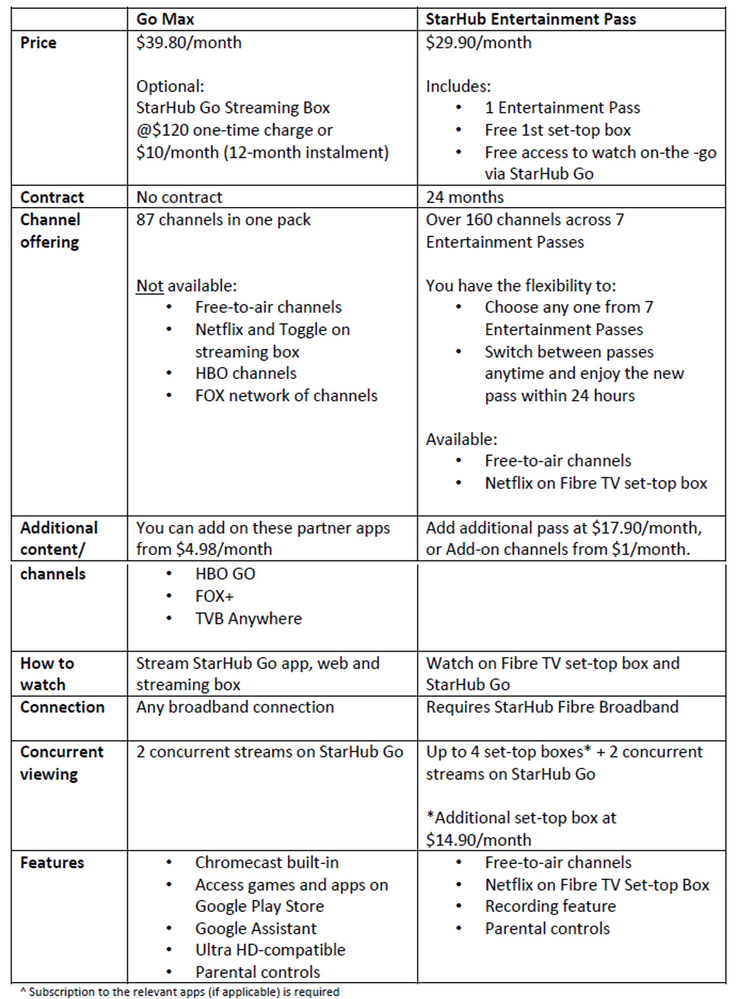 Happy watching!

-Jolene
Some of my posts are unofficial and may contain personal opinions which may not represent the positions and opinions of StarHub.
For account related matter, please seek help from our Customer Service team via Facebook Messenger.
Have a good idea? Tell us at our Ideas Exchange!