Get a New Phone Every Year with JUMPhone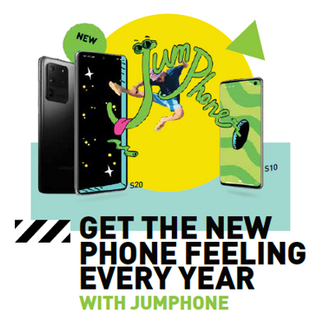 JUMPhone is the easiest way to get a new mobile phone every year at a low monthly fee without phone ownership or credit card required.
With JUMPhone, you'll enjoy:
• A brand-new mobile phone every 12 months
• Free worry-free device protection, also known as Smart Support
• An upfront guaranteed to bring it back value when you upgrade yearly
• More savings than purchasing a phone on retail value
JUMPhone Contract Policy
You will be tied to a 24 months contract + automatic extension of 6 months
Once you have completed the 12 months of JUMPhone contract, you may opt to get and upgrade to a new JUMPhone device for a nominal fee. But first, you need to return the current mobile phone in good working condition.
After completing the 24 months contract, you must return the device to StarHub. You may also choose to continue with the monthly instalment for the next 6 months to own the phone.
NOTE: You have the option to own the phone anytime you want. But you have to pay the remaining monthly instalments of your phone.
When returning the mobile device, ensure the following:
No cosmetic damage (no dents / no scratches)
No liquid damages
Device must be able to power on and off
Any applicable phone lock must be disabled
Device must be able to charge
When the device is powered on, the display must be clear and fully visible
Device does not have any missing or original parts
Device includes the original battery, power adaptor and cable
Device is not registered on any applicable stolen or lost property database
Eligibility
JUMPhone is available to selected existing StarHub customers. To enquire about your eligibility, you may contact us via Facebook or Twitter. You may also head down to any StarHub Shops where our sales consultants will assist you.
Eligible Mobile Plans
$25 SIM Only plan / $50 SIM Only plan / $80 SIM Only plan
$25 SIM Only 1-year plan / $50 SIM Only 1-year plan / $80 SIM Only 1-year plan
*Please note that JUMPhone is only available for selected mobile devices. Find out more here.
Are you interested in JUMPhone? You may sign up online or head down to our StarHub Shops.
~ Carla
▬▬▬▬▬▬▬▬▬▬▬▬▬▬▬▬▬▬▬▬▬▬▬▬▬▬▬▬▬▬▬▬▬▬▬▬▬▬▬▬▬▬▬▬▬▬▬▬▬▬▬▬▬
Some of my posts, opinions and views here do not reflect my position and StarHub's opinions.
For account related matter, please seek help from our Customer Service team via
Facebook Messenger.
Have a good idea? Tell us at our
Ideas Exchange!