Did You Know That You Can Track Your Mobile Delivery?
Yes, you read that right! You can now track the live delivery progress of your purchased mobile device or sim card. What's more, you will now know the estimated time of arrival. All this information is available via My StarHub App.
STEP 1: Log-in on My StarHub App, then select the "Support" page at the bottom of the screen.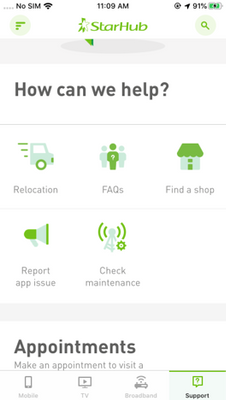 STEP 2: Select "Track Delivery." Once the mobile delivery personnel start to head to the customer's destination, the live tracking map will be available for you to view.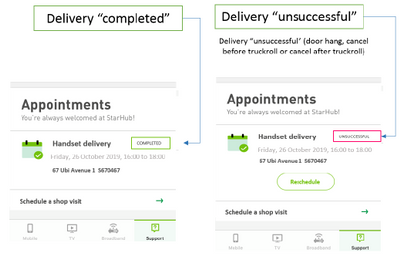 Once you receive the delivery, the appointment will update its status to "Completed." If you didn't receive the delivery, you have the option to reschedule it. You may refer to this self-help article on how to reschedule your mobile delivery.
NOTE:
An SMS is usually sent to customers once mobile delivery personnel is headed to the customer's destination. The SMS includes a link which leads to My StarHub App.
For customers who do not have My StarHub App installed on their mobile phone, they will be redirected to Google Play Store or Apple iTunes to download the app.
~ Carla
▬▬▬▬▬▬▬▬▬▬▬▬▬▬▬▬▬▬▬▬▬▬▬▬▬▬▬▬▬▬▬▬▬▬▬▬▬▬▬▬▬▬▬▬▬▬▬▬▬▬▬▬▬
Some of my posts, opinions and views here do not reflect my position and StarHub's opinions.
For account related matter, please seek help from our Customer Service team via
Facebook Messenger.
Have a good idea? Tell us at our
Ideas Exchange!