5 reasons why Happy Roam is the ultimate travel companion
"Eh where is Cheryl?", "How to go there?" "Where's the best place to eat?", "OMG perfect location for an OOTD, help me take a photo. I want to update my Instagram feed."
These are some of the most common phrases one would hear while travelling with friends and family. It is widely known that out of every ten travelling Singaporeans, all ten of them would look for data as soon as their plane touches down at their destination.
More often than not, we make a beeline for the closest local telco shop that sells SIM cards for tourists. As soon as we regain access to data connection, we hurry to our social media pages and start posting pictures and updating statuses.
Seems like a lot of work for data, doesn't it? Well we have the perfect and simplest solution: HAPPY ROAM by StarHub Mobile Prepaid! This SIM card can solve most of your travelling woes when it comes to data. All you need to do is to get a StarHub Prepaid SIM card in Singapore and buy a data plan and use it overseas!
What's more, just need to download the Happy Prepaid app, to activate roaming and phone settings, activate data plans and more. You can even check your data balance while overseas for peace-of-mind.
1. Hassle-Free Usage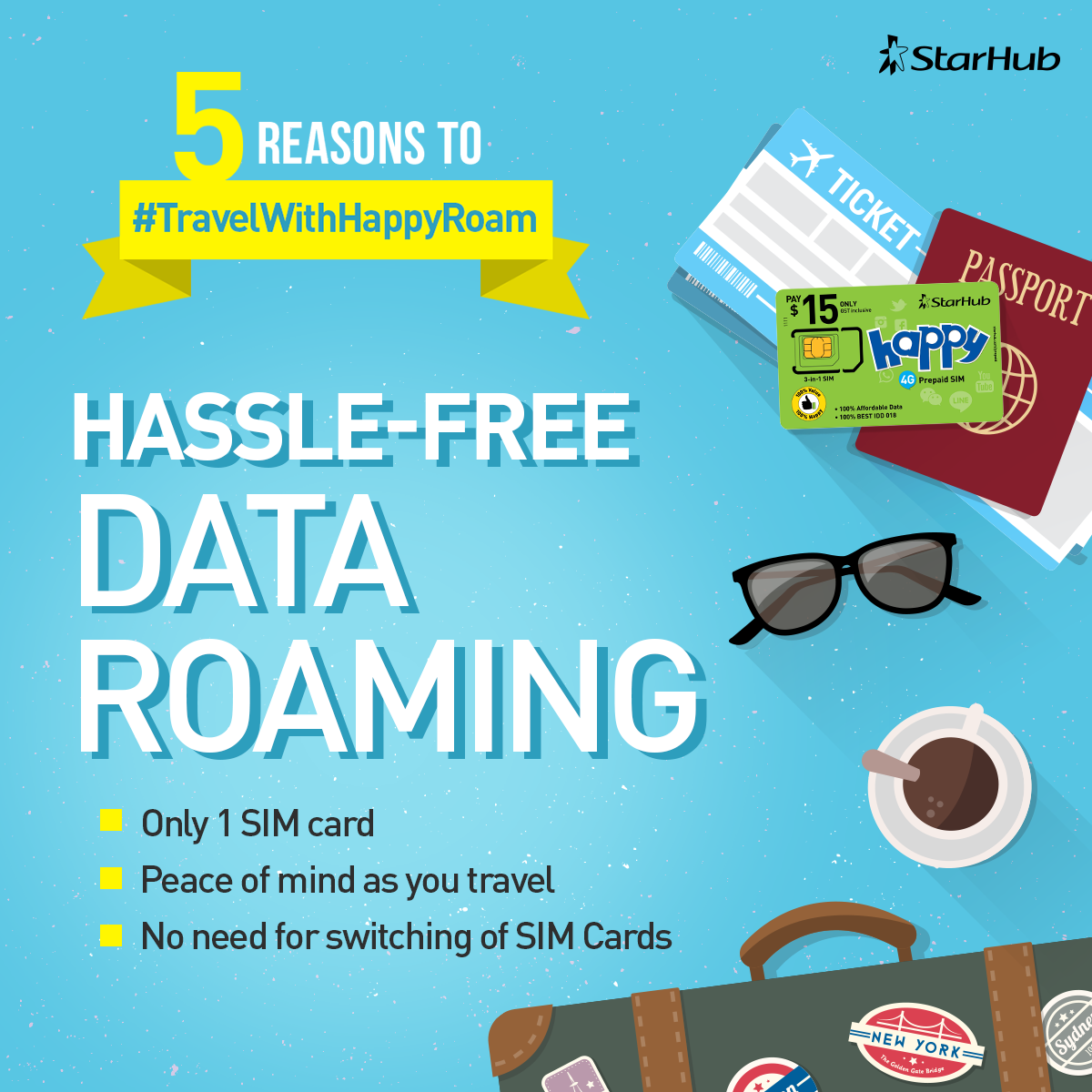 Imagine this: You're on the plane. The space is confined, you're surrounded with strangers, you'll have to fill up your immigration card, you have to look for a pen to fill up your immigration card and to top it off you have to change SIM cards? Ain't nobody got time for that!
Why go through all that hassle when you can use just one SIM card in both countries? Simply change to Happy Prepaid SIM Card at home and you can stay connected the moment you leave home and as soon as you touchdown at your destination with no data roaming charges. You can now buy the card in Singapore, top it up in Singapore and not freak out about not having data when you land!
2. As low as $5/GB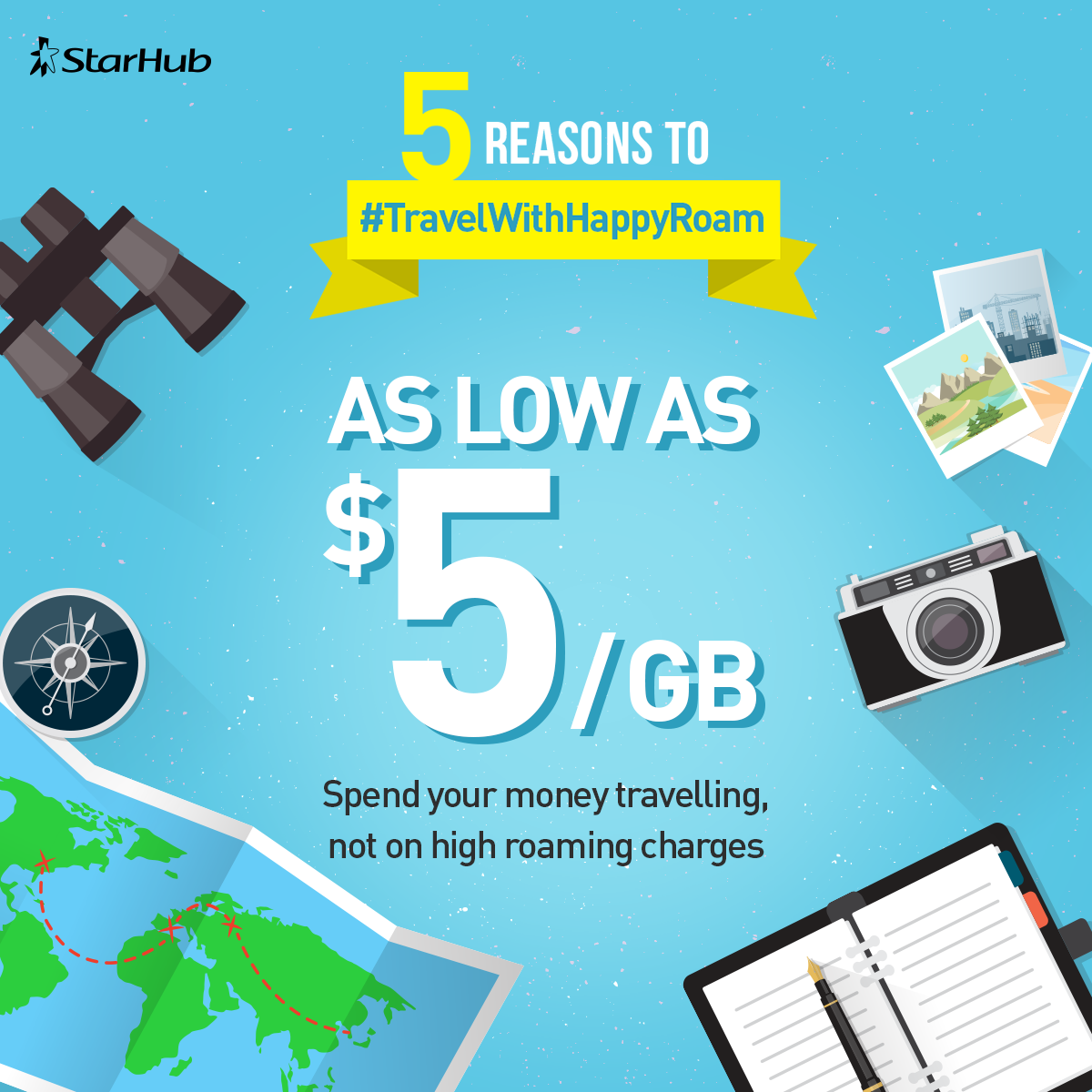 Data plans start from as low as $5 for 1GB! I mean, come on! It's a deal that's just too good to resist. You can get any amount of data in accordance to your travel needs. If you hadn't used up all the data you purchased, fret not, you still can use it when you come back to Singapore! Or on your next getaway.
3. Happy Prepaid App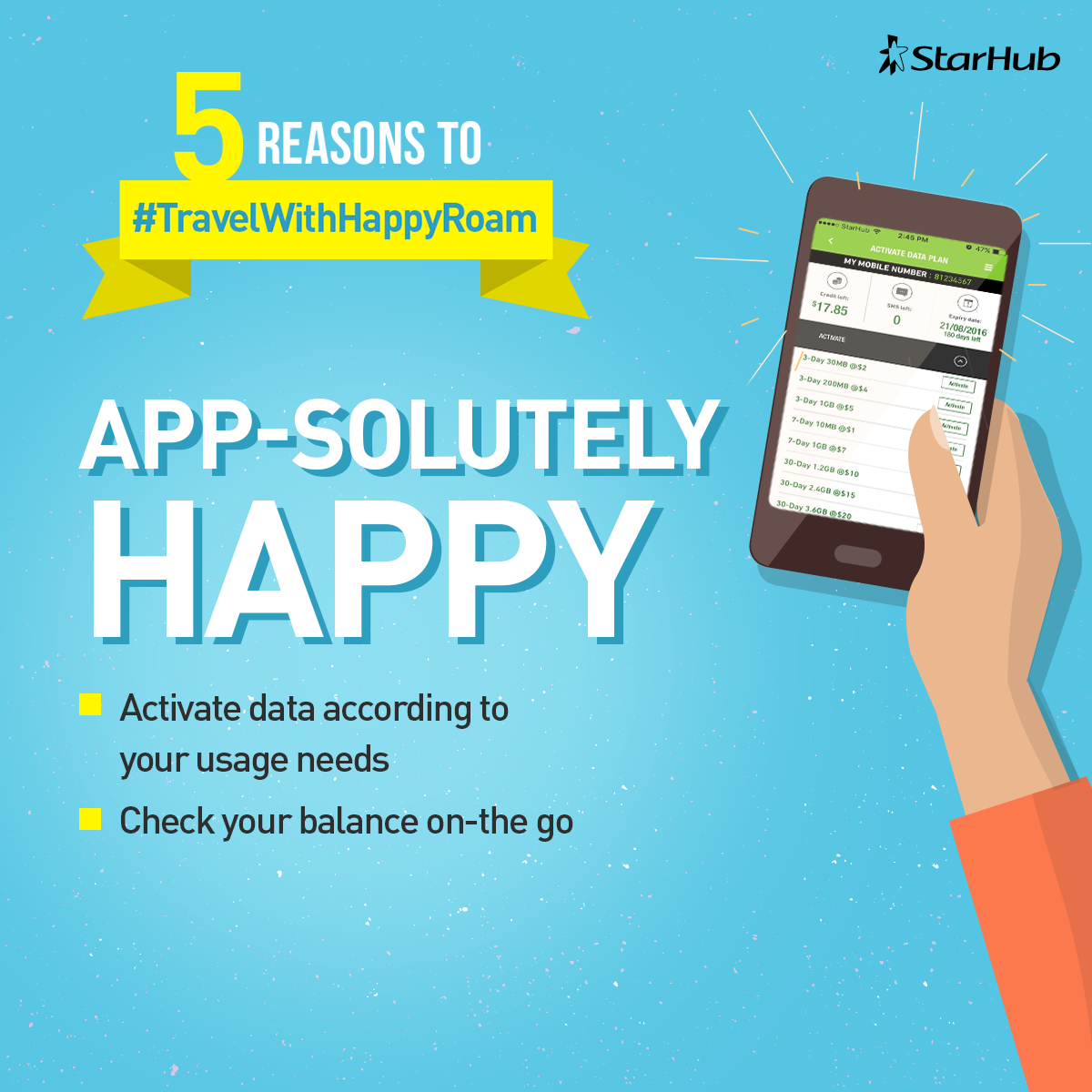 It's pretty safe to say that we're all overly dependent on apps as it is more convenient compared to searching for information on the internet. That is why we have the Happy Prepaid App where you can activate roaming settings, data plans, install phone settings all under one easy to use app.
With this app you can top up your data if you need more or when you fly from one destination to another.
4. Data as soon as you touch down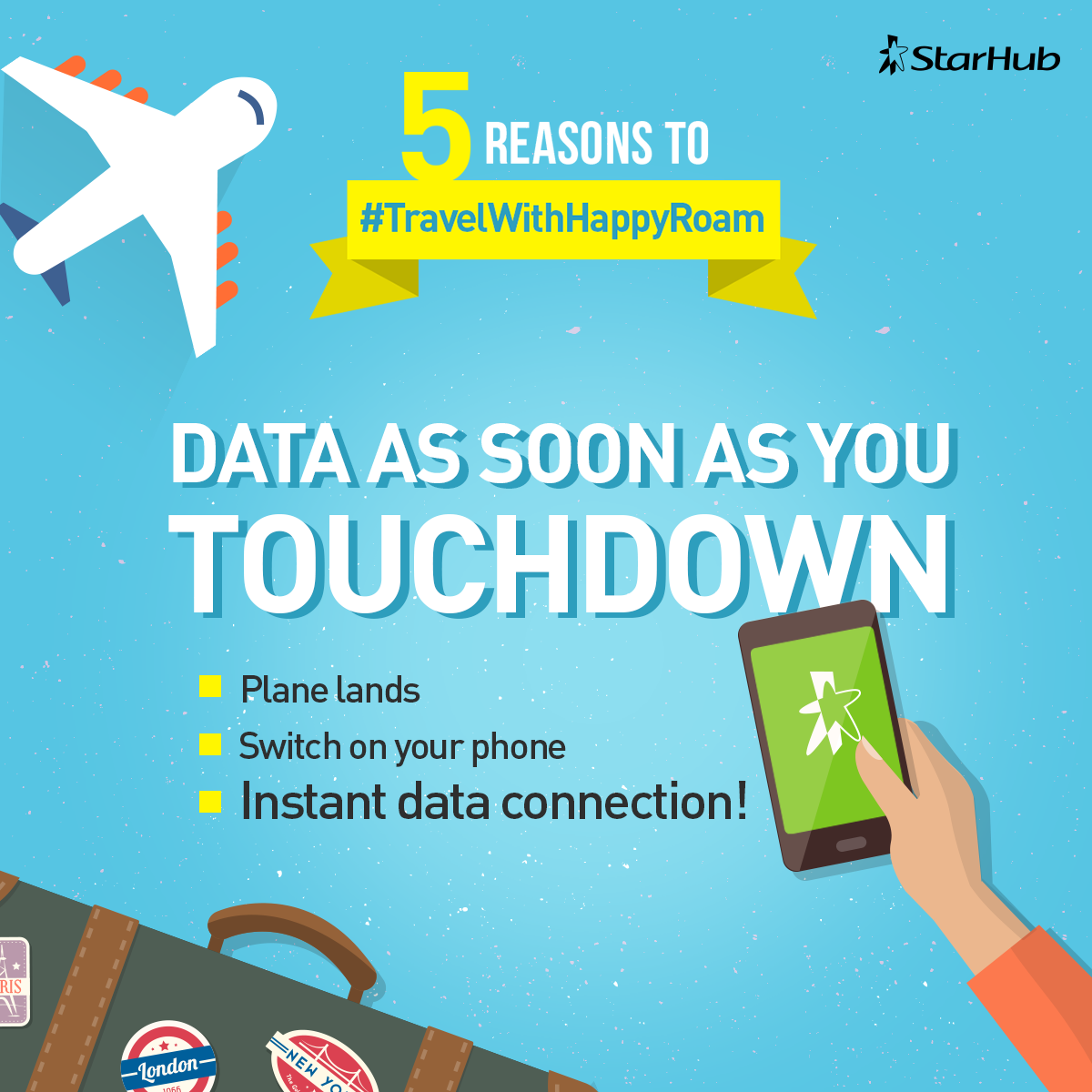 You know that period of time from when you land till you airplane is being taxied and you have nothing to do? Well, with Happy Prepaid SIM Card, you can reconnect with the virtual world immediately. Disable airplane mode and start posting all that aerial shots you took when you were up in the air or text your loved ones to let them know you have landed safely.
5. Multiple destinations, 1 SIM card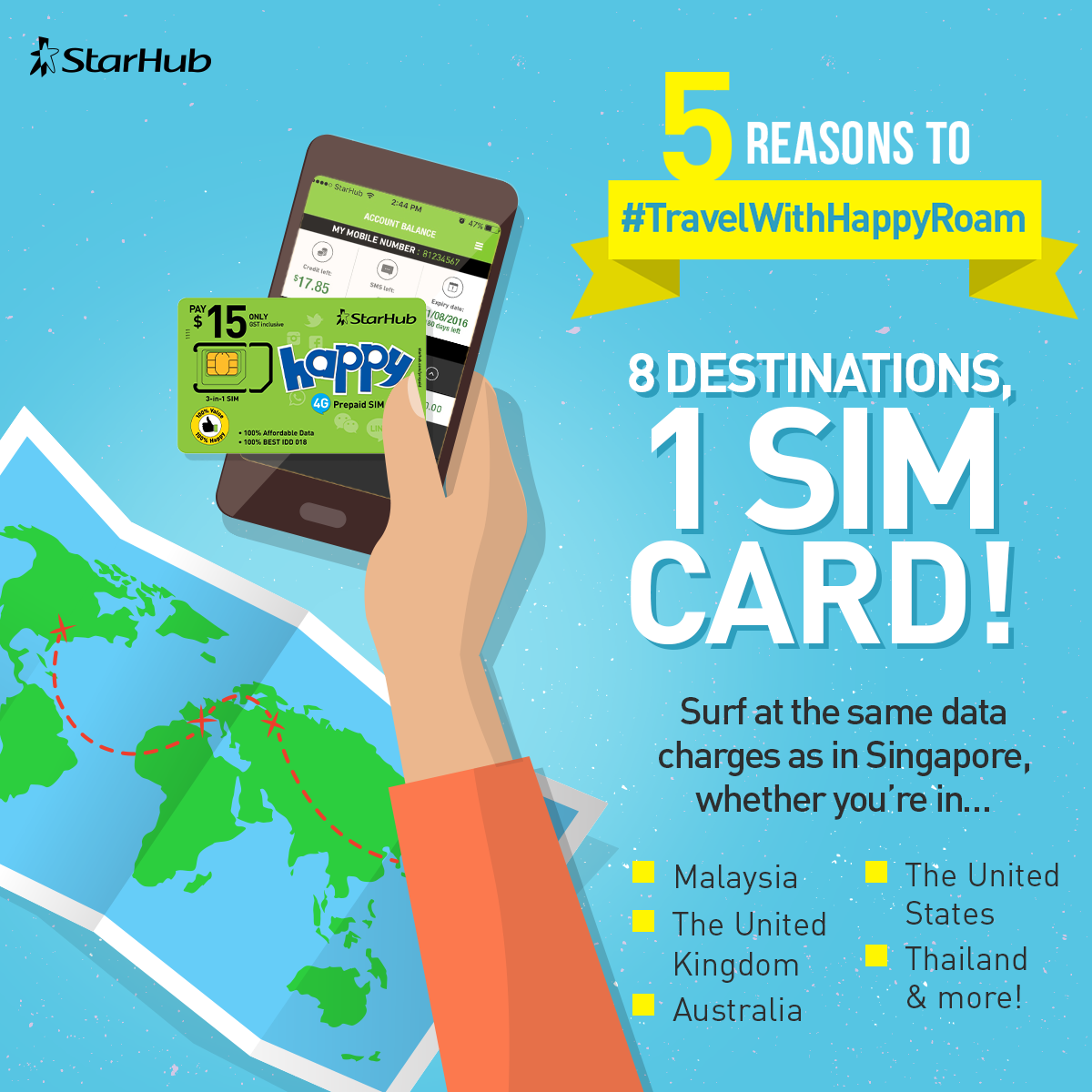 If you're an avid traveller to the multiple Happy Roam destinations, the Happy Prepaid SIM card should be at the top of your packing list. You can use the same SIM card from in 8 different destinations without having to change it at all
Like the saying goes, the journey of a perfect Instagram feed, begins with good data. So choose Happy Roam today and get it at any StarHub Shop, 7-Eleven, Cheers or UOB Foreign Currency Exchage at Changi Airport.
What's more, share with us your travel photos by tagging us @StarHub #travelwithHappyRoam and we might reward you with free data for your next trip!