Songs that you can dance to with your toddler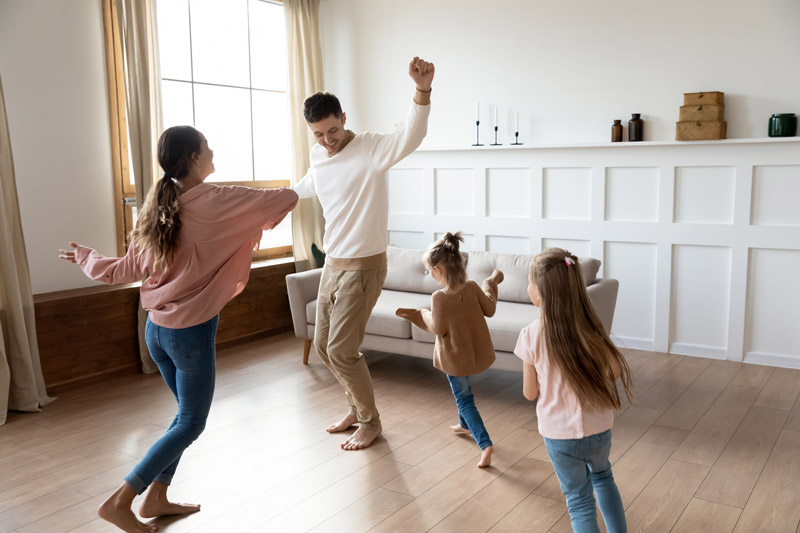 Can't get your toddler to sit still? Might as well get them moving to these catchy tunes. Grab your speakers and turn up the volume. Get ready to bust a move with these kids' dance tunes. There's no use trying to sit still as these tunes will have you and your family dancing and most definitely make chomping motions with your hands.
If you're happy and you know it
This is a popular repetitive children's song that every toddler knows about (probably even parents and adults who have been spending quite some time with children). So, channel your inner dancing and singing skills and start to twist and shout with your child while playing this song.
Hokey Pokey
Another popular children's dance song is Hokey Pokey. Through this song, your child's listening and instruction taking skills will improve. What are you waiting for? Encourage your child to copy all the actions and they will be on the way to improving their coordination in no time at all! Don't forget to join your child dancing to this song. Have fun!
Head, shoulders, knees and toes
Are you looking for a great exercise song for your toddler? Look no more, 'cos here's what you need. Go get up and dance with your kids with an elephant instructor leading you all through a super fun aerobics' routine. Heads up, this song's speed gets a little bit fast until the end.
Baby Shark
You can never go wrong with Baby Shark! The dance steps for this song are easy to do and won't even make you sweat as a parent trying to imitate this. 😂 But the dance will help your toddler to develop fine motor skills as they have fun dancing to this song!
Please and Thank you
We should not forget about Cocomelon's Please and Thank you. From the title itself, this teaches kids to be polite and learn how to say "please" and "thank you." Who wouldn't want their kids to be polite, right? And as a parent, you'll like to dance with this tune since it doesn't have big movements which won't make you tired imitating.
We hope your kids will enjoy these tunes, not only that it will also help them do some sort of exercise to keep themselves fit. And after listening to these tunes, we still wouldn't trade our kids for the world although we've already traded our musical freedom for them. 😅
~ Carla
▬▬▬▬▬▬▬▬▬▬▬▬▬▬▬▬▬▬▬▬▬▬▬▬▬▬▬▬▬▬▬▬▬▬▬▬▬▬▬▬▬▬▬▬▬▬▬▬▬▬▬▬▬
Some of my posts, opinions and views here do not reflect my position and StarHub's opinions.
For account related matter, please seek help from our Customer Service team via
Facebook Messenger.
Have a good idea? Tell us at our
Ideas Exchange!