Free Amazon international shipping to Singapore
Did you know that Amazon offers free shipping to Singapore (and many other countries) for certain items in the Amazon store? The criteria to get free international shipping are:
All items in your cart must be eligible
Total cart amount must be USD$125 and above
For example, here is a list of Samsung SSD (Sold State Drives)
 that are eligible for free international shipping and perhaps you might be interested in large capacity Micro SD Cards (128GB to 256GB) Want to know which items are eligible? Just look at the item description! For example:

Anyways, you can also find out more about the FREE AmazonGlobal Saver Shipping by clicking this link.
Last tip before I end this. It will begin to get frustrating trying to identify items that are eligible so when you do an item search, go to the left navigation bar and refine your search as follows: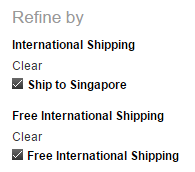 You're welcome!