Top 3 Unconventional but Kick-Ass Presentation Tools!

Previously, I wrote an article on "How to Stop Boring Your Audience to Tears" through the various presentation tips that will make presentations engaging and effective.
This time, I will be helping to make your presentation even more impressive by introducing to you guys the most unconventional but kick-ass presentation tools for students, or even for working adults who are looking for an edgy style to their presentations.
It's always good to be different from the rest and I personally pride myself on my unconventional methods of doing things. If you're a student like me, who's always pouncing on opportunities to wow my audience with cool techy tools, this quick list is for you!
The first one on my list of kick-ass presentation tools would be:
So for decades, many have stuck with Microsoft PowerPoint and never thought that the grass would be greener on the other side.
Some are afraid to explore and some are hesitant to learn new tools and techniques.
Well, fear not, Sway is there for you. Sway is a product from Microsoft itself, so you can be assured that the learning curve for using it isn't too steep.
Sway feels like a combination of features from Microsoft PowerPoint, Movie Maker and WordPress.
Microsoft describes it as an intuitive digital storytelling app that allows users to produce an engaging presentation that can be shared around on the web. It's a revolutionary way for users to create a visually appealing, interactive, web-based expression of ideas right from the phone or web's browser
The Kick-Ass:
You don't have to restart.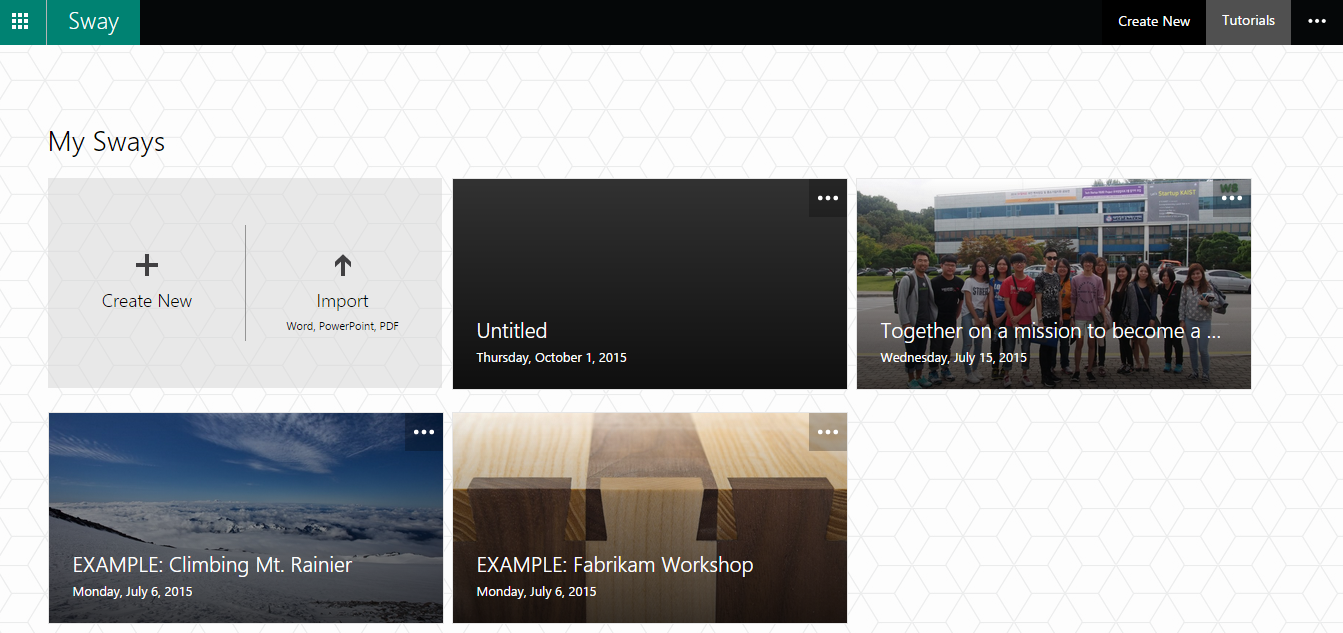 Coming from the same company, Sway seamlessly allows you to import Microsoft PowerPoint and Word files to come up with the presentation storyboard. PDF also works great with it. This is something that Prezi and many other tools fail to do.
The Unconventional:
It doesn't have to be just a deck of presentation slides.
One other advantage of Sway is that it doesn't have to only work as a deck of presentation slides, but also an engaging yet instructional set of notes to be passed around.
One example would be this Sway , made by a Microsoft Student Partner, Tee Guang Ying, a Year 2 NTU undergraduate studying Mathematics and Economics. I love how Sway helps him to emphasize the various headings in the texts, and balance the huge chunks of text with pictures that fly in automatically without being too distracting. It's almost as if I'm reading an interactive storybook, rather than a boring old instruction manual.

Oh did I mention? Sharing your Sway is as easy as ABC.
Your slides will look effortlessly good!
Sway allows you to work the "Remix" button so that you can repetitively change the design theme until you settle on your favourite design.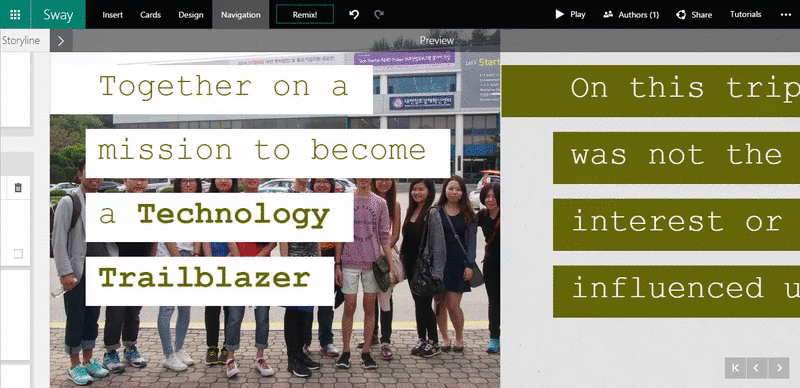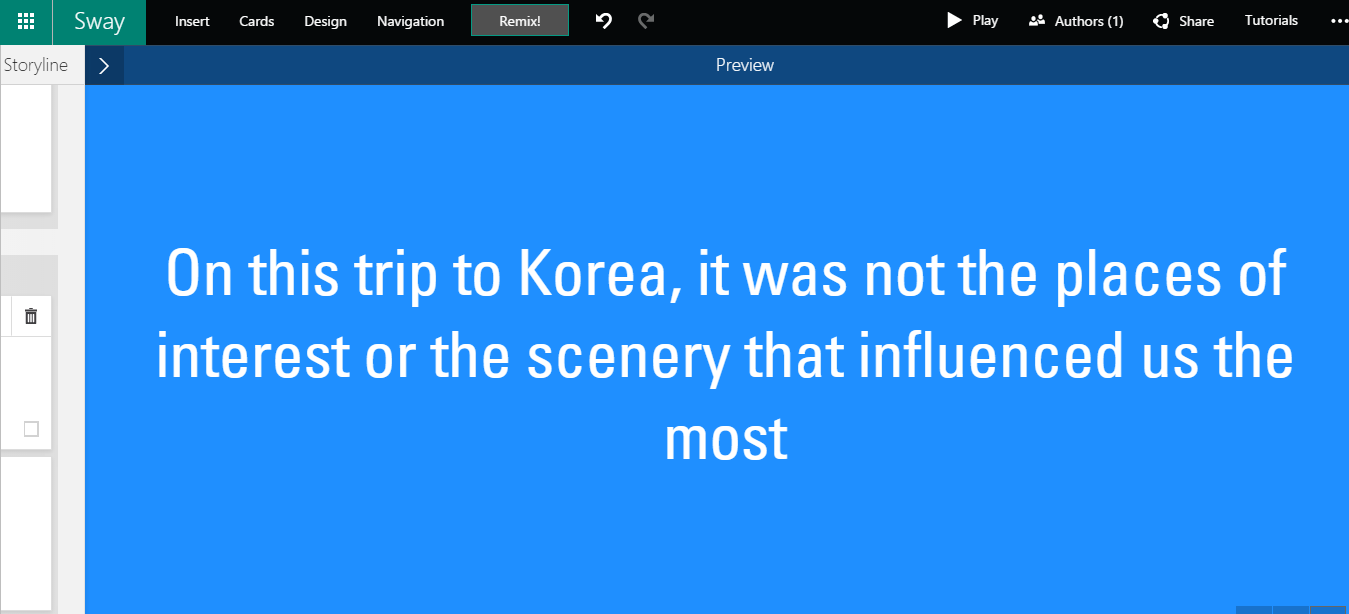 The versatility in visual content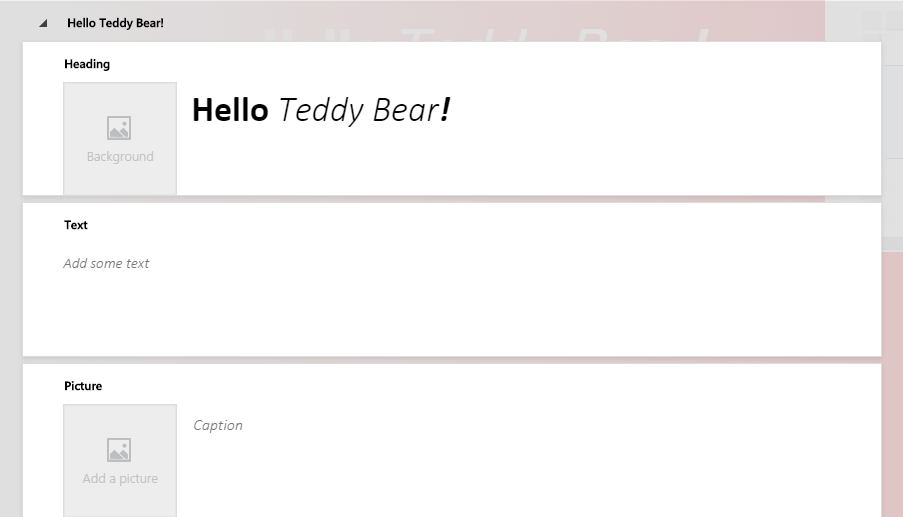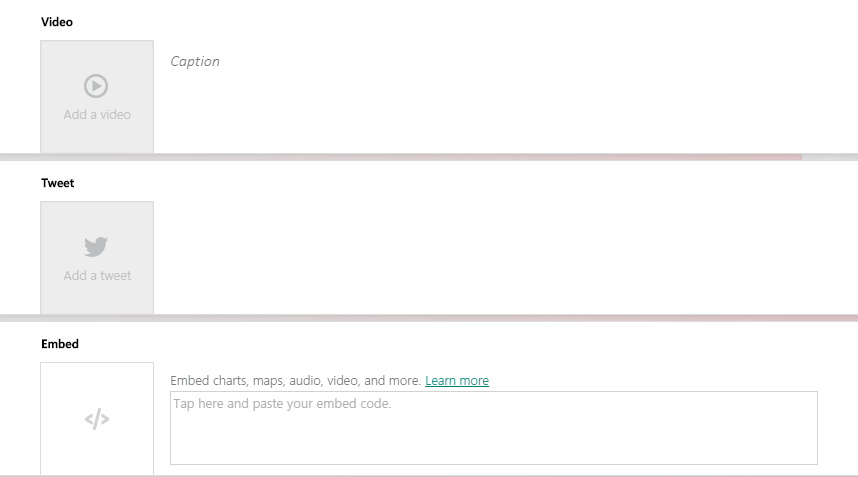 Fill your slides with a variety of content on Sway, from pictures, videos, tweets, charts and also external web content that can be embedded.
Sway presents a user-friendly interface where you can easily get a good overview of the deck of "Cards" and rearrangement is pretty easy dragging the cards about.
The Bad:
You can't import files more than 20MB. If you have huge PowerPoint files like me, one advice is to convert it to PDF (that will significantly reduce the file size), and then try importing it. Though for the most part, the individual PDF pages would only appear as imported images as a whole.
The division of "Sections" could get confusing at first. When you add a new card "Heading", it automatically adds a new "Section" to the board. While the rest of the cards simply pile onto the same section, you can't really have 2 "Heading" cards in the same section.
To learn a few more tips on using Sway, check out their official video tutorials here.
Sway is available on web or on the Windows Store.
----------------------------------------------------------------------------------------------------------------------------

The Kick-Ass:
Effortless and Quick
Many times, we often contemplate too long on which slide templates we should use, and how we should arrange the graphics and text on each slide. Powtoon #Slides helps to fix just that. Other than the overall design slide template, within each slide template, it comes with a deck of individual slide templates that provides the user with the various options of arranging the content on each slide.
Pass it around!
Just like Sway, sharing it on the web is pretty seamless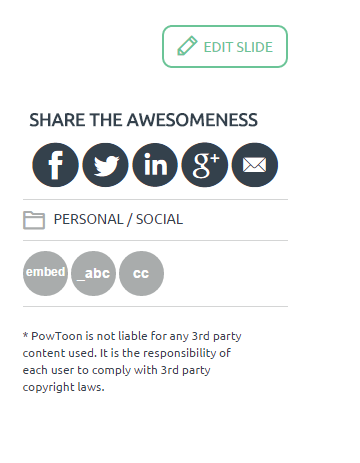 The Unconventional:
Visualgasm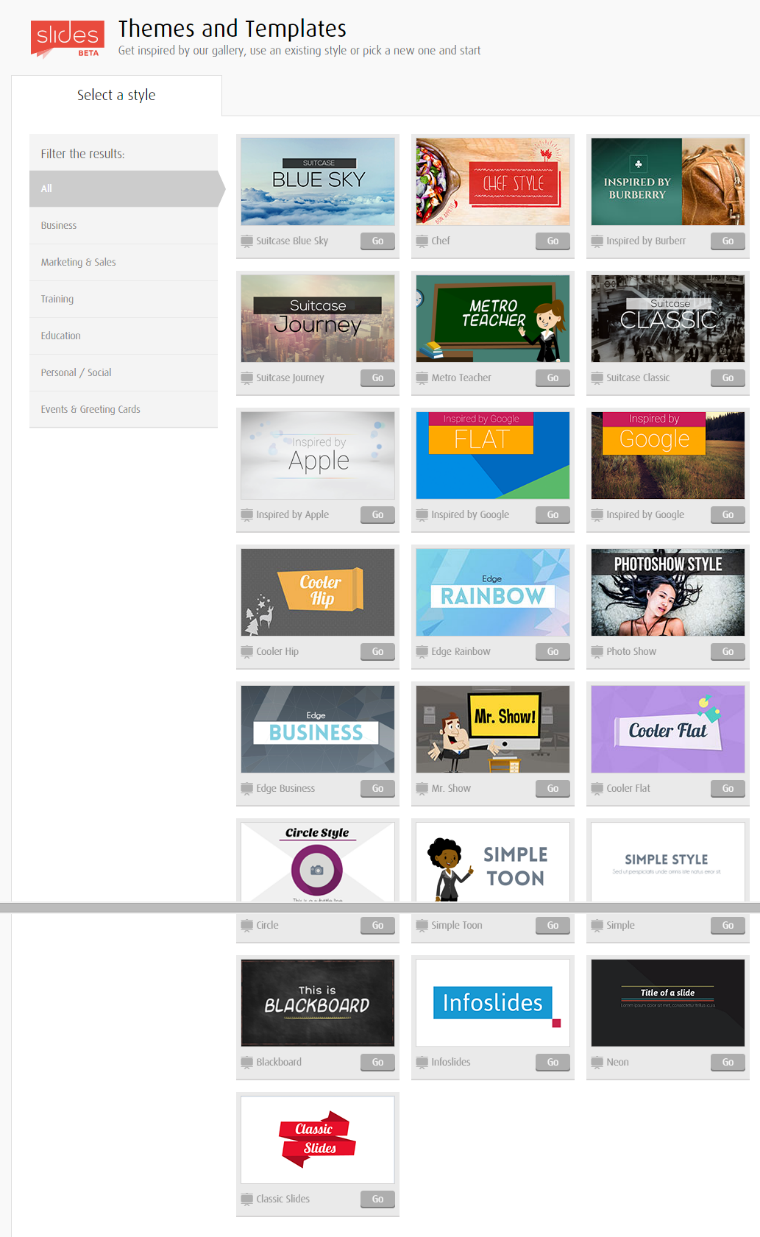 Seriously though, Powtoon #Slides provides a series of visual hysteria. The slide templates are so gorgeous and modern in its graphic elements and animations that you can't help but jump on board to try out every single one of them.
The Bad:
Inserting content into the slides isn't as versatile. Each template's slide is fixed with its own set of image holder and text holder. It would be good to be able to drag the image holders and text and mix them around. The type of content that can be inserted only ranges from image, text, video and link.
Also, in one paragraph of text in a text holder, you can't selectively increase the size or change the type of the font of one single word.This is especially frustrating because it is quite common for a presenter to want to emphasise one single word in a line of sentence.
One disadvantage that commonly runs along many online presentation tools like Sway and Powtoon #Slides is of course the fact you require the Internet to create and to view them. This is perhaps one of the many reasons why people fall back on Microsoft PowerPoint most of the time.
----------------------------------------------------------------------------------------------------------------------------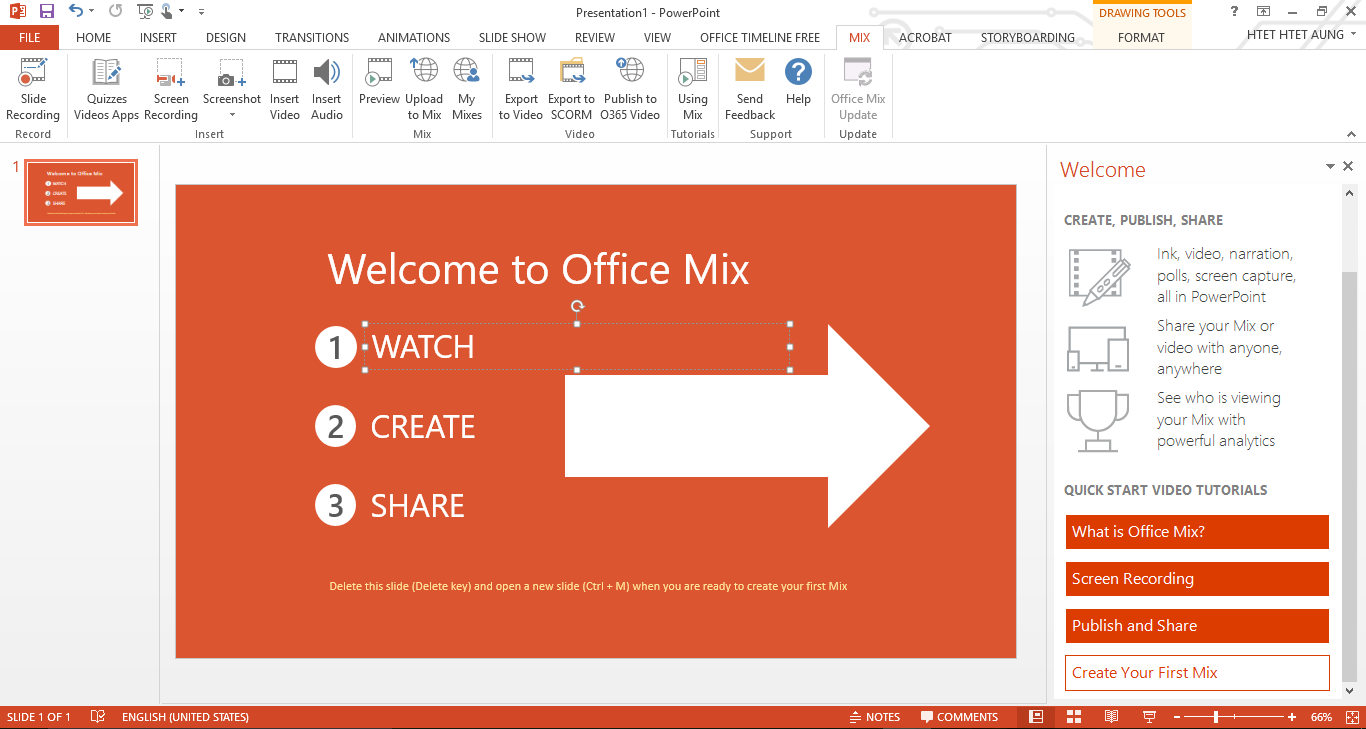 Office Mix is basically PowerPoint with powerful interactive features. Everything the user would need is in the "Mix" tab.
It is essentially targeted towards educators, but there's nothing that should stop students and working adults from using this tool.
The name 'mix' is derived from the concept of mixing videos, quizzes and other content into the presentation.
To watch how Office Mix can be fully utilised, do visit this mix here, done by Koh Kai Wei, a Microsoft Student Partner and a Year 1 student studying at Singapore University of Technology and Design.
The Kick-Ass:
Works Offline
Since many seem to fall back on Microsoft PowerPoint due to the inconvenience of connectivity issues that may crop up during the presentation, one good way to stay in your comfort zone, but at the same time, make PowerPoint slides unconventional is by using the Office Mix add-on.
Sharing of mixes!
Not only is Office Mix available offline as an add-on for Microsoft PowerPoint, sharing of Mixes on the web is as easy as ABC!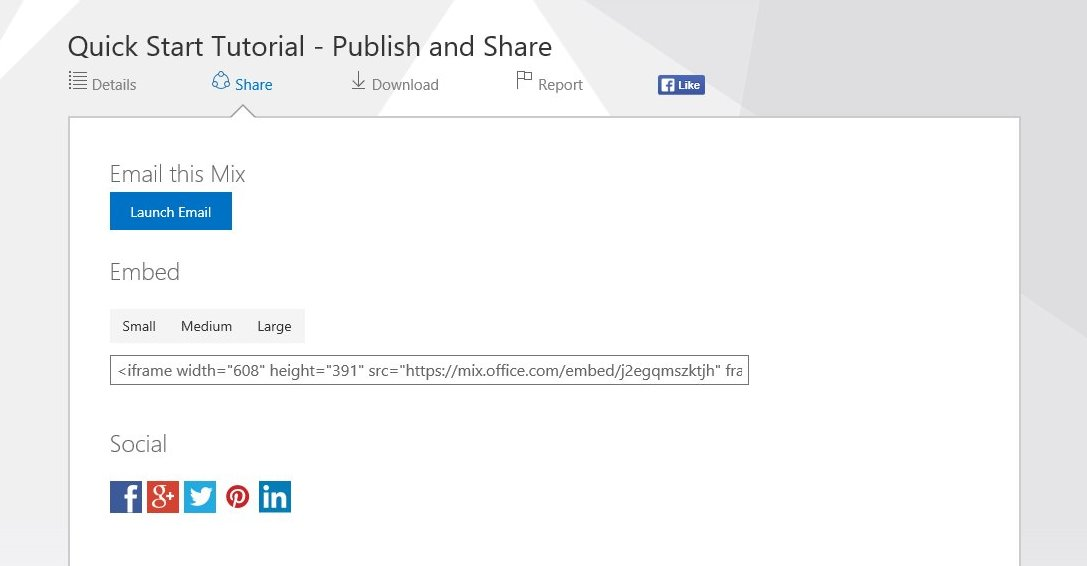 Easily Customizable Permissions & Sharing Settings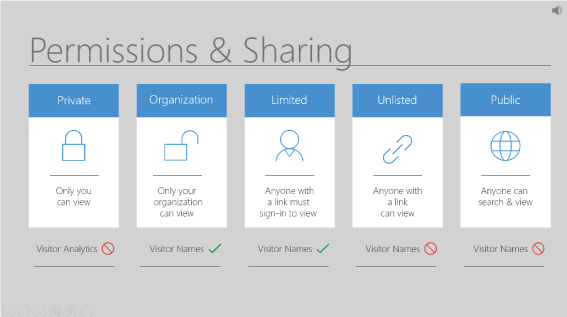 The Unconventional:
Audio voiceover and screen recording, inserting of handwriting and quizzes!

The Office Mix is a pretty amazing PowerPoint add-on application that provides users with the versatility to record audio, video, and handwriting and insert elements like quizzes, making the presentation very interactive.
This makes it very befitting for visual instructional manuals, when one is teaching an audience to follow a certain how-to tutorial.
Ever wish that your snipping tool can capture a video image as well as a static one? With Office Mix you can do just that. (Under Mix, click on Screen Recording to snip a video screen recording.)
To insert quizzes, click on the Quizzes Video Apps under the top tab, and a list of "Lab Apps for Office" will appear. One of these Lab Apps that can be installed is the Multiple Choice Quiz add-on, as demonstrated below. Instances where this can be used is when the user is posing a question to the audience after the presentation.


If you would like to have a poll interface that is more visually exciting, I would recommend you to check out Poll Everywhere, which works perfectly with Office Mix as well.
Perform Analytics to improve your Mix!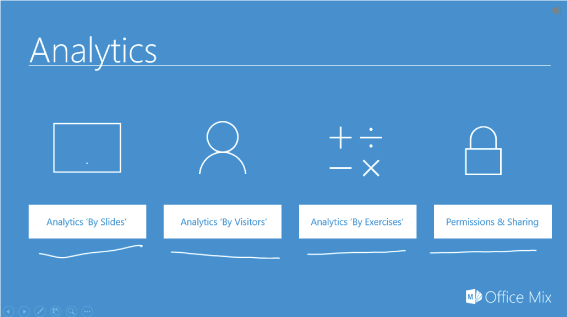 What better way to improve your presentations than to do so by gathering statistical feedback from analytics done on your Mix?
With Office Mix, you can gain important insights and gather feedback on performance of your Mix.
Under https://mix.office.com/MyMixes, click on "Analytics" under your Mix.
Comprehensive analytics are can be viewed for every slide and user.
Analytics by Slides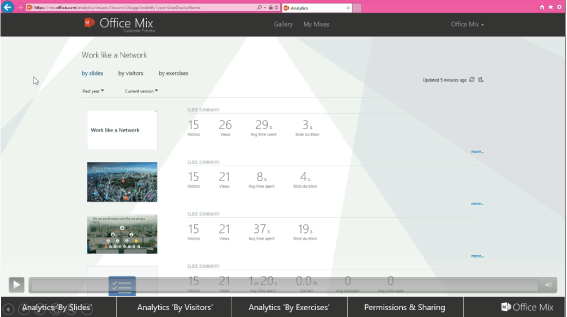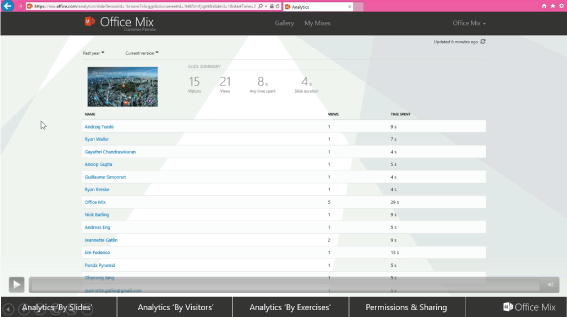 Analytics by Visitors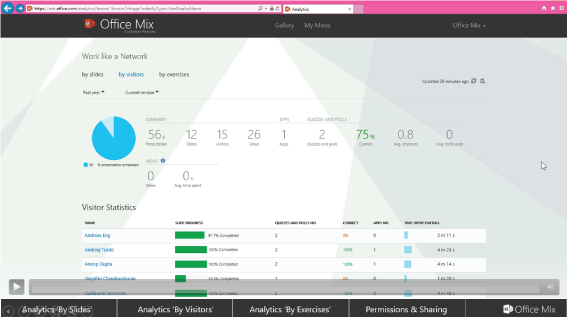 These powerful analytics allows you to see an impact you've made on the audience and then further use the data collected to improve your Mix.
The Bad:
All in all, it feels nothing more than a little special add-on for Powerpoint to make online interactive video tutorials that can be shared around on the web.
For a student, unless a certain demo needs to be presented to the audience for a prototype, which would require voice-overs and screen recordings for effective presentations, he or she could definitely do well for class presentations even without this add-on.
----------------------------------------------------------------------------------------------------------------------------
Well, that's all folks!
Now that I've given you the list of the Top 3 Unconventional but Kick-Ass Presentation Tools, do comment to let us know if there's more tools out there that need to be discovered by more people. Sharing is caring!
Do remember to check out "How to Stop Boring Your Audience to Tears" too if you haven't because if you haven't even mastered the basics of an effective presentation, all the presentation tools in the world wouldn't be able to save you from a disastrous presentation.
---------------------------------------------------------
Currently an intern at StarHub. Some of my posts are unofficial and may contain personal opinions which may not represent the positions and opinions of StarHub