Happiness for All, Together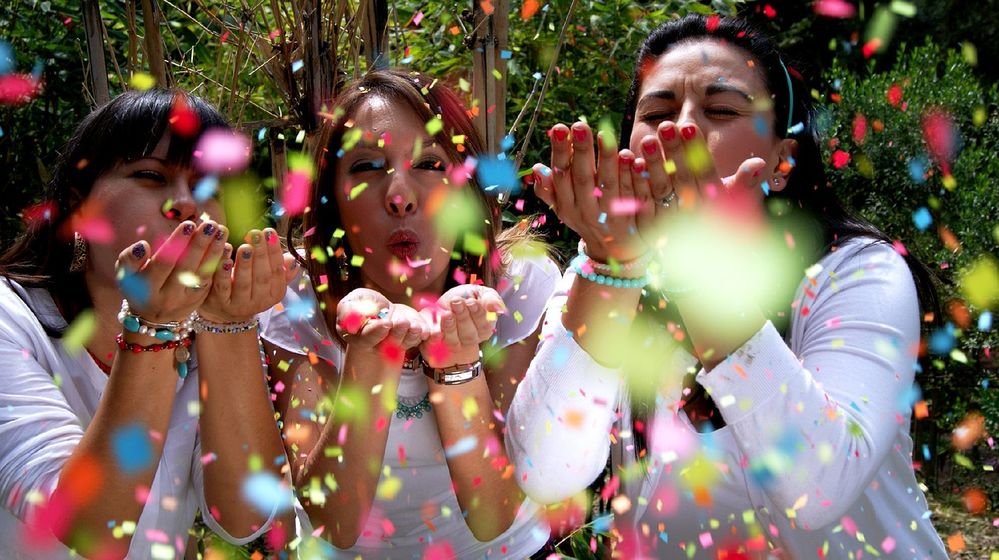 March 20 is an International Day of Happiness. Of course, it is a day to be happy. It is a way to recognise the importance of happiness in the lives of people and to encourage us to do things which will make us happy.
How can you celebrate this day?
The #InternationalDayOfHappiness is usually celebrated by encouraging everyone to pursue the things that make them happy. It doesn't matter what your passion is, as this will be the perfect day to do what makes you happy. Moreover, it is also a day to help ensure the happiness of other people.
In light of the COVID-19, let us unite and win the fight against the virus by following this year's #TenStepsToGlobalHappiness for the 2020 #InternationalDayOfHappiness.
Step One: LET'S STICK TOGETHER.
We will be able to get through this together. If we unite globally, do collective action, and make a joint response against COVID-19 we will be able to win the fight against this global pandemic and the threat to humanity. Like what the High School Musical song says "We're all in this together."
Step Two: FOLLOW WHO ADVICE.
Let's follow the World Health Organization's advice and guidance. We have wash hands, practice social distancing, stay at home, and avoid large crowds to help #FlattenTheCurve of the number of disease cases at a manageable level for medical providers.
Step Three: VIRTUALLY ATTEND A WORLD HAPPINESS EVENT.
Happiness events around the world happen every year in celebration of #InternationalDayOfHappiness. However, due to the rising cases of COVID-19, it is not advisable to attend large crowd gatherings. So we are now encouraged to attend online happiness events like the World Happiness Fest, World Happiness Virtual Agora, and Happy Walls.
Step Four: STAY SOCIAL ONLINE.
They say happiness is contagious. Let us spread happiness across the globe through social media as we fight to end COVID-19. You can share funny videos to make people laugh, as well as uplifting videos. Staying social online will also help to maintain positive mental health and reduce anxiety and stress.
Step Five: BE KIND, SHARE, AND SAY THANK YOU.
In times like this, let's be kind to others, share for those in need, and be grateful. We shall check on our friends and neighbours, and even strangers. Why not share food, supplies, medicine, and other resources with those in need. Let's appreciate and say thank you to our frontline workers of this global crisis.
Step Six: STAY ACTIVE AND BE MINDFUL.
Let's get physical! Try to exercise daily. If we stay active and mindful then it will reduce our anxiety and stress and boost our immune system. If we have a strong immune system, then the spread of the virus will lessen which will help #FlattenTheCurve.
Step Seven: BE OPTIMISTIC, POSITIVE, AND RESILIENT.
During these challenging times, we must be optimistic, positive, and resilient. We will win this fight together against COVID-19. Let's not lose hope!
Step Eight: STAY INFORMED ABOUT FACTS AND NEWS
Try to be well-informed about the facts regarding COVID-19 outbreak. Let's avoid sharing myths and unverified news to avoid panic. TheWorld Health Organization (WHO) provides information on how to prevent contagion and stop the disease.
Step Nine: ENJOY NATURE.
Why not enjoy nature, and connect with the environment during this period? This will be a great time to take advantage of your time to hike, visit parks, and lakes. Of course, if there is a community quarantine in your area then it is better to stay at home.
Step Ten: ADOPT HAPPYTALISM.
We shall think about a systemic change that we can make so this never happens again. So, what is happytalism? It is a new economic system to solve the great challenges facing humanity.
As we are now facing a global crisis, let's not forget to celebrate the #InternationalDayOfHappiness despite some hiccups amid the COVID-19 outbreak. We shall find positive ways to look after ourselves and each other.
~ Carla
▬▬▬▬▬▬▬▬▬▬▬▬▬▬▬▬▬▬▬▬▬▬▬▬▬▬▬▬▬▬▬▬▬▬▬▬▬▬▬▬▬▬▬▬▬▬▬▬▬▬▬▬▬
Some of my posts, opinions and views here do not reflect my position and StarHub's opinions.
For account related matter, please seek help from our Customer Service team via
Facebook Messenger.
Have a good idea? Tell us at our
Ideas Exchange!