Circuit Breaker Extended! Destress While Taking Care Of Your Tresses :)
So our PM announced that the Circuit Breaker's extended till June - and we're actually not surprised, right? Even if we're not exactly delighted about it. And if you're hot and bothered because of the news, well, my suggestion is to take a cold shower to help you relax. And yes, also because the weather has been so terribly hot.
I don't have air-conditioning at home so I feel the heat a lot more. But my utility bill is freaking low, since I also do not have a water heater for showers!

The tap water's actually warm, you know. But because this weather makes my scalp oily and itchy, I took 2 showers today. And figured that since we'll not be able to head to the hairdressers' any time soon (guys, you can start looking like F4

), let's take good care of our tresses while at home.
I've been using this new shampoo I've bought because it comes in a beautiful purple bottle. I love the scent, how well it foams up, and I do think I'll keep the bottle and use it for plants in future.
Here's my recommendation! (Totally not sponsored nor paid to say this ya?)
The Lux Luminique Acai Straight Shampoo...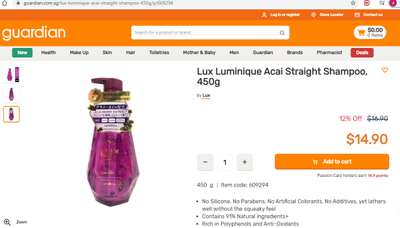 You can get it from Guardian online as there's a promotion now.
This shampoo smells really good! I'm reminded of berries and also of grape candy.

It doesn't contain silicone, parabens and artificial colorants. And it has Acai Berry extract hence the name. (However, I don't know if having acai berry in your shampoo actually does anything at all for your hair)
Since you'll be spending more time at home, give yourself and your hair a treat.

~

Visit Grace's award-winning blog now: http://workingwithgrace.wordpress.com/ :)