5 Ways to Increase the Steps You Take in a Day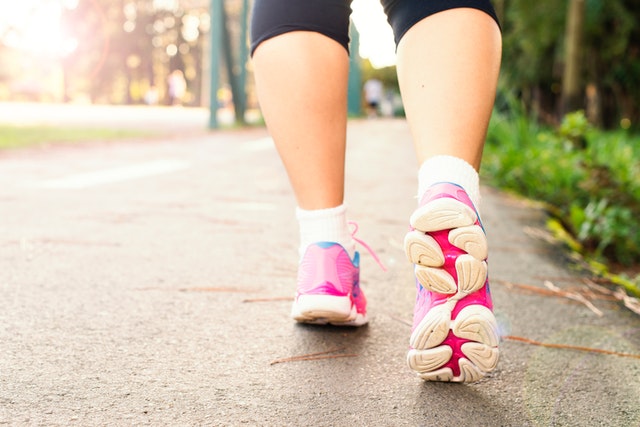 Every first Wednesday in April is National Walking Day, as the name suggests it is to remind people about the health benefits of taking a walk. Walking for 30 minutes each day may sound like it isn't much, but you can get healthier with more physical activity like walking.
So, whether you like to walk at home or walk around, here are some tips to help increase the steps you take every day.
Take the
s
tairs
Opt to head for the staircase whenever possible. Instead of taking an escalator or elevator, you might want to take the stairs to boost your daily step count. Well, assuming that your office or home is not on the higher floors. But if you feel like you are up for the challenge, why not?
Walk your pet
Take your pet around the block for a walk every day. Your pet will love it, but more importantly, you'll get the benefits of both walking and some fresh air. Don't have a pet? You might want to walk someone else's pet but make sure you get the owner's permission first.
Use public transportation
Yes, riding a bus or train is not walking, but you are more likely to take more walk to and from and in the station and even while on the train or bus. Plus, you don't have to spend more time finding a parking spot, and this can even save you a couple of bucks.
Make use of walking to clear your mind
Whether you are at work concentrating on a task or at home glued to the couch or bed, stand up and do a few knee raises or walk on the spot for a few minutes. Better yet, walk around your neighbourhood. This could be a nice way to clear your head and do a short physical activity.
Keep track of your steps
Many devices such as Fitbits, smartwatches like Apple Watch & Samsung Galaxy Watch, and smartphones like iPhone are emerging to monitor how many steps you are taking each day. Of course, you are aware that you've been walking, but knowing is not necessarily doing. Therefore, wearing a wearable fitness tracker will help track how many steps you've taken.

Now is the time you spend more time walking especially now that most of us are at home due to the pandemic. Walking can be your breather.
What about you? How do you increase the steps you take every day? Let us know in the comments.
~ Carla
▬▬▬▬▬▬▬▬▬▬▬▬▬▬▬▬▬▬▬▬▬▬▬▬▬▬▬▬▬▬▬▬▬▬▬▬▬▬▬▬▬▬▬▬▬▬▬▬▬▬▬▬▬
Some of my posts, opinions and views here do not reflect my position and StarHub's opinions.
For account related matter, please seek help from our Customer Service team via
Facebook Messenger.
Have a good idea? Tell us at our
Ideas Exchange!