1gbps fibre broadband with speed of 103mbps
after having no broadband service for 6 days, we have subscribed to starhub's 1gbps fibre broadband. even took 3 google wifi mesh just to make sure that the wifi signal would be amplified along with the new speed.
technician came july 03 to install and left. by evening we keep noticing that we only have internet every other minute. and that our speed is only at 64mbps.
we called starhub on july 04, only to be advised that we have to call google wifi support. we had a call with google wifi support for more than 1 hour and they concluded that it was starhub's modem that has problems.
called starhub again to have a technician over. technician came, replaced modem and google wifi mesh. technician's laptop shows 700mbps. our mobile phones show 128mbps. our laptop also shows the same 100mbps speed connected directly to the modem.
even their work order#1-249812708304 has this comment, "cust phone n pc unable to hit bw unhappy".
but of course, who would be happy if you're paying for 10x more than what you are receiving? and everyday we have to spend hours testing the wifi and calling 1633. it's quite frustrating!
Starhub, can you resolve this? this is SUPER not acceptable.
i mean, come on, this is just an internet service for a single hdb unit - this is not like configuring wifi for the whole building. come on!
If you cannot resolve this, then allow us to terminate the service without any ETC.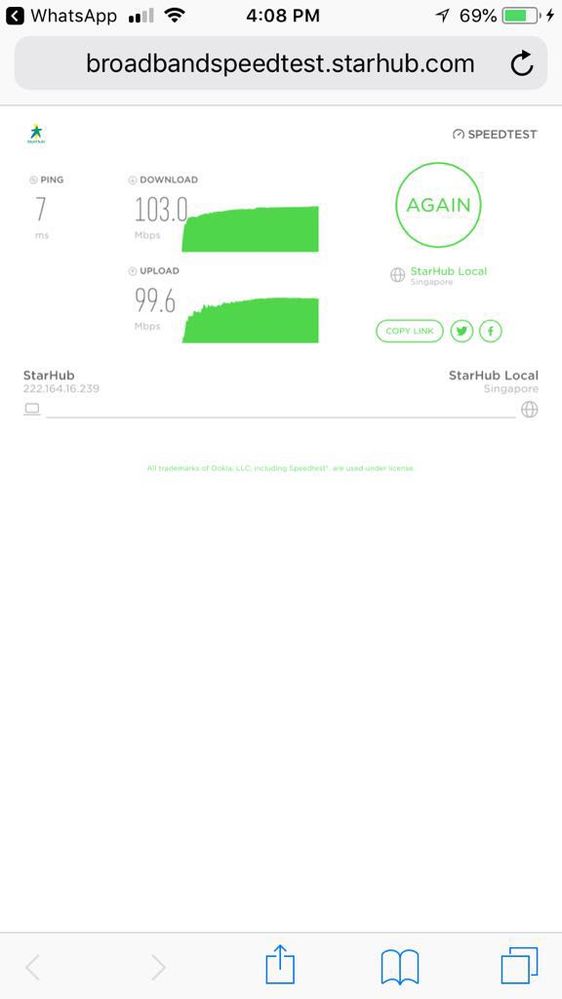 Wifi Speed Test!