Thai Chicken Soup
Hello Everyone! So this week I'm back with a recipe which is super simple and kids friendly.


Soup is one of the most basic dish which we can find from any cuisine; spicy ones, sweet ones, savoury ones and even cold ones! Let's dive into one of the soup dish that my son loves having either with boiled macaroni or alphabets pasta.

Ingredients:



500-800g of chicken breast- sliced into cubes/bite sized pieces
1 large red onion - cut into 4 wedges
1 inch ginger- finely chopped
1 stalk of lemongrass- cut into 2 (half thinly sliced, half lightly bruised)
2 pieces of kaffir lime leaves - wash and toss
Soup Spice (Sup Bunjut, refer to pic, this is a must for the vavavoom taste!)
1 stalk of coriander leaves- thinly sliced (optional but I use it to enhance the aroma of the soup)
2 tbsp fish sauce
1tbsp lime juice (refer to this post, to see what kind of lime juice I'm refering to)
1 tsp Maggi Seasoning or Hao Chi seasoning
Sugar and Salt to taste- only if needed

Vegetables:
2 stalk of celery - sliced diagonally in medium thickness
1 tomato- cut into 4 wedges
½ carrot- sliced in medium thickness
1) Prep the ingredients accordingly. You can get this sup bunjut bag from Sheng Shiong or stall that sells dry items located in our neighbourhood markets. This little bag is basically cinammon, cloves, star anise broken into pieces wrapped in a cheesecloth with blended white peppercorn, cumin, fennel, cardamom, and mustard seeds . In my opinion, it's a bundle of magic!

Kichen Hygeine 101: Soak the bag in hot water and rinse it first before cooking.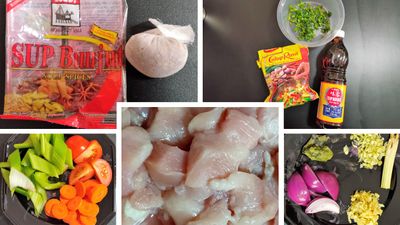 2) Saute the ginger till lightly brown and add water depending on how much soup you like. Then add in the onions, lemongrass, kaffir leaves and soup spice bag. Simmer on high heat and let it come to a boil or until the onions are clear and separate from layers.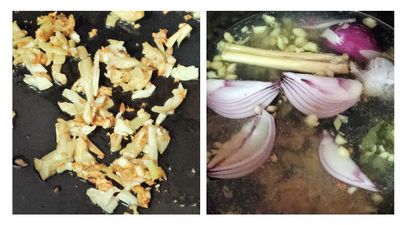 3) Add in the vegetabes and simmer on medium heat till they are half cooked. Add in the chicken cubes, fish sauce, lime juice and seasoning. Simmer on medium heat until all ingredients are cooked throughly.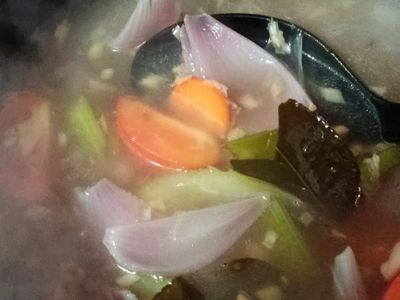 4) Once done, turn off the fire and sprinkle the coriander leaves on top. Your soup is ready to be served!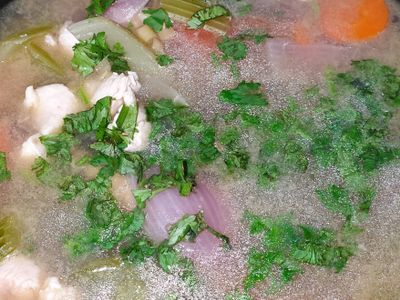 Enjoy guys! Till next time!