Ramadan Recipe #5: Asam Pedas Ikan Pari (Asam Stingray)
How many of us love having Asam Pedas when we eat our Nasi Padang? I know I do especially when I patron my favourite stall in Geylang Serai Food Market from time to time. But it has been awhile now, due to the circuit breaker. Asam Pedas is a dish that originated from Indonesia, the community of Minangkabau. They called it 'asam padeh'. Over the years, it became a popular dish not only across Sumatra but also across the Straits Of Malacca (if you go to Malacca, it's a must to try Asam Pedas Melaka!) and then to us Singapore. Of course, the spices and fish or meat used in the dishes vary in the different areas and countries.

Today, I'll be sharing Asam Pedas recipe that I learnt from my helper. It's so good that I would soaked bread in the leftover gravy or sometimes break a few cream crackers and have it just like that. It's a heavenly match going on there in my mouth.

Ingredients:
½ kg Stingray fish or Red Snapper
1 bowl of blended chilli paste
4 onions
6 cloves
1" turmeric
1" halia
½ " belacan (shrimp paste)
1 tbsp crushed black pepper
Lemongrass (bruised)
Bud of Rojak Flower (cut half)
Laksa leaves
1 heap tbsp of tamarind juice (dilute with hot water, enough for the seeds to come out. We only need the juice)
Lady's finger or Brinjal
Salt and sugar to taste

Sauté the lemongrass, followed by the blended paste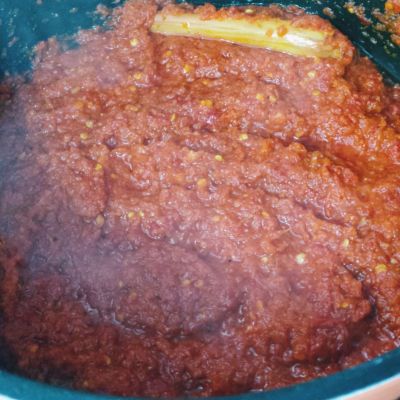 Once the paste is cook and the oil surfaces to the top, add in your laksa leaves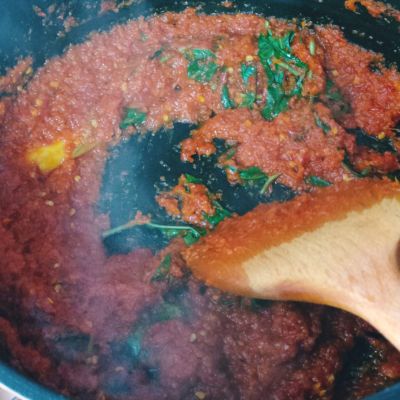 Add in tamarind juice and more water if needed (Gravy should not be too diluted). Followed by the crushed black pepper, salt and sugar. If you are adding lady's finger, you can do so at this point because it takes awhile to cook. If adding brinjal, only do so when your gravy comes to a boiling point.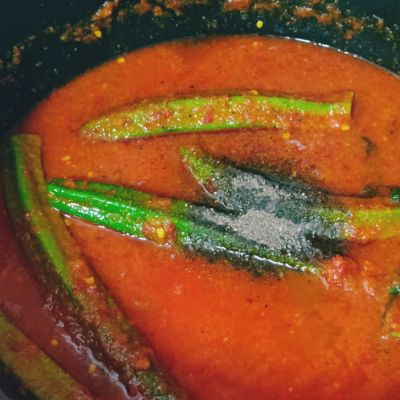 Let the gravy come to a boiling point to ensure that your gravy cooks thoroughly. Then add your fish and let it simmer for about 5-10mins.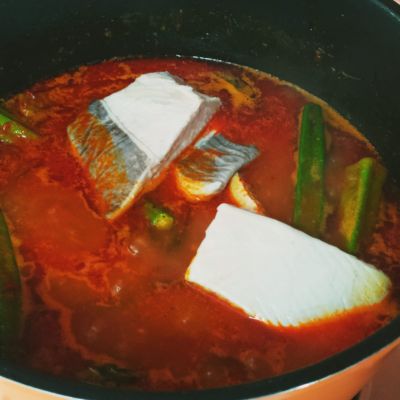 Then add the flower bud and laksa leaves, let it simmer until fish is cooked.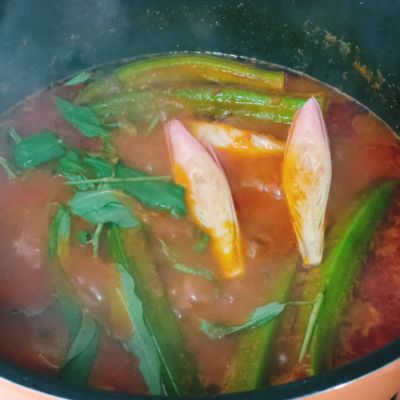 And it's ready to be served hot!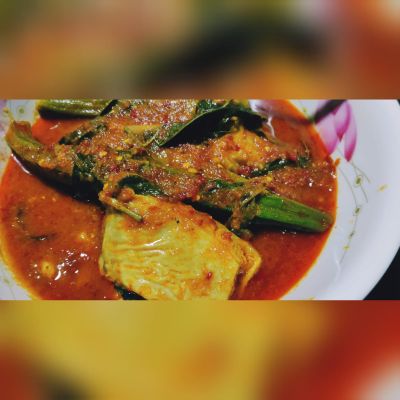 I had mine with rice, side of raw wingbeans and fried tempeh! Yummeh!! Happy trying this out y'all!