Ramadan Recipe #4: All About Popiah!
Hi everyone! I'm back again to make y'all go bananas over two dessert recipe that I will be sharing. The first recipe is a must try because it's super simple and delicioso! While the second recipe takes a lot of patience and practice to do, using simple ingredients and delicious too!


Fried Popiah Banana
The two types of bananas best used for this recipe are ripe Pisang Raja (Musa Belle Banana) or Pisang Tanduk (Horn Plantain). Cavendish banana may work too but it will be less sweet as they are better for making banana cakes or bread which has additional sugar in the recipes.

Ingredients:
5 ripe horn plantain bananas – cut diagonally in medium slices
Spring Roll Pastry sheets (Do cover these popiah sheets with a wet tea towel while making the popiah, or else the sheets will dry up in room temperature)
Grated Parmesan / Mozzarella (mixed both together for an even better stretch)
Flour and water mixture (I call this the popiah skin glue)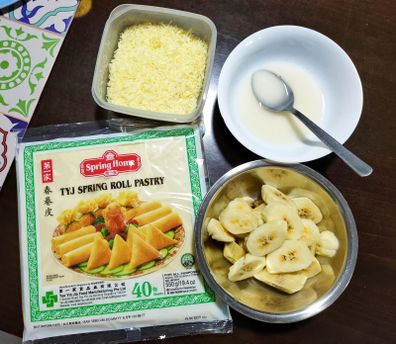 Place 3-4 slices of bananas and grated cheese on to the popiah skin . Leave some gap as seen in the picture below;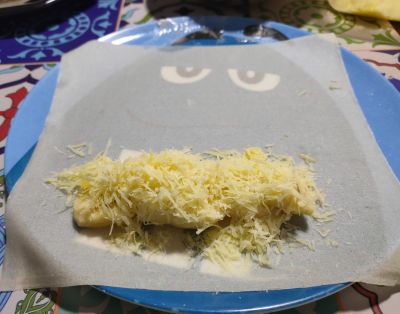 Then fold the sides inwards and start rolling up from the side of popiah that is facing you. Brush a bit of the flour water mixture at the end of the rolled skin, so the bananas and cheese won't fall out. What I did was to watch some tutorials online on how to fold popiah. There are many ways to do it but by far the way I learn was the easiest.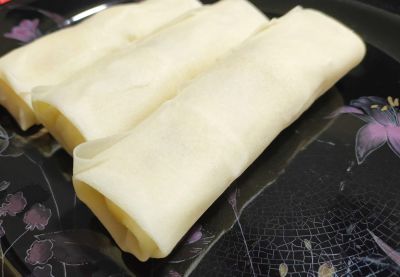 Then fry it till golden brown. Serve it anyway you want it, be creative!
My husband had his with drizzle of Nutella and condensed milk, while I had mine with broken ice cream cone!You can also dust Cinnamon Sugar on it like sugar and spice and everything nice!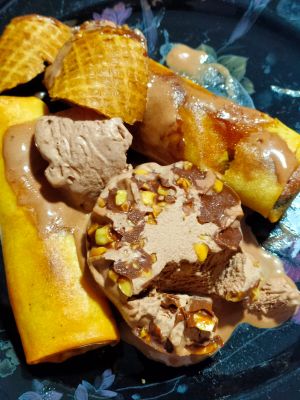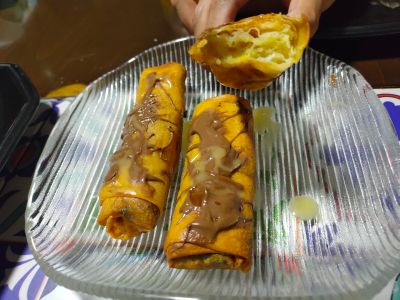 Baklava Rings
This second dessert uses ingredients that will not burn your pocket and are easy to find from our local supermarkets. Baklava is a Turkish Delight and is originally made from phyllo dough, filled with cream or custard in the middle and sprinkled with pistachios, almost like mince pie. In Singapore, you can find good baklava in some cafés and restaurant along Arab Street.
Ingredients:
Spring Roll Pastry sheets
Butter/Margerine/Ghee
Flour Water Mixture (popiah glue)
Fillings:
Nutella
Parmesan/Mozarella Cheese

*You can use cream custard like in a choux pastry too.Be creative and whatever rocks you boat!
Sprinkles:
Ready Made Grounded Peanuts or Pistachios
Lemon Sugar Syrup
Equal parts of water and sugar with a squeeze of half a lemon cooked over slow heat till thickens but able to flow off a spoon.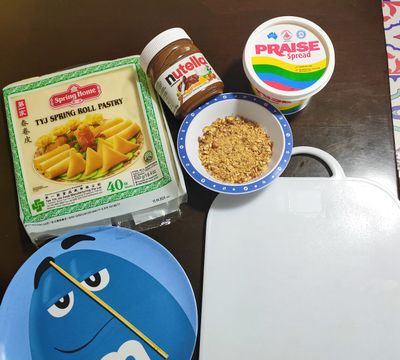 The first step is to cut your sheet into 4 squares, doesn't matter if it's odd square shapes like mine here.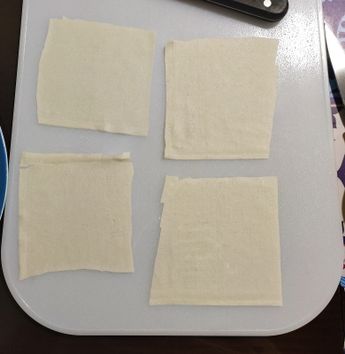 Take a chopstick to roll up the sheets, push both end towards the middle of the sticks to make it look like a scrunchie. Slowly pull out the stick to retain the scrunchie texture. Fold the sheet into a circle, leaving a hollow space in the middle.(that space is where your fillings are going to be in)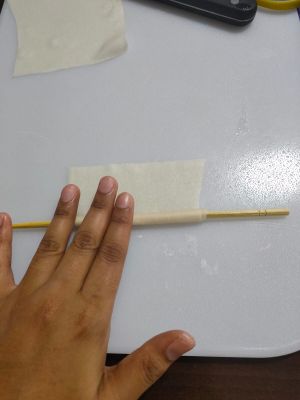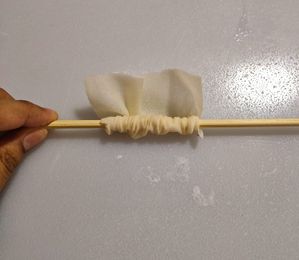 Once it is the shape that you want, dip the ends lighty into the flour water mixture to secure it together. (may need to press the ends together lightly). Put in the air fryer or oven tray and brush with butter.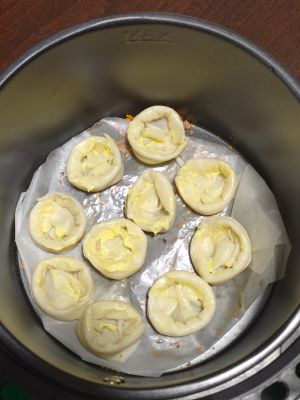 Bake it for 10mins at 160°C in the oven of air fryer lined with baking sheet for 10mins till slightly brown.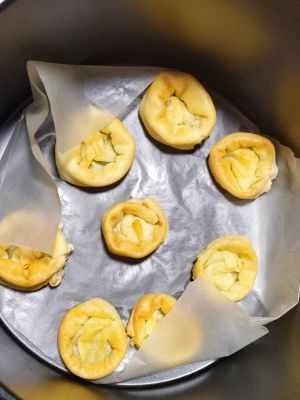 Top the baklava rings with your fillings and sprinkles. Bake at 120°C for another 3-5mins or till the rings become golden brown.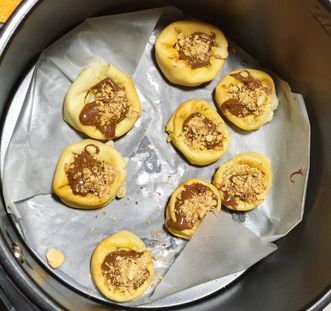 Noticed how I have one ring that has a crusty topping which look burnt? So most importantly is don't overbake the baklava rings once you have already put in the fillings.
Take the rings out, drizzle with the sugar syrup while it is still hot and serve it warm!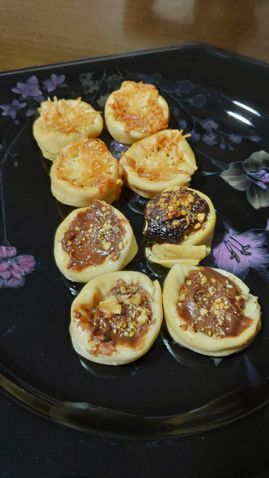 Hope you guys enjoyed today's sharing! Till next time!
Photos taken on OPPO Reno