Pasta-bilities!- Fried Macaroni
Hey everyone! I'm back again with another week of recipe. This will be my 2nd last recipe for now and I will be back in September. Will share more why in my next recipe blog!

Today it's one of my go to pasta recipe when I've got nothing much left in the fridge. Pasta is one of the must have in my grocery list atleast every two months. My son is a rice and pasta lover. Whenever, I cook this, I would usually cook a separate pot for my lil' one, where I omit the chillies from it. Some of you may realize by now how much I love spicy food!



Fun Fact; Capsaicin in spicy food reduces appetite and increase energy expenditure. In simple terms, it releases heat in your body which in turn helps to burn some calories. In an even simpler term, it helps in weight loss! But of course, all of this depends on a person spicy food threshold.


Serves 2-3pax
Ingredients:
8-10 med sized prawns
About 250g macaroni
1 tomato-diced
2-3 stalks celery- chopped/sliced diagonally
1/2 med-sized onion
3 cloves garlic
3-4 tbsp chilli paste(I usually have blended dried chilli paste made in batches weekly. Optionally, you can use those store bought chilli paste)
3-4 tbsp ketchup/ tomato puree
2 tbsp oyster sauce
2-4tbsp water
Sugar, salt and pepper to taste
Fried Shallots to garnish

1) Boil macaroni in a pot of water, seasoned with salt and cook the macaroni just shy of al dente. Drain and set aside. Prep all the other ingredients and set aside.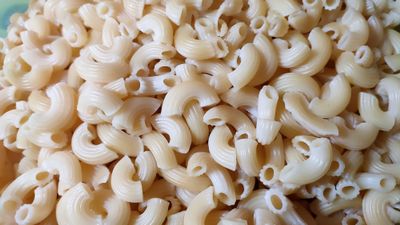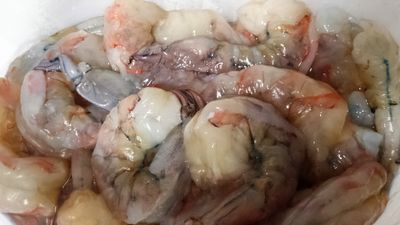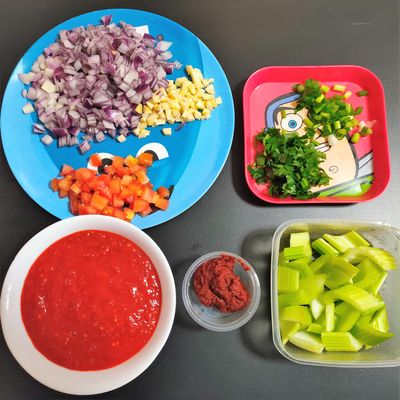 2) Heat oil in a wok on medium high. Add in the chilli paste, fry till frangrant. Once and oil layer forms at the top, add in your onions and garlic. Fry till translucent on low heat to prevent your chilli paste from burning.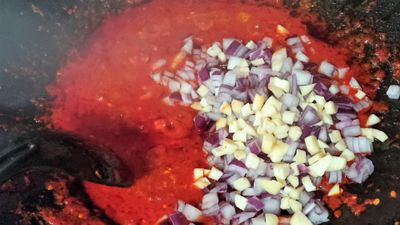 3) Stir in ketchup/ tomato puree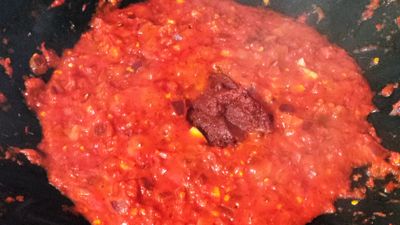 4) Add in prawns.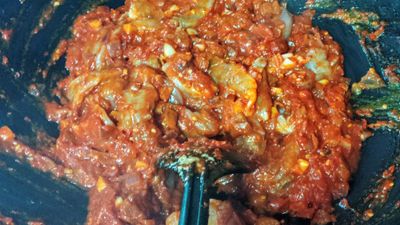 5) Once the prawns are half cooked, add in tomatoes, celery and all the seasonings.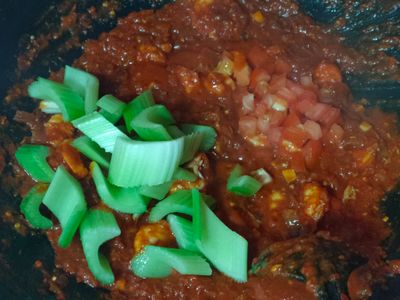 6) Stir in the boiled macaroni, add water one tablespoon at a time if it is too dry. Combined well till the macaroni are nicely cooked. A nicely cooked macaroni should still retain it's shape and firm to bite.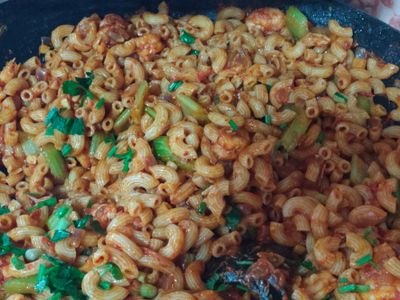 7) Garnish with fried shallots and pair it with sunny side up egg!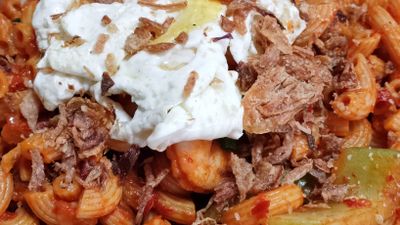 Catchup again next week guys! 👋🏼