How to make rice dumplings?
Dragon Boat Festival is on June 25 this year. This day commemorates the death of the poet and minister Qu Yuan who was exiled from his home country and eventually committed suicide by jumping into the Mi Lo River. Upon learning his death, locals beat drums, dropped rice dumplings (zongzi) into the river in hopes that the fish would not feed on his body. Today, eating of zongzi and intense dragon-boat races in Singapore marked its celebration. However, this year, all races have been cancelled because of the ongoing COVID-19 pandemic. Thankfully, we can still celebrate with eating rice dumplings.
You can buy rice dumplings from restaurants, but it is much better if you have handmade with love rice dumplings. Here's a simple and easy-to-do recipe of rice dumplings (zongzi).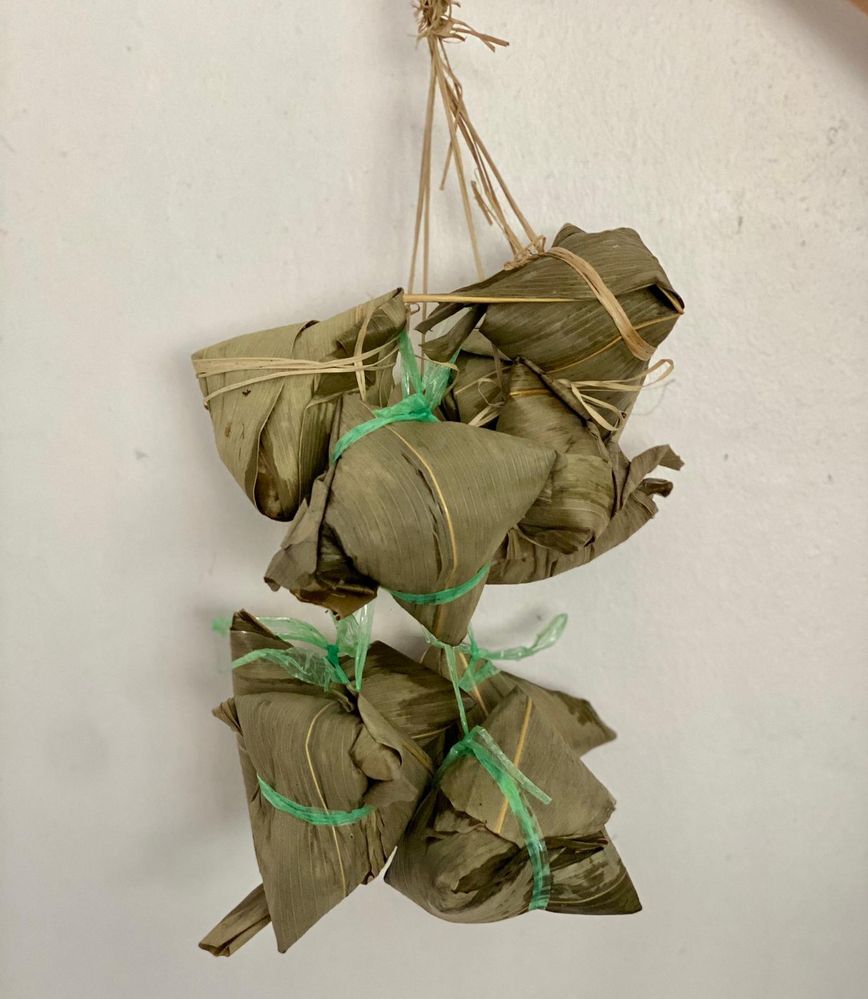 Ingredients:
For the filling:
500g mixture of pork belly, cut into small chunks
3 tsp salt
2 tsp five-spice powder
3 tsp chicken stock powder
1 tsp sesame oil
1 tbsp hua diao jiu (Chinese cooking wine)
4 tbsp cooking oil
6 cloves garlic, peeled and finely chopped
50g dried shrimp, soaked and drained of water
10 shitake mushrooms, soaked and sliced into 1/2-inch strips
12-15 dried chestnuts
For the rice:
5 tbsp oil
½ cup sliced shallots
3 handfuls dried shrimp
¼ cup chopped garlic,
2 tbsp chopped dried oyster
2kg glutinous rice, soaked for 2 hours
1 tsp cinnamon powder
2 tsp five-spice powder
1 tsp coriander powder
2 tsp white pepper
1 tbsp salt
1 tbsp lard
3 tbsp dark soya sauce
You will also need:
20-40 bamboo leaves (soaked overnight, then rinsed and dried)
1 ball of natural fibre string
DIRECTIONS:
Part One: Prepare the filling
Mix the pork belly with the salt, five-spice powder, chicken stock powder, sesame oil and hua diao jiu, and marinate for two hours.
After two hours of marinating. Cook the meat filling.
Preheat a wok, add cooking oil and stir fry the garlic until brown.
Add dried shrimp and stir fry for another minute.
Add the meat and stir fry until the meat turns colour.
Add chestnuts and mushrooms. Continue to stir fry until the meat is cooked.
Part Two: Prepare the glutinous rice
Heat the oil in a large wok.
Fry the shallots until slightly brown.
Add the dried shrimp, garlic and dried oysters.
Add the rice and all the seasonings. Stir to coat evenly.
Mix evenly for a few minutes. Do not let the rice cook. Then, set aside.
Part Three: Wrap the dumplings
Let all cooked filling and glutinous rice cool before wrapping.
Using two bamboo leaves, place the coarse sides back to back. Fold the leaves into a cone.
Scoop one spoon of rice in the bottom of the cone. Top with ingredients and add more rice until it reaches the brim of the cone.
Fold-down the top leaves to cover the dumpling and squeeze the sides to form the corners.
Use a string to tie the dumpling so that the leaves are secured in position.
Part Four: Boil the dumplings
Set a large pot of water to boil where the dumplings will be submerged.
Boil it for two hours. Check it periodically to push down any dumplings that floated to the surface and if necessary, add boiling hot water if the water level gets too low.
Turn off the heat. Take out the dumplings, hang them to dry, and enjoy!
~ Carla
▬▬▬▬▬▬▬▬▬▬▬▬▬▬▬▬▬▬▬▬▬▬▬▬▬▬▬▬▬▬▬▬▬▬▬▬▬▬▬▬▬▬▬▬▬▬▬▬▬▬▬▬▬
Some of my posts, opinions and views here do not reflect my position and StarHub's opinions.
For account related matter, please seek help from our Customer Service team via
Facebook Messenger.
Have a good idea? Tell us at our
Ideas Exchange!