A Chicken Dinner Winner- Ayam Penyet
Hi Everyone!! So as shared in my last blog from 3rd July,this week will be my last blog recipe and most likely writing up again in September. I'll be back cooking in a nicely renovated kitchen and hopefully with even more scrumptious home recipes to share

So this week I will be sharing a recipe using my favourite meat, chicken! I love it even more when it is black chicken in herbal soup or Hainanese Chicken cooked by my Uncle

(I have yet to learn these two recipes because it's too much work involved

)

This Ayam Penyet recipe that I'm sharing was taught by my helper. Some recipes uses a lot of spices to marinate the chicken and to make the 'sambal', but not hers. In my opinion, it is a very straightforward and foolproof recipe. So let start guys!

Ingredients:
4 chicken thighs- wash, remove the fats but leave skin on
3 pieces of bay leaves
Marinade for Chicken ( best is to combined in a mortar & pestle, pound into a paste. If you don't own a mortar & pestle, blend coarsely in food processor or blender.)
5 cloves
3 shallots
1 ½ " ginger
1 ½ " galangal
Salt to taste
2tsp coriander powder (best to grind your own coriander seeds)


Sambal Terasi
11 fresh bird's eye chillies- finely chopped (replace some chillies with shallots if you can't handle spicy food)

1 tsp belacan (shrimp paste)
Salt and sugar to taste
Lime Juice to taste

Sides
White Rice
Fried tofu
Fried Soybean
Any raw greens you like

1) Marinate you chicken with the pounded paste for 2 hours or atleast a night before like I did. It will taste even 'enak banget' (very delicious)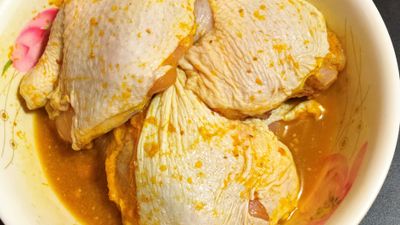 2) Fry the tofu, soybean and set aside with the washed raw greens. I'm using my favourite wingbean for my greens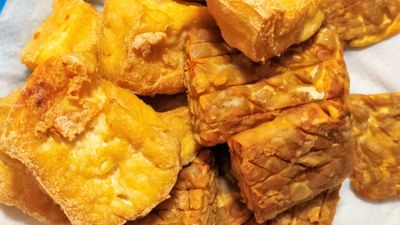 3) Prepare the 'sambal' while waiting for chicken to soak up goodness of the marinade and bring a pot of water to boil. Saute the chillies and shrimp paste separately in a pan with 2tsp of oil.(shallots too if you are using it) I recommend pounding it into a paste together with sugar, salt and lime juice, so that you can gauge the texture and taste of the 'sambal'. But if you are using the blender, don't blend it till fine. A good 'sambal' texture is one that is not too thick or watery but slides of a spoon nicely within 3 seconds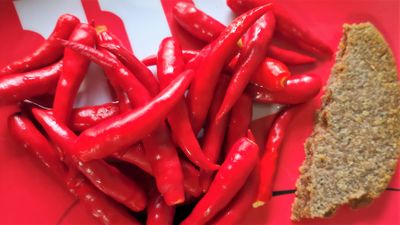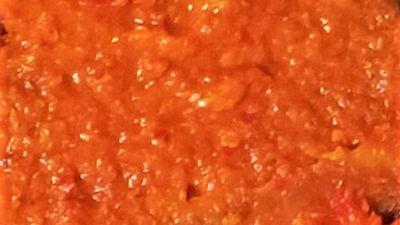 4) Set the 'sambal' aside , and start on the chicken. Add in marinated chicken in the pot of boiling water, together with bay leaves, reduce heat and simmer for about 20 minutes. You don't need to cook the chicken thoroughly as it still needs to be fried to get that crispy skin.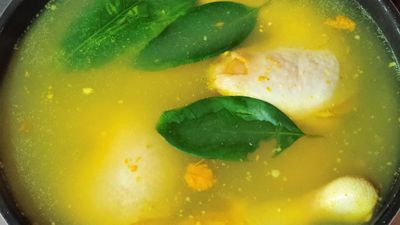 5)Toss the chicken, pat it dry with a kitchen paper towel. You also now have a pot of chicken stock which you can freeze in ice cube tray and use it anytime you need it

. Fry the chicken till it's crispy and golden brown on the outside.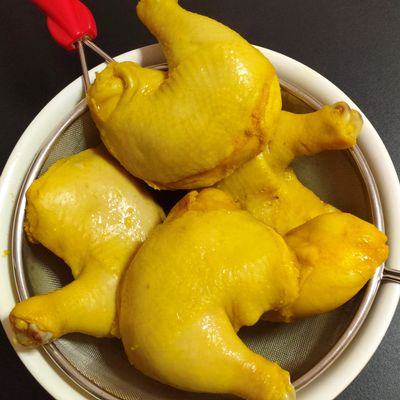 6) Once fried, while it still hot you can use a chopping board and pestle or meat hammer to 'penyet' (flatten) the crispy fried chicken. Serve with white rice, sides of fried tofu, soybean, greens and spread of 'sambal' on the chicken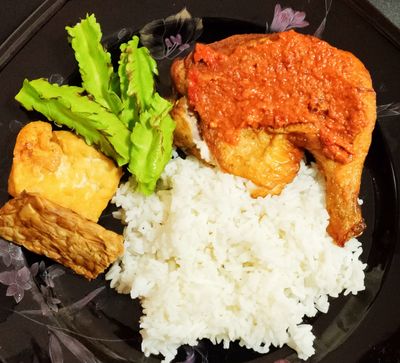 P.S: If you are extra hardworking, then you can use the chicken stock to cook the chicken rice itself!
That's all everyone! Catchup again in September! Take care and stay safe always!