Working at StarHub: Our First Impression on Internship at StarHub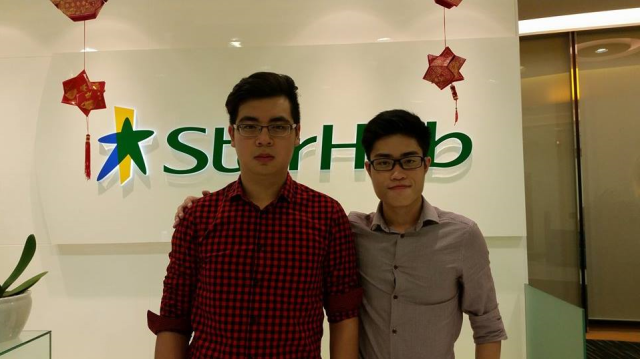 Sweating from the fear of going through the 6 week internship ordeal is a fear that every DBIT student has to go through. Despite the working experience we had with ad hoc jobs in compaines like NTUC and John Little, we were still relatively unexperienced when it comes to desk jobs. Not to mention that StarHub is a huge enterprise, given that we were barely 3rd year students, it was only in our nature to fear of the madness that lied ahead.
By simply hearing the gigantic name of the corporation, anyone would expect puny interns like us to be tasked with minor administrative tasks. Supporting Community Content, Contest Activation, Copy Writing and etc sounds really boring doesn't it? All these duties have to be performed under the supervision of a high authoritative figure "Mr Kai Boon". All these only sums up to a surpassed limit of devastation a student can handle before having a panic attack.
The moment of truth
Walking into the glamorous office with our dead wood mentality, we were astounded to notice the beautiful furnishings within the corporate premises. Our first dread turned soft when we saw the warm faces and gentle hands of KaiBoon and Darren, our supervisors.
The Golden Village Gift Card Social Campaign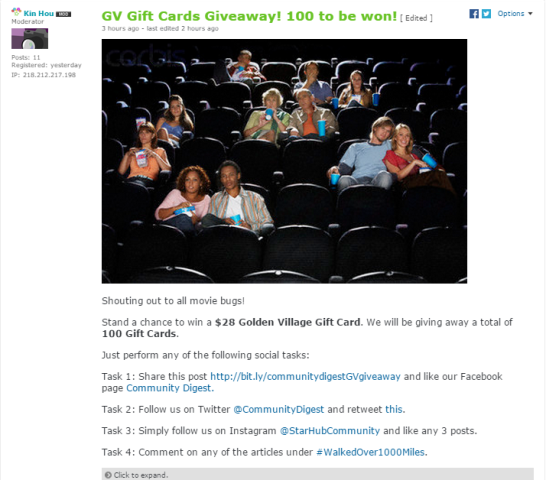 Upon seated on the comforts of the office, we were handed the project Golden Village Gift Card Social Campaign. The concrete agenda of this project is to make use of the 100 gift cards worth $28 each to increase the Social Media presence of StarHub Community.
Tasked with the campaign of distributing close to $3000 worth of movie gift vouchers, we were a little stressed out at first. Fortunately we have taken the module "Social Media Marketing", giving us a brief experience of handling such campaigns. The theoretical knowledge taught by Ms Dora along with the hands on experience we had in companies like Crepe Signature and Simply Wrapps, we found it pretty manageable in the first phase.
However, our knowledge did not last; the honeymoon ended when we were tasked with objectives beyond our range of experience. Our cheerfully experienced supervisor, Kai Boon, guided us with great patience giving us multiple opportunities of learning experiences we will not forget.

On a personal level, the joy of witnessing the start-up of our campaign is beyond our ability to comprehend. With so much ahead, we hope to be involved in more learning opportunities just like this one!
We are proud to showcase the work that we have done. You can find it on http://t.co/BwUOJPOazO.
Written by Wong Kin Hou and Sew Wei Jian
Check out the other internship articles here:
Working at StarHub: My First Internship working with StarHub Community
Working at StarHub: Week 2 of Internship with StarHub
Working at StarHub: Getting Comfortable
Working at StarHub: We are Creative Designers!
Working at StarHub: Pleasure Reading powered by Bookmate