Working at StarHub: Doing it the green way with green fingers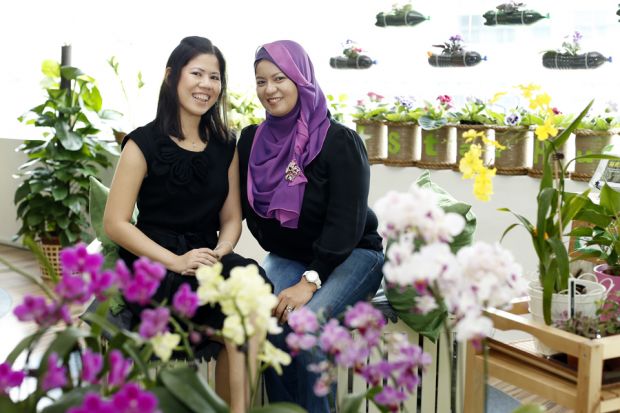 Just as the idea of community gardens and getting office staff to bond together while harvesting fresh kailan and chye sim at their workplace began to take off, several companies have gone another step further and brought their gardens indoors. Over the past three weeks, employees at StarHub have literally added more of their corporate colour into their office space: by setting up indoor gardens in their three pantries.
The move came about when the National Parks Board (NParks) suggested that the telco create gardens on its premises in Ubi Ave 1. "It was a great idea, but we told them that we didn't have much space, nor do we own the office building," says Chan Hoi San, senior vice-president of human resources. "But the Nparks staff came by, looked around and suggested that the window area by the pantries would be ideal spots."
With that, StarHub reached out to its staff to gauge their interest in setting up gardens. "Initially, we were apprehensive about getting response from our staff, but it is encouraging to know that so many were interested," says Ms Chan.
The company takes up three levels of an office building, and there are indoor gardens on each level. Noor Ridah, a business support executive, and Sherrie Quek, who handles finance payroll, are among the 10 staff on level three who have created an ornamental garden.
Plastic water bottles are cut to hold plants. Empty Milo tins are wrapped with gunny sacks and jute rope, and turned into flower pots. A wooden pallet was recycled to form a rack for the vertical garden. The gardening group would come together during lunch and after work to set up the garden.
Now that they have the garden set up, they've worked out a roster on maintaining the garden, which includes watering and pruning the plants.
On the fourth floor, is another ornamental garden, while staff on the fifth floor created an edible garden. Vegetables such as pak choy, chilli, rocket and laksa leaves are grown in plastic troughs. The gardening group on level five have even put in place a self-watering system.
========================================
Home is where the ♥ is