NATURAL INSECT REPELLENT WITH ESSENTIAL OILS
NATURAL INSECT REPELLENT WITH ESSENTIAL OILS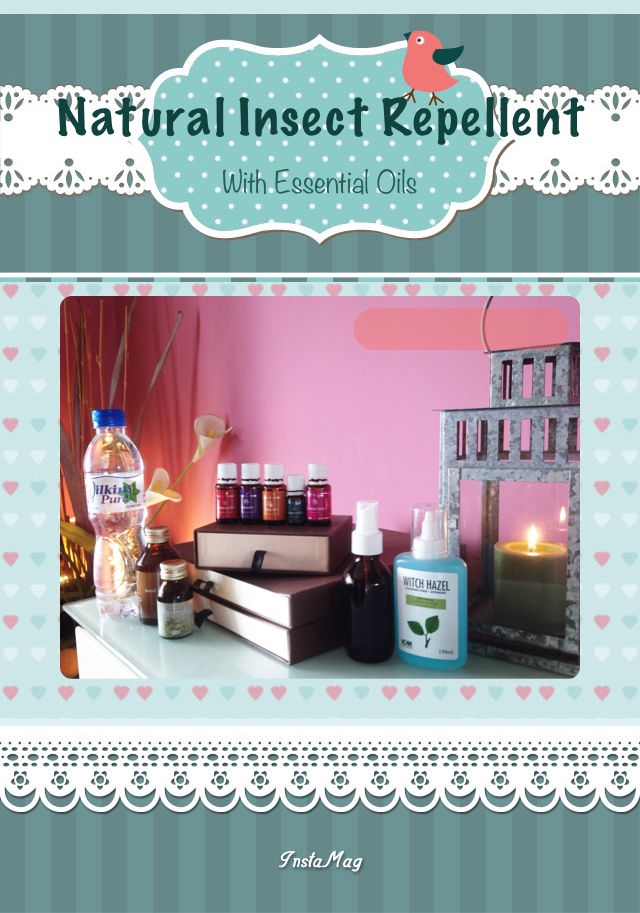 Natural Insect Repellent with Young Living Essential Oils
I have a very happy resident mosquito (or two) at home. Every night at about 11pm, I would start to feel the itch and realise that my resident mosquito has started to feast on me. To make me feel worse, my hubby and son would be doing their things nonchalantly about in the house while I was scratching furiously away. They seldom get bitten by the mosquito at home... at least not when I am around.
WHY DO MOSQUITO BITE SOME PEOPLE MORE THAN OTHERS?
1. EXERCISE
People who exercise tend to produce more carbon dioxide because of heavy breathing. A sign to mosquitoes that living animals are around. People who exercise sweat more and produce more lactic acid on their skin, another attraction to mosquitoes since female mosquitoes naturally look out for moisture to lay eggs.
2. DARK CLOTHING
Clothing that are black, dark blue and dark green in colour tend to attract mosquitoes.
3. PERFUME AND SCENTS
Floral fragrance is especially attractive to mosquitoes. Why...do they mistook me for a flower?
4. DRINKING ALCOHOL
Hmmm... I drink Tiger Radler beer almost every other night because of the hot weather. I didn't know that is one of the contributing factors.
5. BLOOD TYPE
Oh oh. People whose blood type is O+ are twice as likely to attract mosquitoes. No prizes for guessing my correct blood type.
6. BODY TEMPERATURE (HEAT)
Mosquitoes can detect CO2 from afar, but at a nearer distance, they use their heat sensing organ to detect our skin temperature. Hence, those with higher body temperature tend to attract mosquitoes easily.

Unfortunately, our genes dictate our blood type and our chemical makeup. Genetics also determine other factors such as our blood circulation, which in turn determines our body temperature. It also determines the amount of lactic acid or chemicals on our skin, as well as our metabolic rate. i.e.: the amount of CO2 our body releases as our body burn to release energy.

While we cannot change our genetic makeup, we can do something to alter the scent of our body to keep mosquitoes at bay. Below is step-by-step guide on how to make your own insect repellent from essential oils.
NATURAL INSECT REPELLENT WITH YOUNG LIVING ESSENTIAL OILS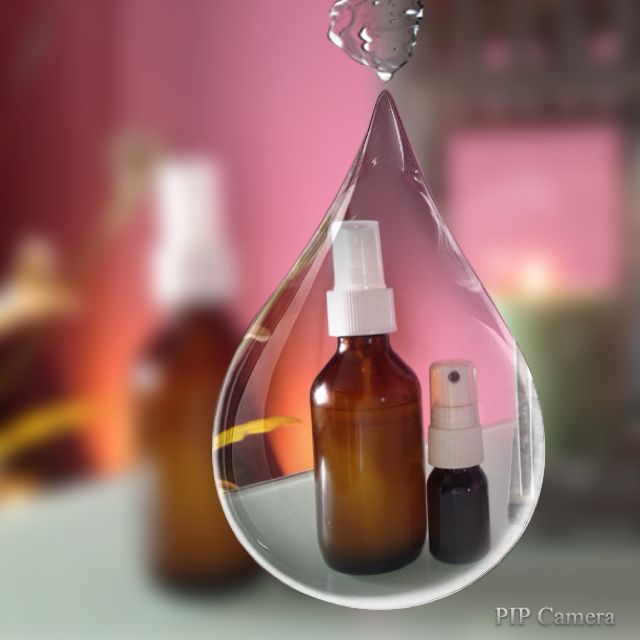 Natural Insect Repellent with Young Living Essential Oils
This is a very nice smelling and effective insect repellent. Nothing like those chemical insect repellent found on retail shelves. To make your own natural insect repellent, you would require the following ingredients:
1. DISTILLED OR PURIFIED WATER
Natural Insect Repellent with Essential Oils

Remember, anything that contains water can potentially spoil, mould or grow bacteria. Hence, always use distilled, purified or boiled water, since water that comes out of the tap contains bacteria.
2. WITCH HAZEL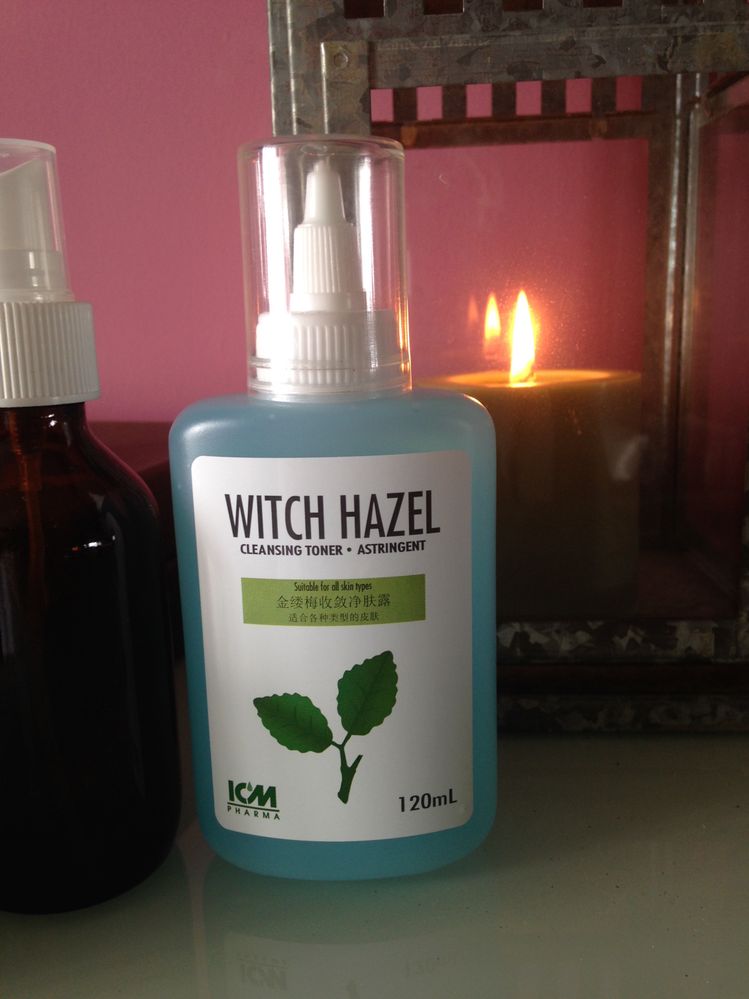 Natural Insect Repellent with Essential Oils

Since this is a home made product that contains water, it is essential that we add some natural preservatives to extend the shelf life. I used Witch Hazel, though you can choose other natural preservatives such as:

- Vinegar
(doesn't smell too good)

- Alcohol
(rubbing alcohol which can be bought from pharmacies or spirits like vodka or brandy)

- Vitamin E

- Citric or Ascorbic acid

- Salt such as Himalayan Salt
3. SWEET ALMOND OIL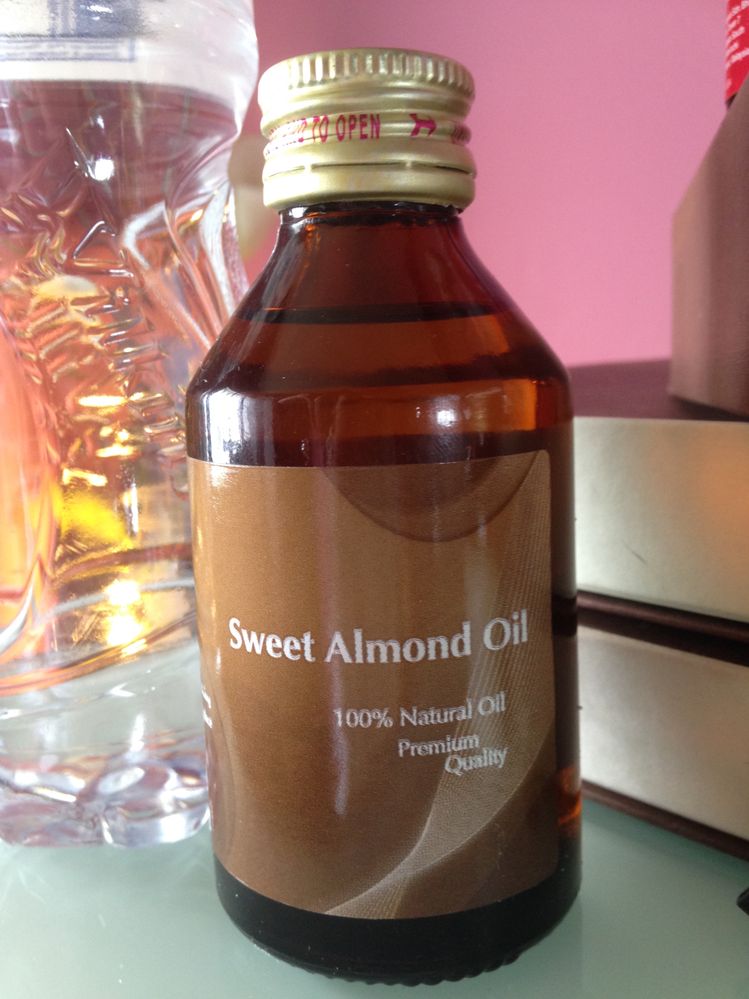 Natural Insect Repellent with Essential Oils
Almond oil is a mild, hypoallergenic oil. It is naturally endowed with highly potent antioxidant vitamin E. Regular use of sweet almond oil helps to keep skin soft and supple. It is also useful for eczema and psoriasis and in the treatment of skin rashes.
4. CITRONELLA OIL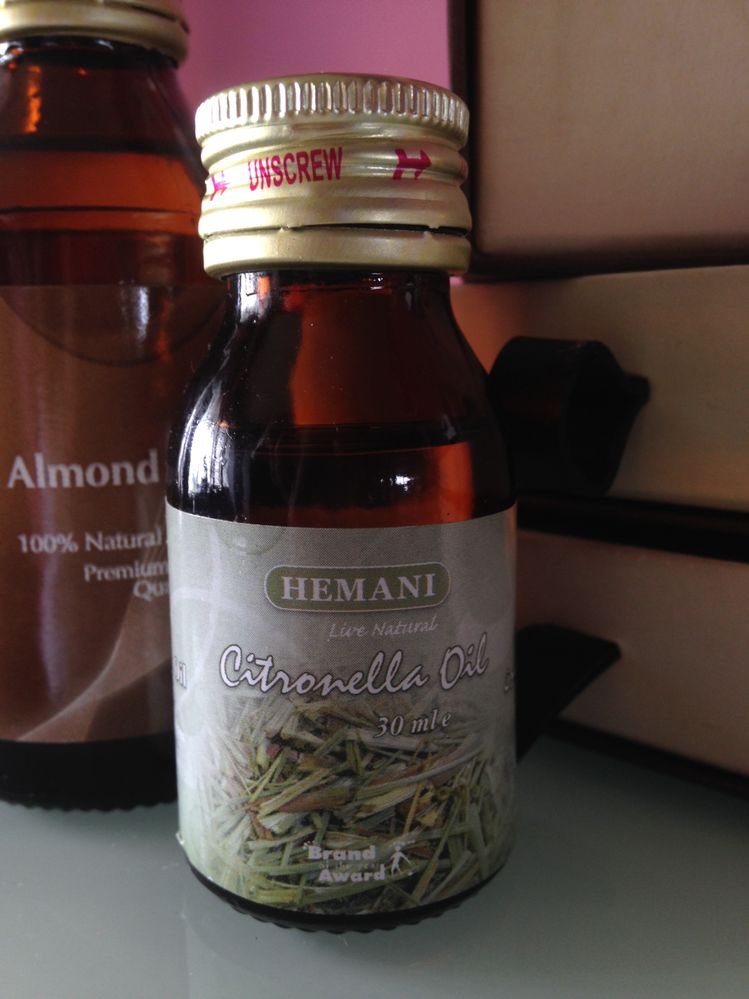 Natural Insect Repellent with Essential Oils

Citronella oil has antibacterial and antiseptic properties. Its scent is known to repel mosquitoes. You will be familiar with this smell as it is sometimes used in spas in the form of candle during your tropical holidays.
5. 100% PURE THERAPEUTIC ESSENTIAL OIL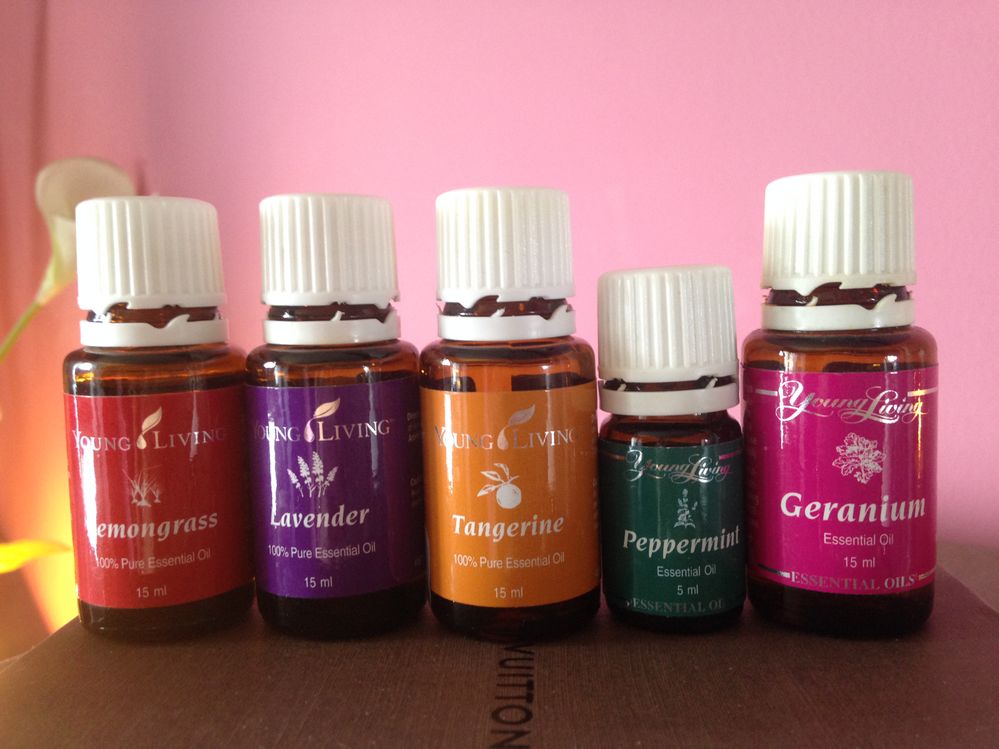 Natural Insect Repellent with Essential Oils
I use Young Living's following oil in my concoction of natural insect repellent:

- Lemongrass
- Lavender
- Tangerine
- Peppermint
- Geranium

The benefits of these oils are bountiful. I only use 100% pure therapeutic grade essential oil as I am using it on my own skin, and I only want the best and safest of course!
6. DARK GLASS SPRAY BOTTLE (100ml)
Natural Insect Repellent with Essential Oils

To avoid deterioration and protect the aromatic and therapeutic qualities of the essential oils, store them in amber or cobalt blue bottles to prevent them from damaging sunlight.
NATURAL INSECT REPELLENT WITH YOUNG LIVING ESSENTIAL OILS Recipe:
Distilled/Purified water: 50ml
Witch Hazel: 20ml
Sweet Almond Oil: 10ml
Young Living Essential Oil:
Citronella Oil: 18 drops
Lemongrass Oil: 18 drops
Lavender Oil: 15 drops
Geranium Oil: 10 drops
Tangerine Oil: 5 drops
Peppermint Oil: 4 drops
Total essential oil: 70 drops
You can differ the concoction according to your preferences. Natural insect repellent has a shelf life of 3-6 months. I keep it refrigerated to extend its shelf life. Can essential oil be refrigerated? The answer is yes. Low temperatures may not negatively affect your essential oils, though some may thicken or congeal. Just make sure to shake them before spraying since essential oils don't mix well with water.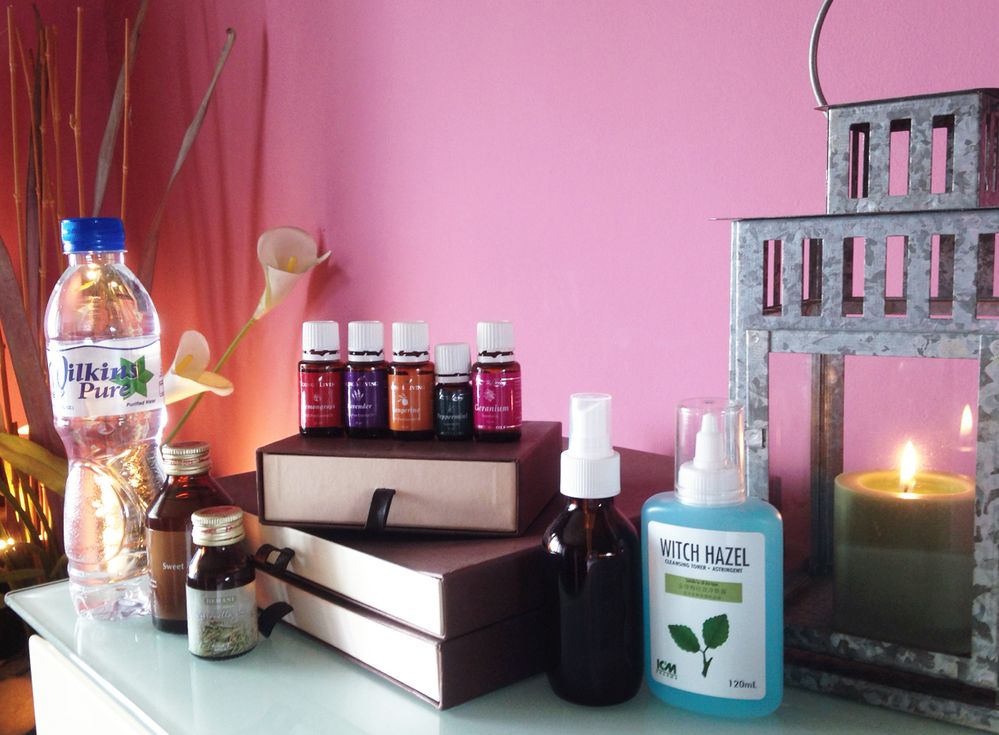 Natural Insect Repellent with Essential Oils
There! I transfer it to a smaller bottle when I travel. Spray on cold natural insect repellent in hot weathers like Singapore for a refreshing (not chemical) feeling and to keep insects at bay.
Natural Insect Repellent with Essential Oils
Additional information on where some of the items are bought:
Sweet Almond Oil - Mustafa Centre
Witch Hazel - Mustafa Centre
Citronella Oil - Mustafa Centre
Glass bottles -
Tong Huat Trading Glass Bottles
51, Chin Swee Road, #02-107
Singapore 160051
Tel: 62708437
Young Living Essential Oils -
Young Living Singapore
Caution:
Do not use on pregnant ladies
Use with caution on young children
Only Lavender oil can be applied neat, to the skin. The rest requires dilution with organic carrier oils such as Olive, Sweet Almond and Vegetable oil.
Related posts:
DIY Facial Moisturizer with Young Living Lavender and Coconut Oil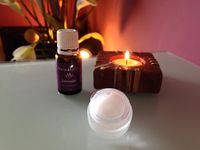 ABOUT THE AUTHOR
Linda Lim is an Executive TV Promo Producer with a local telco company. The purpose of this site is to share her motherhood experiences with autism, interest with essential oils, and her passion with all things TV.
For more information on other topics, click the following sites:
HAPPY LIVING:
HEALTHY COOKING:
HAPPY TRAVELLING:
http://aroundthelonelyplanet.blogspot.sg/
Otherwise, you can follow her at:
https://plus.google.com/+LindaLim/posts
to get periodic updates on all of the above topics.
~LIVE HEALTHY, LIVE HAPPY~