Meet Our StarHub Customers working overtime to give you a Merry Christmas
Santa Claus isn't the only guy working hard in December!
Each festive period in Singapore we busy ourselves with shopping, getting presents, meeting friends...preparing for the end of year celebrations for the office, friends and family. However a very hardworking group of people will be at work on weekends and the public holidays just to make it possible for us to shop late into the night, enjoy Christmas events, eat and drink and party till the early morning. I've interviewed a few of these amazing individuals working behind the scenes to make sure this season is enjoyable for the rest of us!

6 days till Christmas and we catch up with Dale Cheong from High Notes Music Solutions.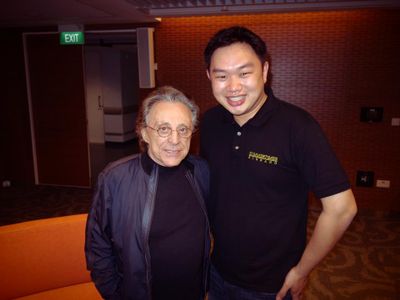 Dale with the legendary singer/songwriter Franki Valli
StarHub Community: Dale, what do you work as?
I run High Notes, a music entertainment agency, providing vocalists, bands and music talents for Christmas, NYE, weddings and events of all sorts. On top of creating the best entertainment for every event needs, we also provide sound systems and lighting systems to create the most suitable atmosphere, look and feel for our clients' events.
StarHub Community: How many emails/texts/whatsapps will be sent to prepare for this season?
Throughout the year, the team receives and replies a consistent average of 180-200 emails on a working day. To put a show together, a good estimate is about 200-300 text messages and about 20-30 emails.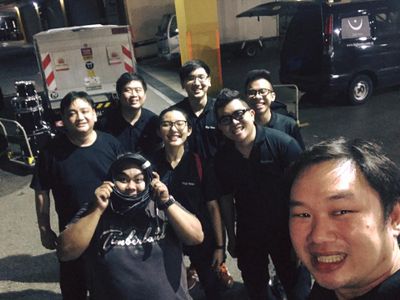 StarHub Community: What's a typical day like for you during the holiday season?
During the holiday season, we get over a few dozen shows each week and hence it's usually a seven-day work week with each day of work extending to over fourteen hours.
StarHub Community: That's kind of intense! I hope the weekdays aren't that crazy in terms of working hours?
Weekday day-times are spent mostly in the office working on the usual office necessaries, logistics planning, client servicing, and Weekday nights and all of the weekends are spent on-site at various events.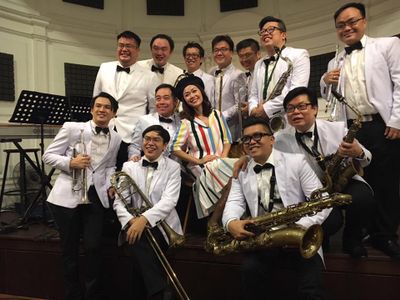 StarHub Community: I've heard that you are not just the boss but also perform in the bands and help out with the heavy lifting at events as well. Why are you so hands-on with your team?
At High Notes, the team regards each other as family. One that takes care of each other, and this is what work should be all about, being a part of life and not merely a job that brings food to mouths. The strong friendships that are developed creates a feeling of coming home when they step into the office. For us, we're like brothers from different parents, brought together by the luck of destiny, and friendships that are earned and respected by the team members themselves.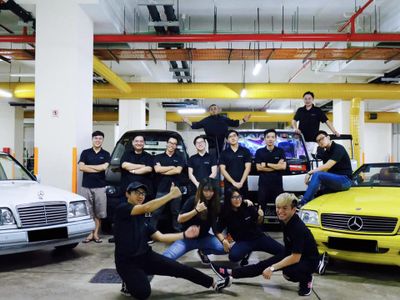 StarHub Community: Exactly how big is this "family"?
We are currently a 9-man full-time team. Including part-timers who work every weekend with us, that's a total count of about 15 guys and girls. And as we also always count our musicians as fellow colleagues, the total number would easily cross a hundred and fifty!
StarHub Community: What do you wish people understood about your job?
Haha! I wish that people recognize that behind every spectacular show is a team that puts everything in the right places. From the bookings of the right combination of talents for every show, to the back-end logistics, setting up and tearing-down of sound systems, to managing the event. Everyone plays a big, although not as glamorous, role towards a successful performance. It's real work, so there's little room for fooling around, especially when it involves someone else's big day. Over the years, many of our clients have experienced our top-notched service levels and reliability. These are important things to uphold as our corporate offerings, and we hope that more of our clients would see beyond the performances we put together, and to appreciate that we are giving up all of our holidays to put together the best coordinated shows for them.
StarHub Community: When hours are long and tempers flare, it can be difficult to work during Christmas. How do you keep the team motivated?
I always remind my team to work for our loved ones, families and the reasons why we must focus on making this life-long and securing the stability of the business. This business exists for the betterment of everyone in the team. I am short of saying that everyone that joins High Notes would experience a very different work culture, as constant reminders of values and the purpose of work as a responsibility towards our families are inculcated into the minds of every team-member. We work for each other and mutual responsibility keeps us going.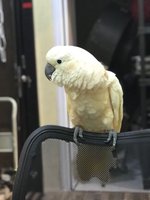 StarHub Community: Rumour has it that the High Notes office also has other "staff" that boost morale?
And oh we have a Moluccan Cockatoo and two Albino Terrapins as office pets. The bird whistles, follows us around and chews on everything else. It's the simple things that keep us going, the simple yet important things in life.
Dale's company High Notes Music Solutions is a StarHub Business Internet customer.