Working at StarHub: Week 2 of Internship with StarHub
Flying past a week since the rise of our internship at StarHub, we have been living the exact routine of waking up early in the morning and rush off to work on a daily basis. Slowly but gradually, we got accustomed to this commoners lifestyle. Lunchtime is a chaos due to the flooding population in the food court. Fortunately, the meals are delicious!

We started off our week with another campaign on "I am a singer Season 3" with our preparation done a week earlier. Limited to "Throwback Thursday" and "Fun Fact Friday" each week, we have decided to implement the "Everyday Facebook Campaign".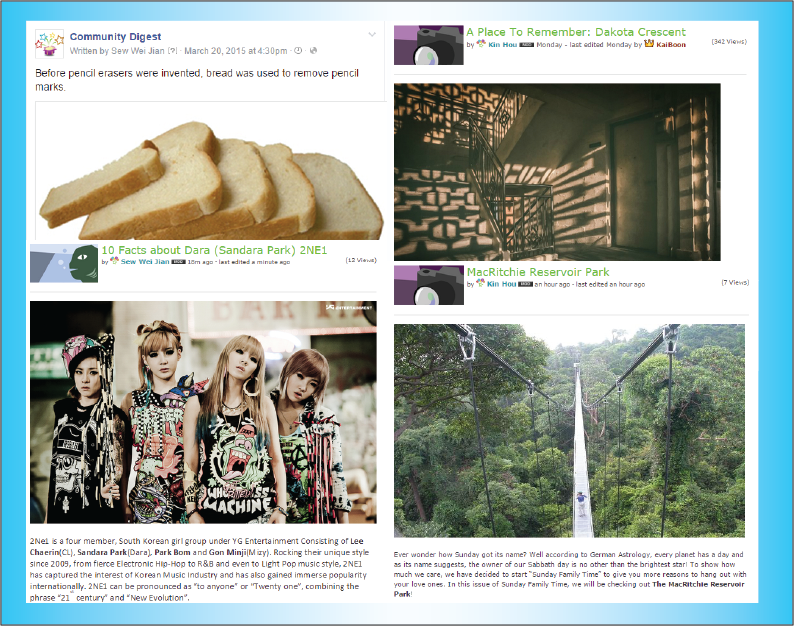 To begin, we have "Beat the Monday Blues". To most of us, Monday is a nightmare and it signifies the beginning of a long new week. BTMB is a post on a single quote each Monday to motivate and encourage others through a motivational quote or a poem of good news.
Up next, we have "Tasty Tuesdays". These Tuesday Reviews shares a place where you can find delicious food making your Tuesdays a little more delicious.
Following up is "Popcorn Wednesday". On Wednesdays we share articles about a recent or upcoming movie that is particularly interesting, to give our audiences something to look forward to watching. Giving "Throwback Thursdays" and "Fun Fact Fridays" a miss, wonder what's next?
It's "Musical Saturday" of course! A day to relax, enjoy and play all you want. "Musical Saturday" is an article on music or music group. It can be on Kpop, Jpop and so on…You can drop us a comment on "Musical Saturday" to feature whichever song/artist/group.
To end of the week, we have "Sunday Family Time". Sunday is a day for loved ones to gather as a whole for activities and have fun. On "Sunday Family Time", you can find places of attractions to visit with your precious ones.
Besides writing articles, we also prepared weekly contents, be it a quote or an article. It is no different from content calendar. We also did some designing tasks. Kin Hou did a revamp on the Senior Community Page while I contributed in terms of designing page banners.
To end off our first campaign, we selected the winners on "Golden Village $28 Gift Card Giveaway" from the various Social Media Platforms. Don't be upset if you haven't been selected as there will be more campaigns to look forward to, only with more attractive prizes!
Moreover, we participated in several meetings this week. On Wednesday, we had a "Bookmate meeting". It is a discussion regarding the articles on #walkover1000miles. Another meeting we had is "Senior Discussion Meeting". It is a discussion on "One generation caring for another" for the Senior Community Page.
This week is coming to an end, as sad as it sounds we are actually looking forward to our upcoming week of internship. Stay tune for more exciting adventures!
Written By Wei Jian and Kin Hou
Check out the other internship articles here:
Working at StarHub: My First Internship working with StarHub Community
Working at StarHub: Getting Comfortable
Working at StarHub: Our First Impression on Internship at StarHub
Working at StarHub: We are Creative Designers!
Working at StarHub: Pleasure Reading powered by Bookmate
Working at StarHub: Waving Goodbye