MusicPost: MTV World Stage 2015
About a month ago, I was tasked to chaperone some lucky StarHub customers who have won tickets to the MTV World Stage 2015 through StarHub Rewards.
So on Singapore's election day, the lucky winners cast their votes in the early morning and then boarded the chartered bus by MTV to bring us to Sunway Lagoon where the concert was being held. Look at everyone's happy faces!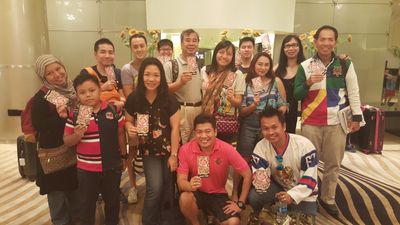 Tired but happy StarHub Rewards winners.
So the next day i attended the event press conference but being a small fry, this was what i managed to get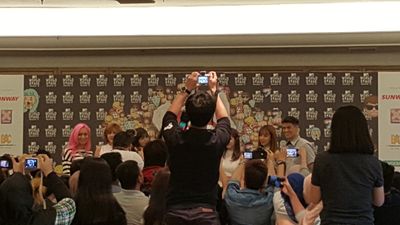 The press conference was really brief and im unfortunately, not entirely familiar with the Asian acts but I guess i'll just leave you with some key sound bites from some of the artiste:
APINK was asked what food they wanted to try in Malaysia so they revealed that they had tried Satay the previous night but what they really wanted to try was "a rice with cucumbers" which the hosts interpreted as Nasi Lemak. I supposed the koreans really really like their cucumbers?
The next band really knew how to make an entrance. SEKAI NO OWARI was dressed the cast from a clockwork orange. But despite their loud costumes, they were really humble and down to earth in their answers, joking about their proficiency in the English language and that they had no fans (sad face! they said only 4 fans were waiting for them at the hotel!). They even prepared a primarily English set which I thought was really a very dte thing for a foreign band to do, to appeal to a non-japenese speaking crowd.
OK so I fast forward to the concert. Basically, this was all i manage to capture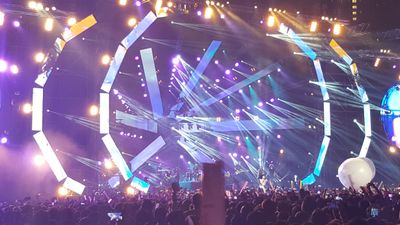 (that's a very very small Carly Rae Jepsen, can u see it can u see it can u see it?)
All the performances got quite a bit of standard one la. But I must say my personal highlight was Carly Rae Jepsen. Her album Emotion got a lot of rave reviews but I never really gave it the time of day to check it out. But at the concert she performed the the songs with such energy and I immediately became a fan. Let me assure you, RUN AWAY WITH ME is SUCH A JAM!
The night capped off with Jason Derulo as the the finale act. He had the longest set but kept up the energy all the way with his band and dancers. He performed his latest hits like Want To Want Me but also old favourites like Marry Me which I'm sure melted more than a few hearts that night.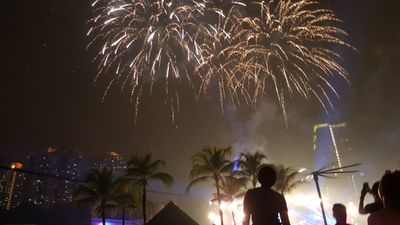 There was a surprise at the end of the night: FIREWORKS!
So was the entry TL;DR? You're probably better of watching the Concert in full, legally, with MTV's blessings, this link.