MTV EMA 2014 Glasgow by StarHub Winner Yuki Ng : Part 2
on 9 November, before the MTV EMAs ceremony began, we attended the pre-party to welcome MTV EMAs winners from around the world! We felt so honoured and pampered!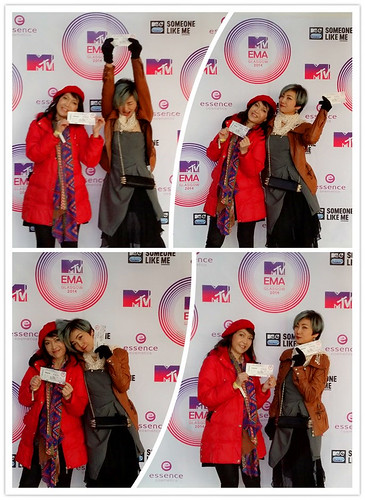 We walked across the red carpet into the party venue. At that moment, I was excited to finally be able to step into the event venue.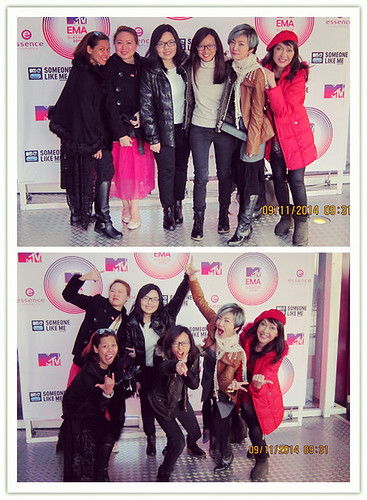 We began to warm up a little for the madness at the pre-party!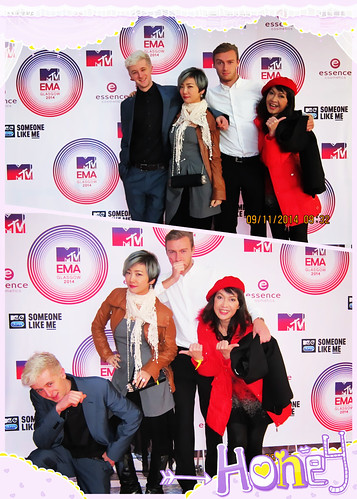 Obviously, this time I really wanted to push away my sister! ( She is really superfluous )

Additional Episode: click and see to believe!

I posted this picture on facebook just for fun. I casually said that I had Won the Coolest Asian Female Rock Award. My readers and followers actually believed it and congratulated me!
I am sorry that this sparked some commotion, it was all for fun. But this is really a true MTV trophy! Super heavy weight! Frankly speaking, I am really an "Asian" "Female" who dressed up in "Rock Style" ya! Yeah! I am thick-skinned enough to self-proclaimed "Coolest" to holding this award, but oh well haha! (Chicanery!)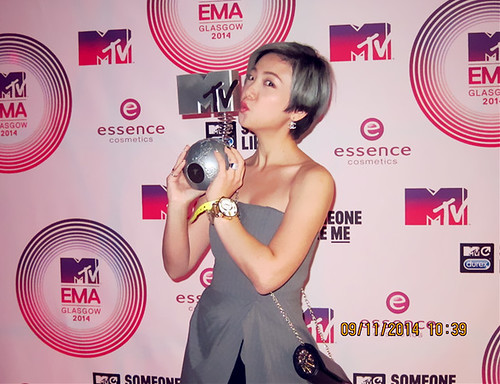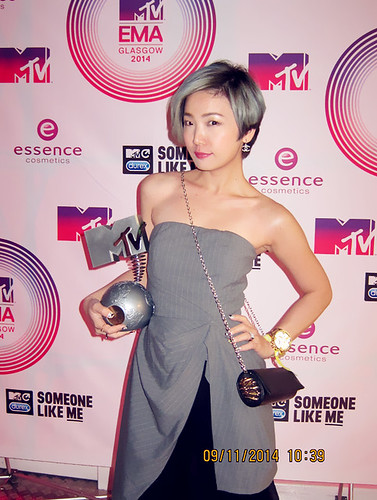 That night, my unique evening dress and outfit were from iRoo's series. It allowed me to appear in style to attend the MTV EMA 2014! Special Thanks to:
Dress & Bag : iROO Singapore
Hairstyle: Jean Yip Singapore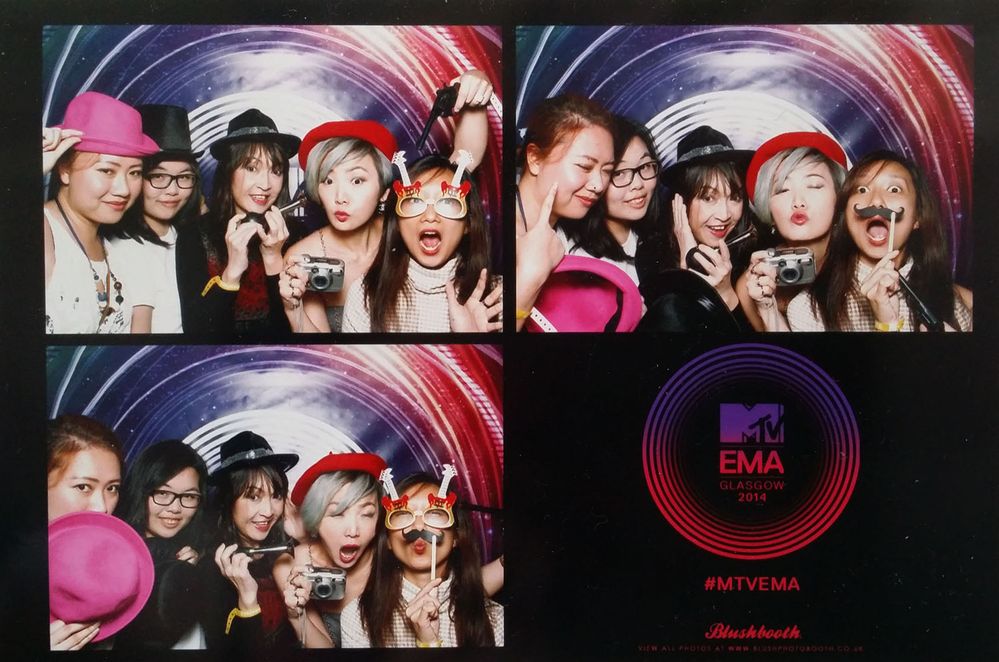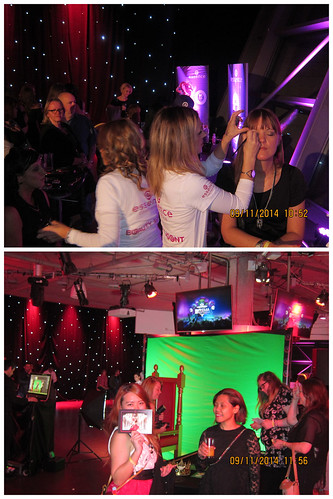 At the Pre-Party offer, all VIP guests were offered a number of interesting services. Such as: Make Up for female guests! There were also photo booth services for guests.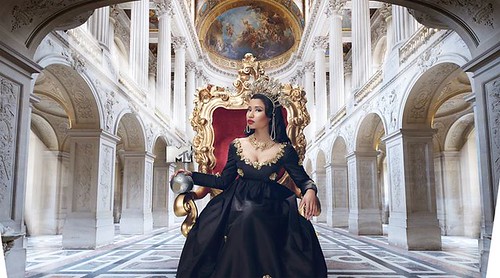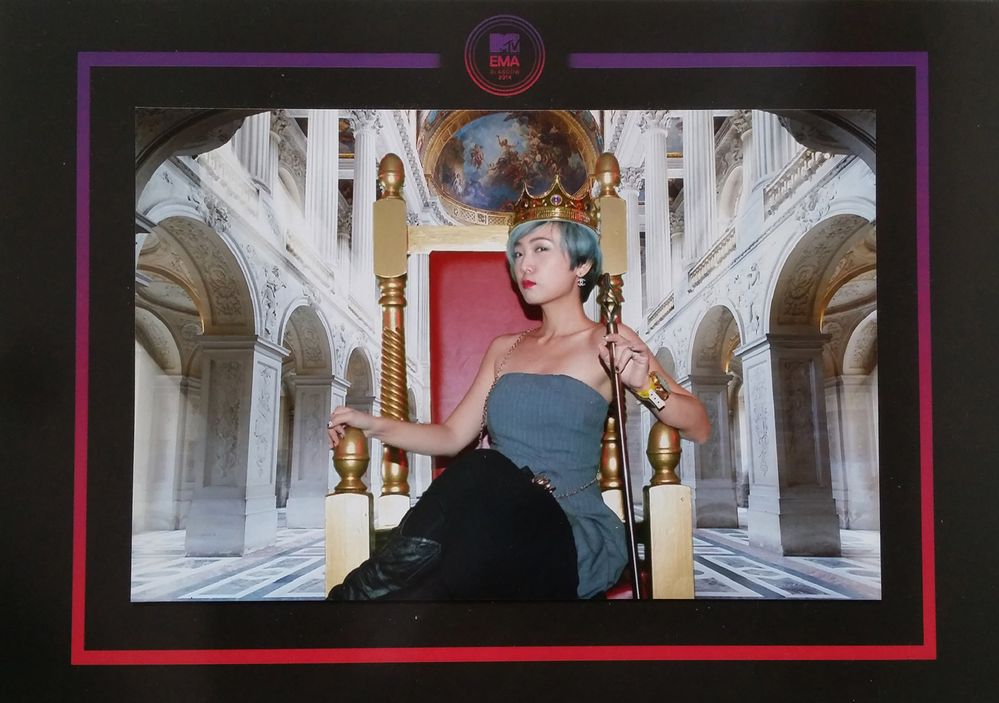 Would I be the next Asia raising star like Nicky Minaj?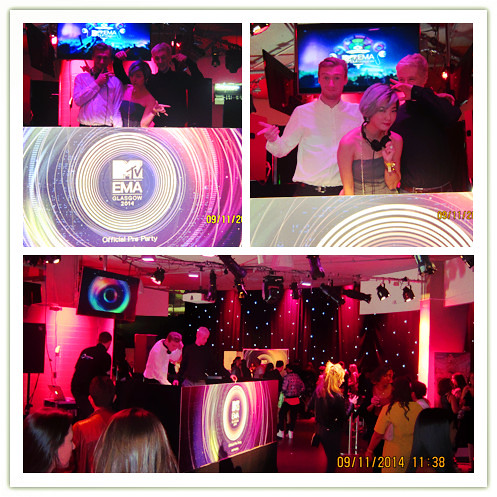 Bravely volunteered to go up the stage to try and experience to be a DJ, let me rock the house down!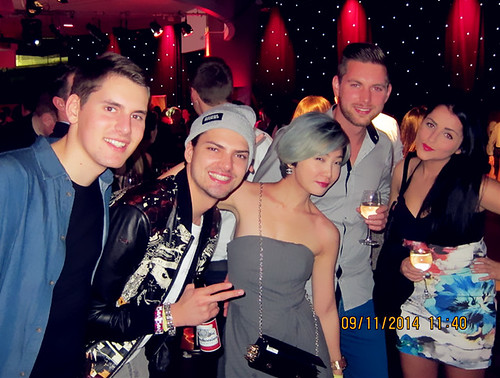 Group photo session with winners were from around the world!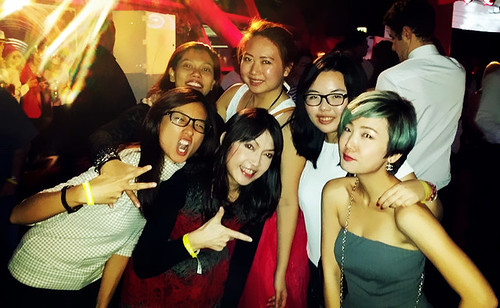 Yes, we had a wonderful time!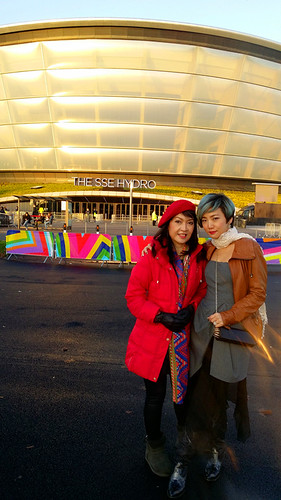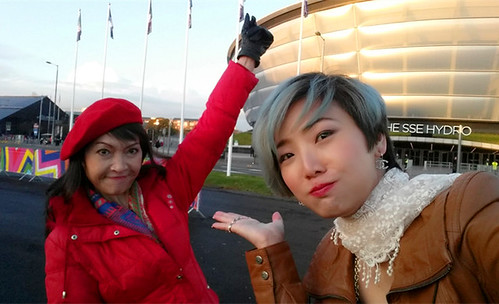 We walked to the first MTV music awards ceremony hosted by The SSE Hydro, Glasgow!



Yes, concealed extreme excitement!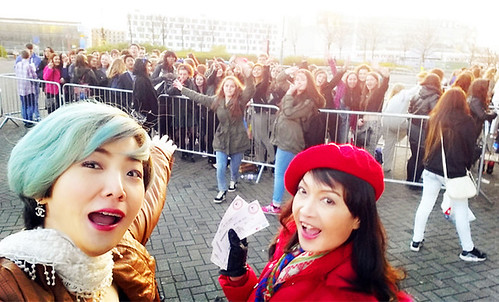 The event site had a large number of viewers waiting for admission. My foreign friends spotted me doing a selfie and also decided to join in at the back! Thanks for the support!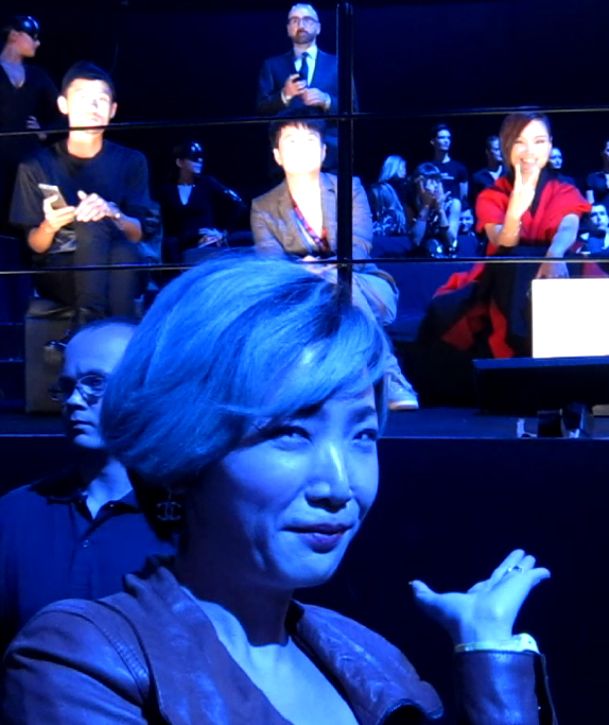 I did not expect the most popular Chinese singer from China, Bibi Zhou to be so close to me! She was also friendly and cooperative in taking the picture with me!

Chinese singer Bibi Zhou was the only Chinese singer who attended the music event and successfully winning the "
Best Worldwide Artisti
" award!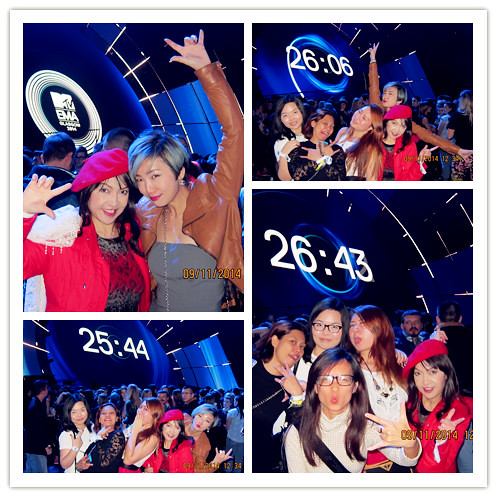 The atmosphere was super good. It felt like a United Nations Ceremony Party! Countdown begins!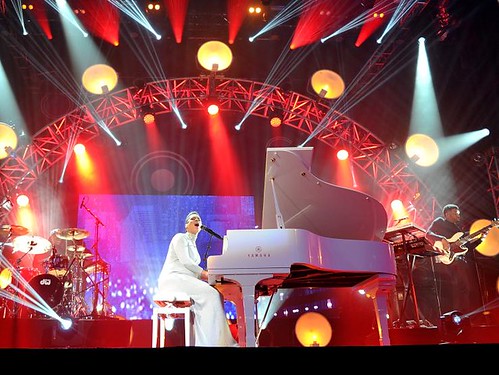 Alicia Keys
appeared to have some interaction with the audience. I was surprised, because I did not expect this. She was so so so close to us! When she walked towards the backstage, she actually stretched out her left hand so that all the way along the arena corridor fans could touch her hand! I told myself " What are you waiting for? Touch the goddess's hand!" I was surprised at my own reaction. It was rare opportunity that I should not miss.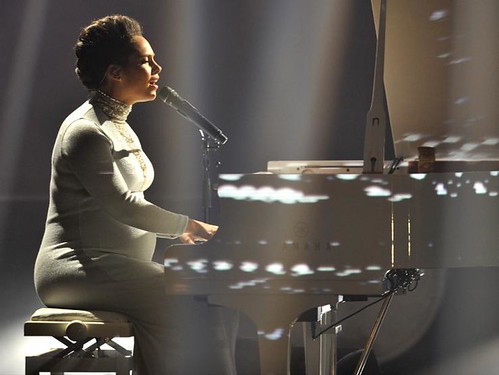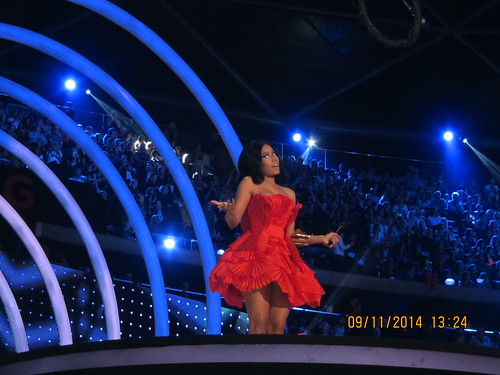 I am more familiar with Western pop music singers such as Beyonce, Alicia Keys, Taylor Swiftt and Katy Perry. I only got to know Nicky Minaj recently. Of course, her large butt is her trademark! It is indeed attention seeking!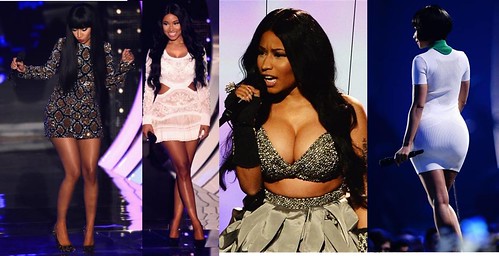 Other than a great hot performance, Nicky Minaj also surprised the audiences by appearing in various visually appealing dresses and costumes and entertaining us with her wonderful jokes. She was really very cute and humorous.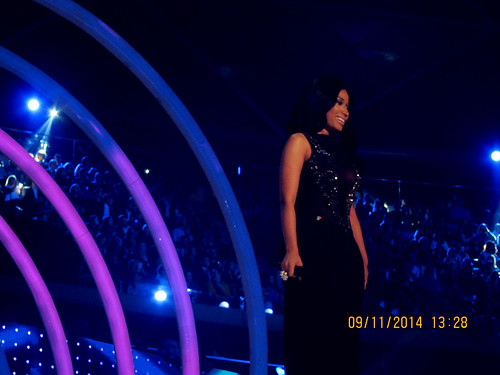 Nicky Minaj was one of the key person in the 2014 MTV EMA. She was not only the host, but also the main performing artist and winner! Her gorgeous outfits and hairstyles were also a hot topic for discussion. Her bold enthusiasm, interaction between dancers and orchestra, plus her usual fearless bold statements, it was clear why she is known as the goddess of this new generation.
Congratulations to Nicky Minaj in winning Best Hip-Hop Artist!
Best Song with a Message << Pretty Hurts >>

Frankly, my favourite singer is Beyonce. It is a pity that she did not attend the ceremony but I would like to congratulate her in winning the most inspirational songs award! To be able to witness up close Alicia Keys', Nicky Minaj's and Ariana Grande's performances, I must certainly count my blessings! I am indeed contented!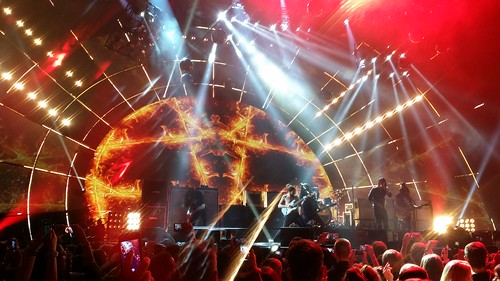 Let's verify the LIVE Power of Slash & Biffy Clyro again. They successfully pushed the atmosphere to the highest point! To paint a perfect ending for MTV EMA! Burn it! Rock it!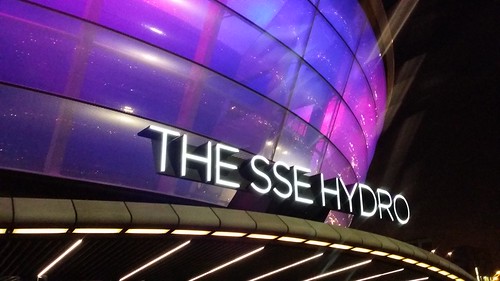 It's really thanks to MTV EMA & StarHub bought to us for this unforgettable wonderful night in my life ever at THE SSE HYDRO, Glasgow!


Glasgow landscapes, buildings and the people are literate, polite and friendly, warm and fun! I must admit I had fallen in love with this country!
Thank you again to MTV and Singapore StarHub in letting my sister & I be the lucky ones to attend this event and making our dreams come true! I always says I believe I can fly and I proved it! Thanksgiving to Lord's grace!

Some photos credits from the MTV website. More coverage info about MTV EMA can visit the official websites: http://asia.mtvema.com


MTV EMA 2014 Glasgow [ Behind The Scene ]
When it comes to film production, it is something not new to me, but for my sister, it was her first time. I can totally imagine how curious and nervous she was.
In the past when I was involved in filming, we did it in a group. I was not the protagonist, I rarely speak. But this time only the winners in Singapore participated in the filming. I was pretty nervous. Plus the weather was really cold. We were trembling and shaking in the cold. There were a couple of reshots and NG takes. We sincerely apologise to the crew for that.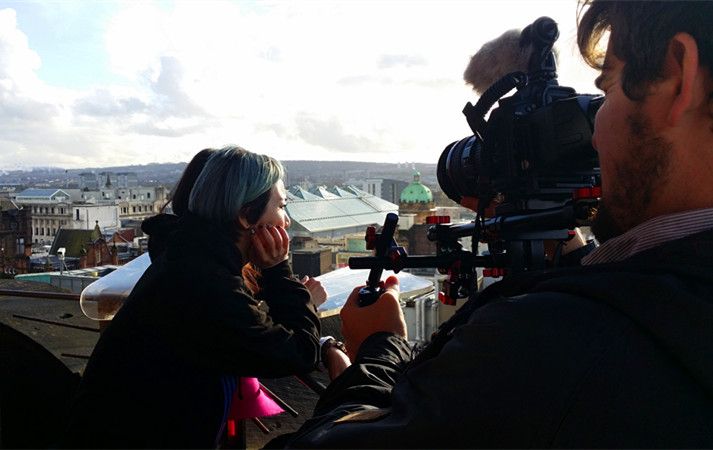 Shooting process was smooth in general. We had a professional crew and we did it against the beautiful backdrop of Glasgow. Stay tuned for the finished product!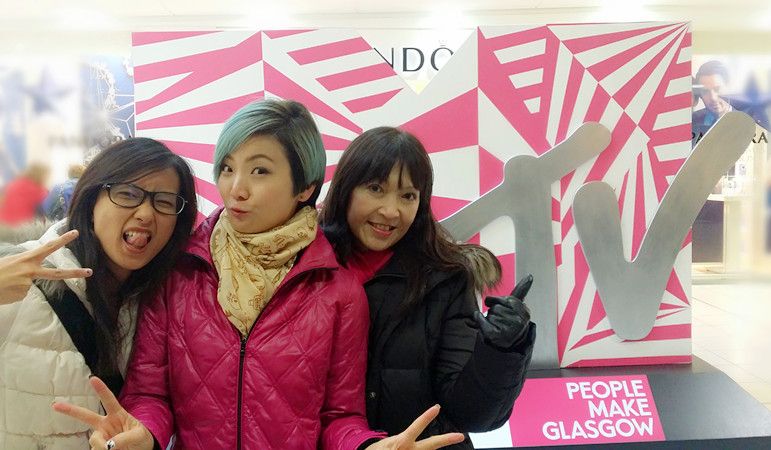 The itinerary in Glasgow was tight, but we still had a blast! We thank the organizers for arranging Hazel to be with us! She was trying to help my sister and I adapt to a foreign environment and help us in gaining quicker access to the shooting locations, so everything can be carried out so smoothly!
Hazel is also very funny, playful, easy going and always bring a smile to us. We were grateful to have known such as kind and beautiful lady.
Hazel Lua - Rude by Magic!
Another surprising find that we had was Hazel Lua! She is also a Singaporean singer. We both love music and singing, no wonder we hit it off greatly!
I love to watch her skilful, confident, comfortable singing in natural way. Her original creations have fascinated me! I have become her new fan! You can join to be her fans by subscribing to her Youtube channel now!
Give Away!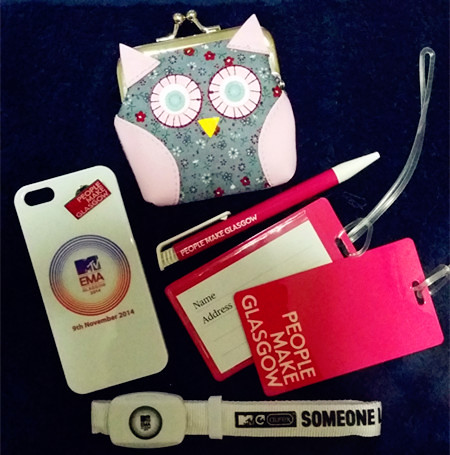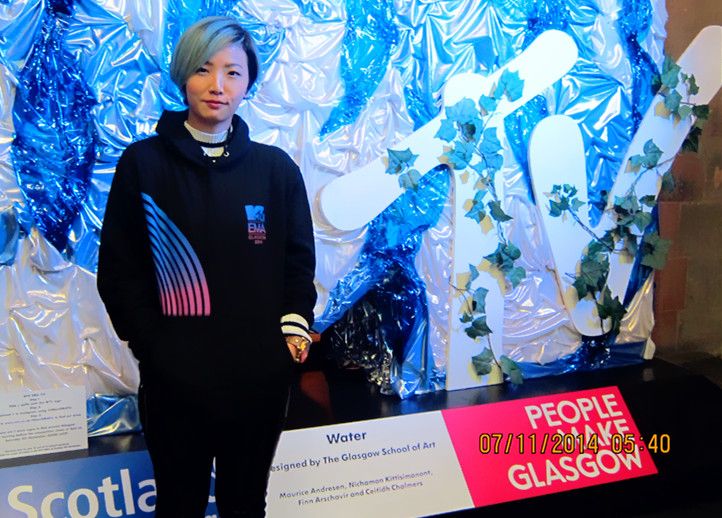 Thanks for everyone's support vote for me to make my dream come true, so I specially bought this Owl Design ( my all time favourite character ) handmade coin pouch from Glasgow, also an exclusive MTV EMA 2014 gift-set and sweater ( good quality ) for you to win! Good Luck!
I will be selecting 1 lucky person from those who have comment under this blog post. Tell me who is your favourite Singer? Close date: 7 Dec 2014, 11:59pm.

End, Happy Reading!


Blogged in Chinese 你也可以阅读中文部落格:欧洲音乐大奖2014
IAmYukiNg : Blog: http://iamyuki.com